14

Feb

Women's Bestsellers
---
Women's Bestsellers
At MÜHLE we see more and more women investing in our shaving products, and in celebration of International Women's day (8th of March) and Mother's Day (31st March), we've compiled our very own list of women's bestsellers. In elegant styles, vibrant colours and at a range of prices- there's something for everyone.
1. Mint Safety Razor (Rytmo) - £36.50
Made for the novice to the connoisseur, RYTMO is a popular choice within our INTRO range and it's easy to see why.
Appearing in a beautiful pastel mint resin, this razor would make a fresh addition to anyone's shaving routine. (Also available in Steamed Ash and Black Resin).
A little intimidated at the thought of using a safety razor? Click through to our blog post De Razor Shave: Not Just for Boys that explores the techniques and benefits of using one.
Often referred to as 'the original aftershave,' the Alumn Stone is perfect for sealing small nicks and cuts. Cooling and refreshing, the antiseptic qualities of the stone also make it a great zero-waste alternative to deodorant. Furthermore, because the Alumn stone effectively kills any surface bacteria, it can be used to help prevent acne.
Click through to our blog post Natural Alumn Stone: All Round Superhero for more information about how to use this little wonder.
3. Butterscotch Safety Razor (Stylo) - £73.50
Stylish and eye-catching the conical shape of the STYLO range is iconic.
Presented in warm Butterscotch Resin, this razor's vibrancy will never go unnoticed. (Also available in Thuja Wood, Grenadille and Black Resin).
Ideal for those who prefer a slightly weightier and longer razor.
4. MUHLE ORGANIC Skincare Range - £12.50- £20.50
Uniting the best nature has to offer, the MÜHLE ORGANIC series prides itself on sustainable luxury.
All MÜHLE Organic recipes contain traditionally hand pressed Argan oil, produced by a Moroccan women's cooperative and marketed on a fair-trade basis. Particularly rich in vitamin E, antioxidants and radical scavengers; it is considered an effective force for anti-ageing that regenerates and moisturises the skin.
Only raw herbal materials obtained from organic farming or organic wild harvesting are used in the MÜHLE ORGANIC range, with each product being certified with the BDIH.
Gently fragranced with notes of lime, mint and vetiver; the MÜHLE ORGANIC range is sure to get you ready for spring.
To find out more about Argan Oil, follow the link to our blog post Argan Oil is the Multi-Tasking Champion!
5. Rose Gold Safety Razor (Traditional) - £36.50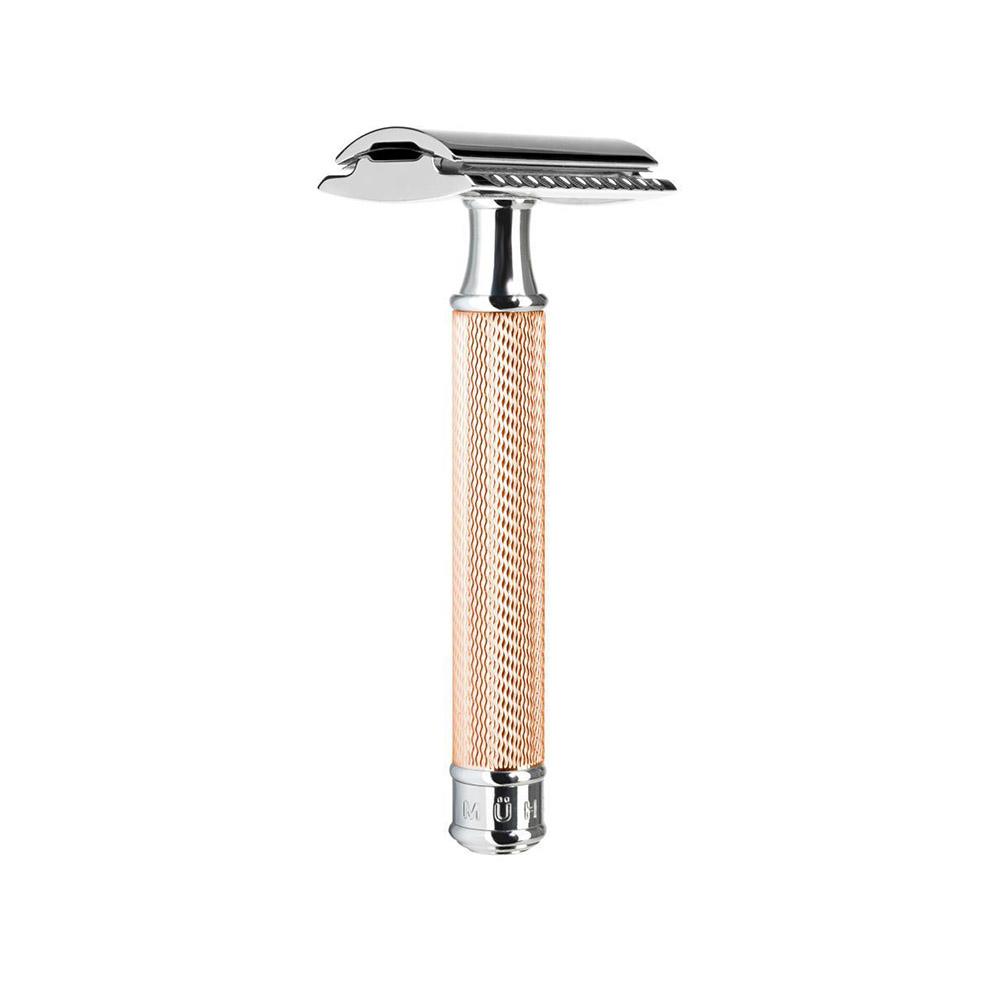 An opulent twist on the classic R89, this razor's rose gold chrome finish adds a touch of luxury to the ever-reliable MÜHLE Safety Razor. Long lasting and corrosion-resistant, the MÜHLE R89RG chrome-plated finish still provides incomparable quality and longevity.
A favourite of women in our London store.
6. Forest Green Hexagon Safety Razor (Hexagon) - £45.50
Winner of both The Red Dot Design Award and The German Design Award, the HEXAGON range is the result of collaboration between MÜHLE and renowned Berlin product designer Mark Braun.
Made of anodised aluminium and available in Bronze, Graphite, Forest and Silver, the colours evoke tones of the Erz Mountains- home of the MÜHLE Manufactory.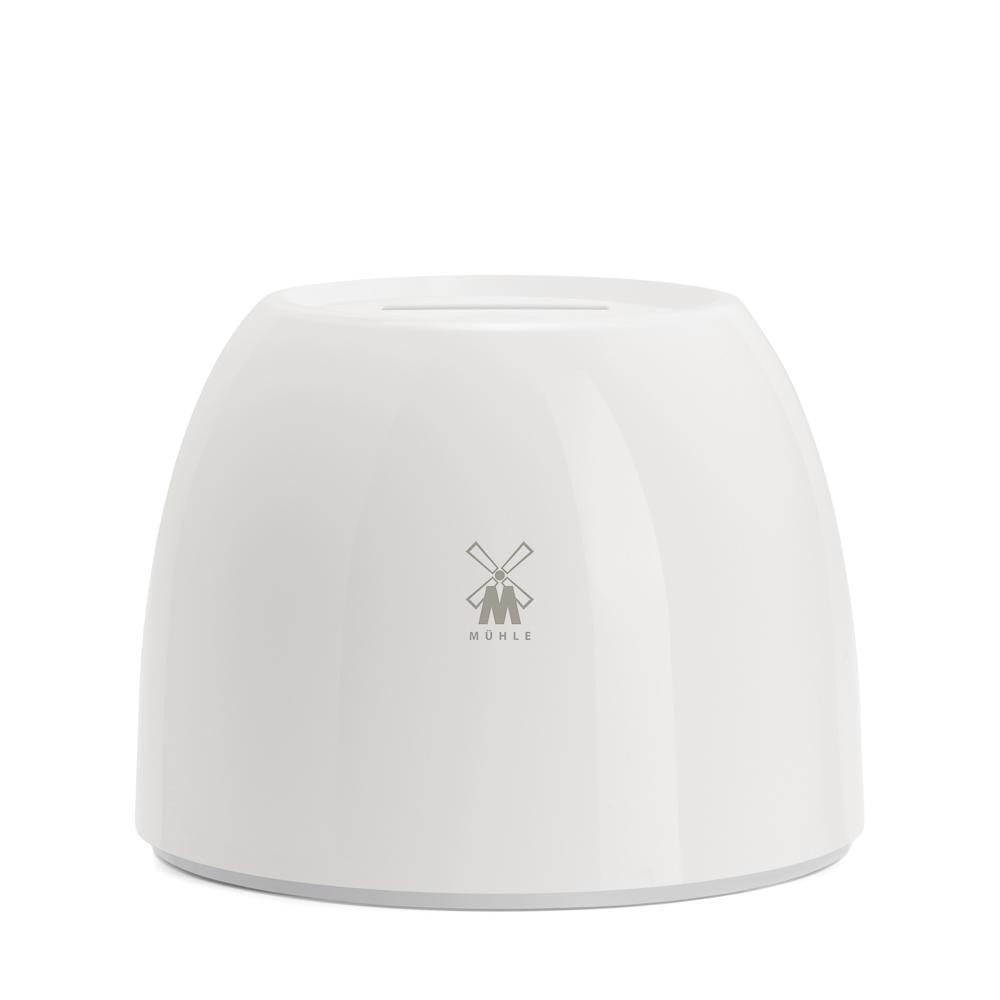 Made of porcelain, this elegant blade collector disposes of your used blades stylishly and safely. The perfect accessory to any safety razor.
8. Porcelain Mach3 Razor (Sophist) - £116.00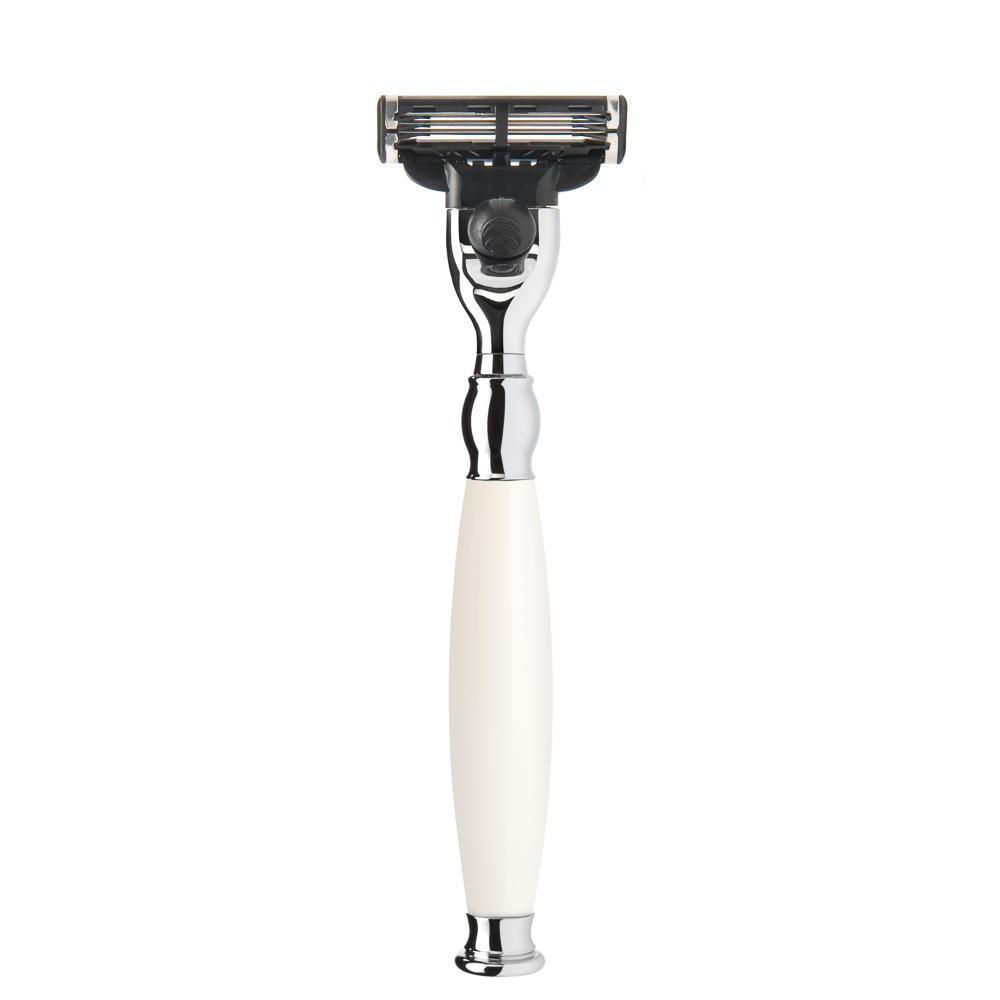 Luxurious and elegant, this SOPHIST razor offers a fantastic compromise to those wishing to invest in a quality razor, but tentative in trying a safety razor. Complete with a Gillette Mach3 razor head, this razor is perhaps a more familiar system to many.
Made from hand-fired porcelain, this razor is a lifetime piece of assured quality.
9. 3-Piece Shaving Set (Liscio) - £108.50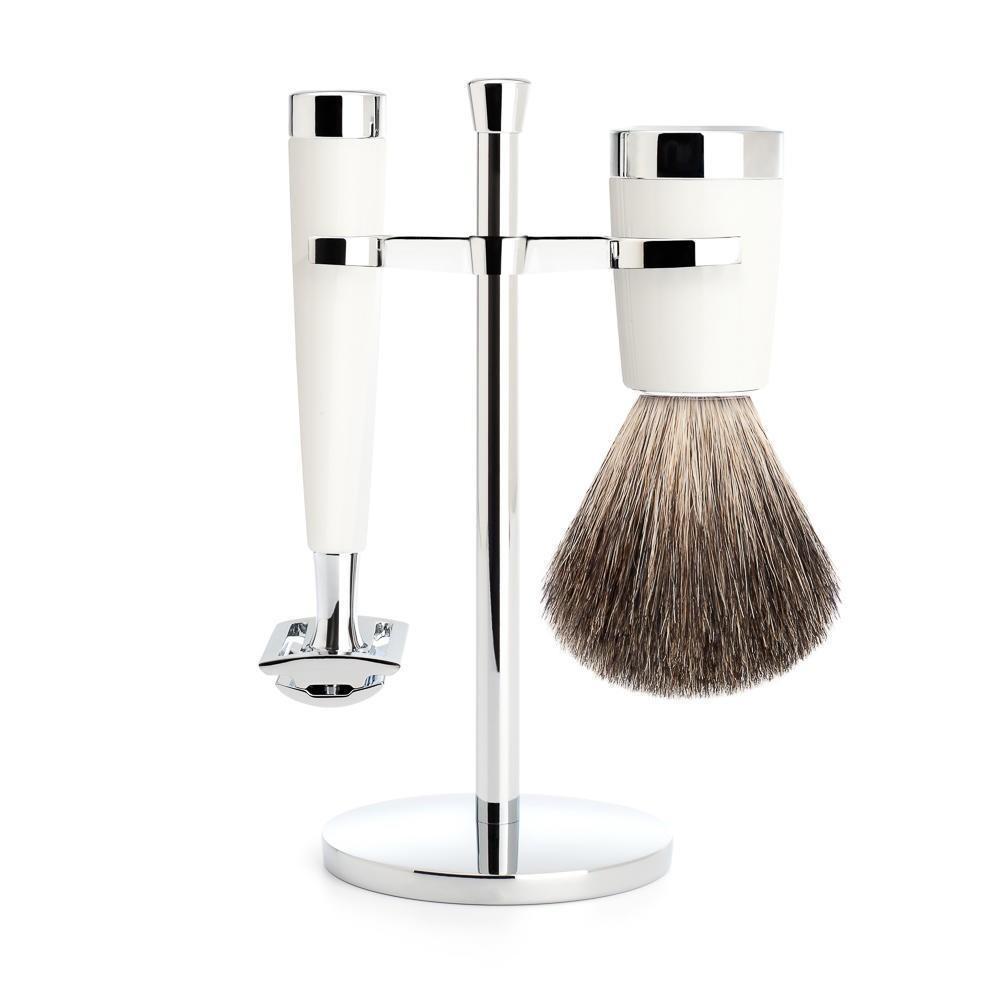 Italian for smooth, the luxurious LISCIO series is made for the Aestheticist. Clear, straightforward and in classic white, this set is available in Black Fibre and Pure Badger.
(Also available in Black and Brown Horn Resin).
To find out more about brush care, follow the link to our blog post How to Clean a Shaving Brush.
10. Travel Manicure Set - £138.00
This beautiful manicure set is made of stainless steel complete with a nail clipper, nail scissors, tweezers and nail file. The case is made of natural cowhide leather that is long-lasting and durable and develops an individual patina in the course of its use.
Be aware that safety razors have been designed for use on the face, not for other parts of the body. Women who have adopted the razor use it predominantly on legs and very carefully under my arms, taking care to stretch the skin as it is more sensitive and soft there.