29

Apr

Introducing MÜHLE London Head Barber: Connor McCleod
---
With over 12 years' experience and his own successful barbershop in East Sussex, we are thrilled to introduce MÜHLE London's newest Head Barber- Connor McCleod! With expertise in shaving, beard-care, haircuts and more, Connor combines top skills with impeccable service for a true rasurkultur experience.
We caught up with Connor for a quick Q & A session, finding out about what inspires him as a barber, essential shave tips and thoughts on joining the MÜHLE team…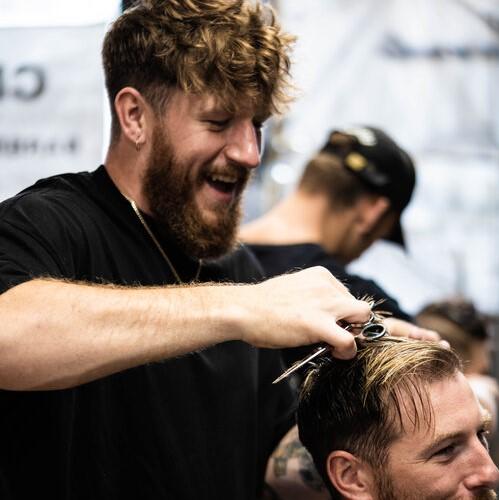 MÜHLE London's newest Head Barber- Connor McCleod
With more than 12 years in the industry, can you say what it was that made you first want to be a barber?
CM: Having some family involved in the industry, it was always a profession that interested me and growing up I used to look forward to going to- at the time 'Hairdressers' (because there were no real barbershops near me back then!)- enjoying the relaxed banter and the feel and sound of the cold scissors going round my ears, even if the sharp blades were a bit daunting at a young age. I was a little self-conscious as a kid, and having something like my hair (that I could be particular about), definitely made me feel that much better. Starting an apprenticeship at age 14, by the time I left school I was already qualified to work in a salon. From there on I completed various courses and at 19 moved out to Germany where I worked as a barber for several years. Since then, I've worked for shops in Nottingham, London, Hastings, Bexhill participating in various events and exhibitions, eventually getting to the point where I owned my own Barbershop... the rest is history!
Many guys think of a barbershop as more than a place to simply get their haircut, in your opinion what is it about a service or space that turns a haircut into an experience?
CM: It's a lot more than just a haircut, I see us as professionals that take into consideration your lifestyle and how you perceive yourself. Our customers may not realise it when they first arrive, but quite often a haircut can end up becoming a positive psychological experience- your barber becoming not only a confidant but often a long-lasting friend too. There aren't many other trades you can get to know someone on such an intimate level. More than a barbershop, it's a social hub where a client can chill out and unwind in a neutral, friendly environment, all the while being pampered by a professional!
In addition to starting as MÜHLE head barber you also have your own successful barbershop in East Sussex, what inspired you to open up your own place?
CM: I had always wanted to make something of my own, something to call mine, a style and an experience tailored to how I best saw fit for my client. I decided to start looking for properties with the potential to expand, somewhere big enough not only for someone to come in and have their haircut but also a social and a coffee too. Creating a relaxed, friendly environment is really important to me and found I was always looking for ways to improve the customer experience- which is why we started CMC.
Here at MÜHLE, we're excited to have you joining us as our London Head Barber, what are you most looking forward to about the partnership with MÜHLE?
CM: I am looking forward to engaging with the local community around Soho and wider London and hopefully some international visitors in not too long. There is so much diversity in London and Soho in particular, it's a chance for me to cut different styles and meet some new, interesting personalities! I've enjoyed using MÜHLE products over the years and having the chance to represent the brand in the flagship Soho Barbershop is an honour. Together I hope we can make a stamp in the industry, networking with the barber community and shaving fanatics alike!
Do you have a favourite MÜHLE product?
CM: I would say that overall, the R89 is definitely a favourite. Providing a close but gentle shave, the R89 is great not only for clean-shave looks but also at creating sculpted beards and sharp lines. For skincare, I find myself mainly using the Aloe Vera range, the natural healing properties in the Aloe Vera are a no brainer for me. Shaving can be an upheaval for the skin, especially sensitive skin and Aloe helps fights back any blemishes and is soothing for freshly shaved, hot skin!
And finally, your number one shaving tip...?
CM: I know it's simple but... PREPARATION IS KEY! Set yourself up for the task ahead, making sure your skin is warmed properly to really open up those pores and help the blade glide along your skin. Failing to prepare is preparing to fail. The main thing is to enjoy it, treat yourself!
Like what you're reading? You can check out some more recent blogs here: