18

Nov

The MÜHLE Christmas Gift Guide 2020
---
This year, more than ever, we're perhaps all in need of a little more Christmas sparkle! Kicking off the festivities nice and early, see below as we explore our top picks and gifts this Christmas. Whether it be for a loved one, friend or even ideas for your own wish-list, we're sure to have you covered.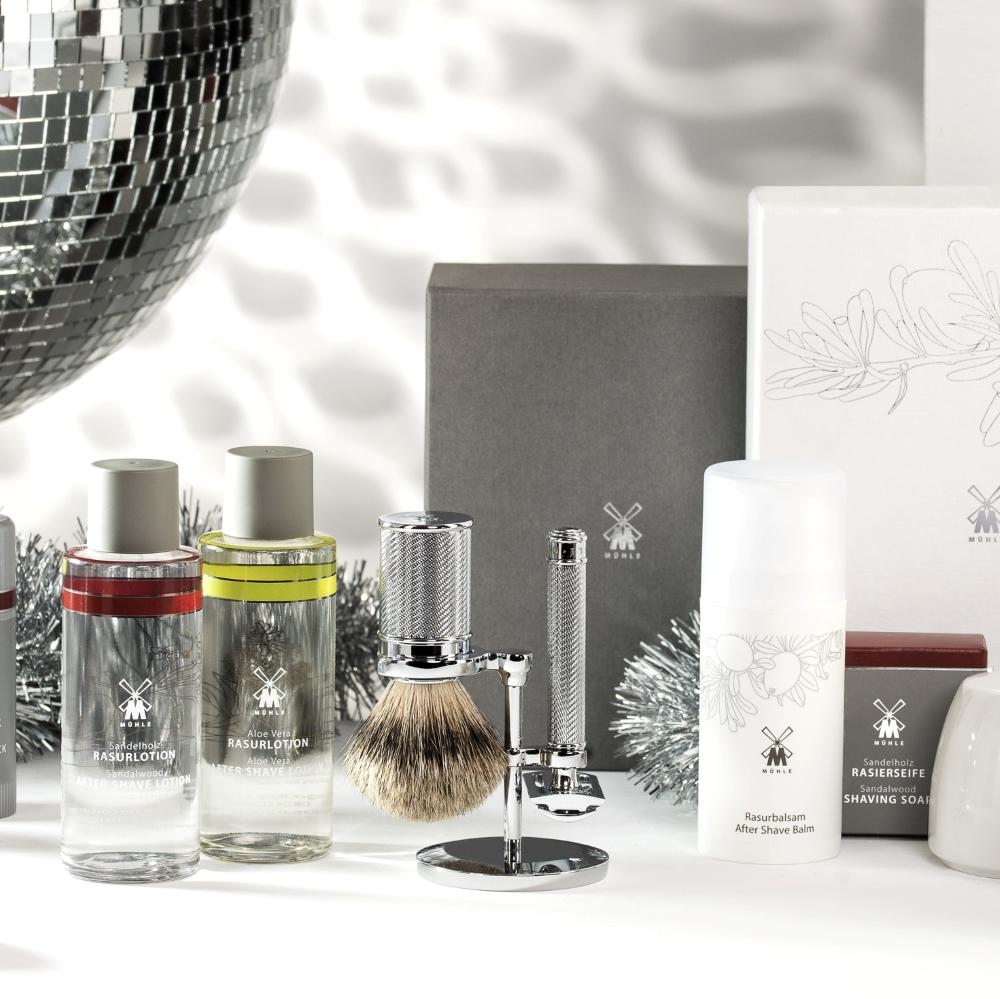 The TRADITIONAL shaving set and accessories by MÜHLE
The TRADITIONAL Safety Razor and Stand, £57 (SR89)
For the eco-conscious!
Forgoing plastic mechanisms, our iconic R89 is the perfect gift for the environmentally conscious. Whether it be for him or for her, our ever-reliable MÜHLE Safety Razor is a super sustainable alternative to modern blade systems. Complete with matching chrome razor stand, this set ensures your bathroom side is left enviously neat and tidy.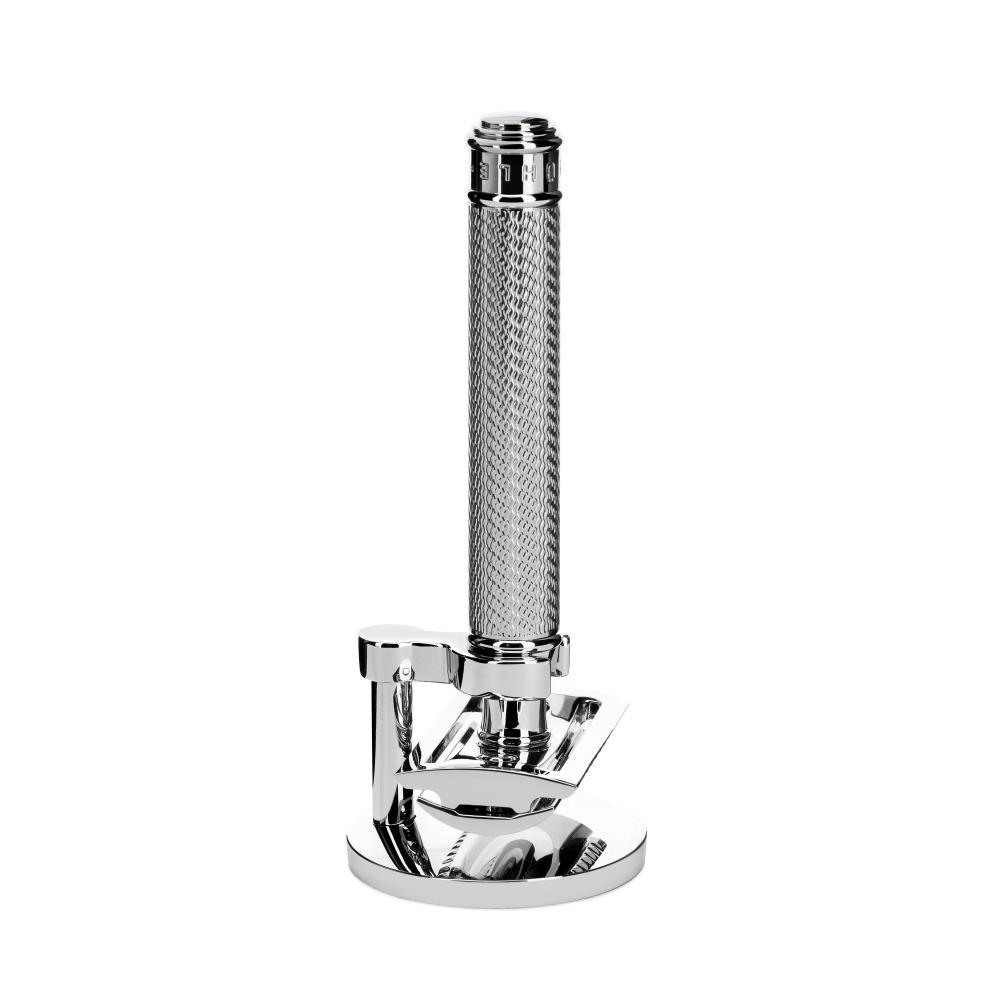 The TRADITIONAL Closed Comb Safety Razor and Razor Stand Set by MÜHLE
The RYTMO Steamed Ash Shaving Set, £82 (S21H220SR)
For all the young dudes!
One of our best-selling sets, the RYTMO Steamed Ash shaving set is a great choice for a first introduction to the DE shave. Complete with a black fibre brush, closed comb safety razor and stand, the steamed ash wood is briefly heated to a very high temperature to ensure it attains a high water-resistance making this set both eye-catching and low maintenance.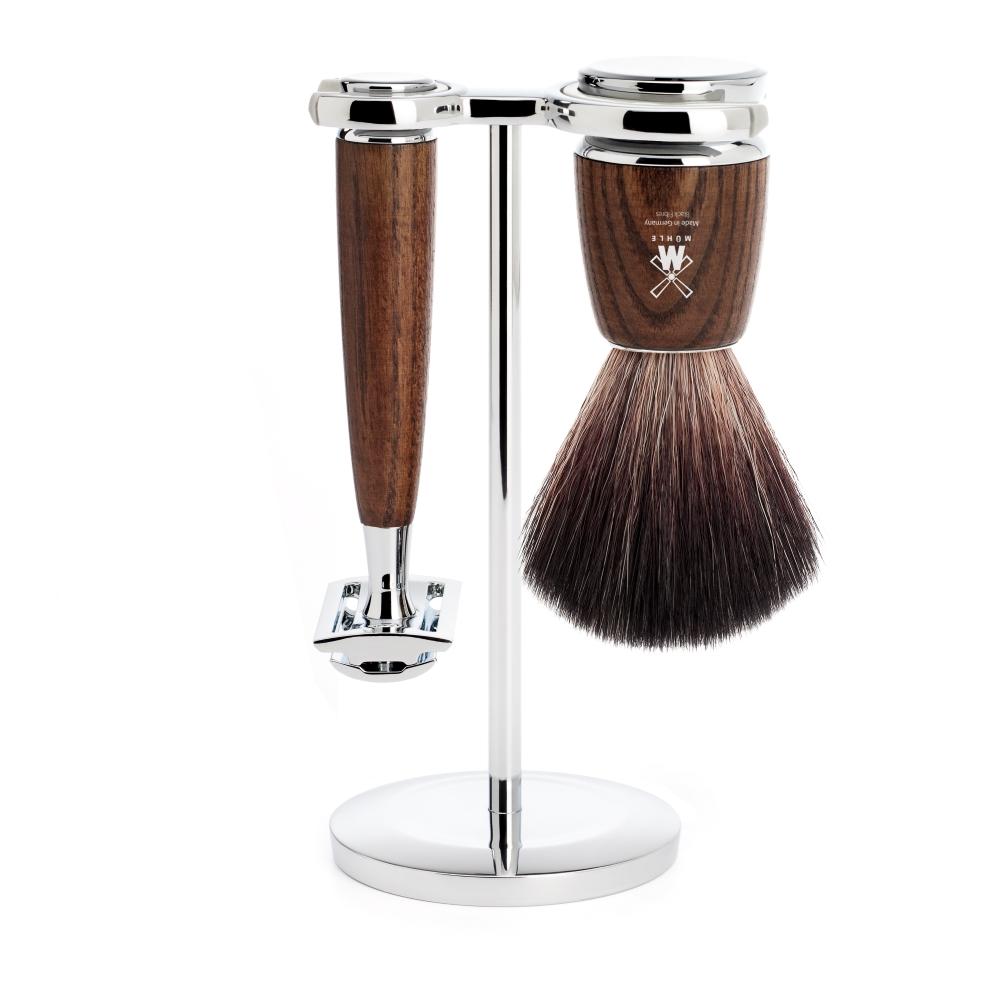 The RYTMO Steamed Ash Black Fibre/ Safety Razor Shaving Set by MÜHLE
The VIVO Plum Wood Gift Set, £150 (GSVIVO)
For the one who wants it all!
One of our newest gift sets, this shaving set is complete with a 3-piece VIVO Black Fibre/ Fusion shaving set, Waffle pique towel, Sea buckthorn shaving cream and iconic chrome pen. Truly a gift for the one that wants it all, this gift set is ideal for shaving pros and first-timers alike.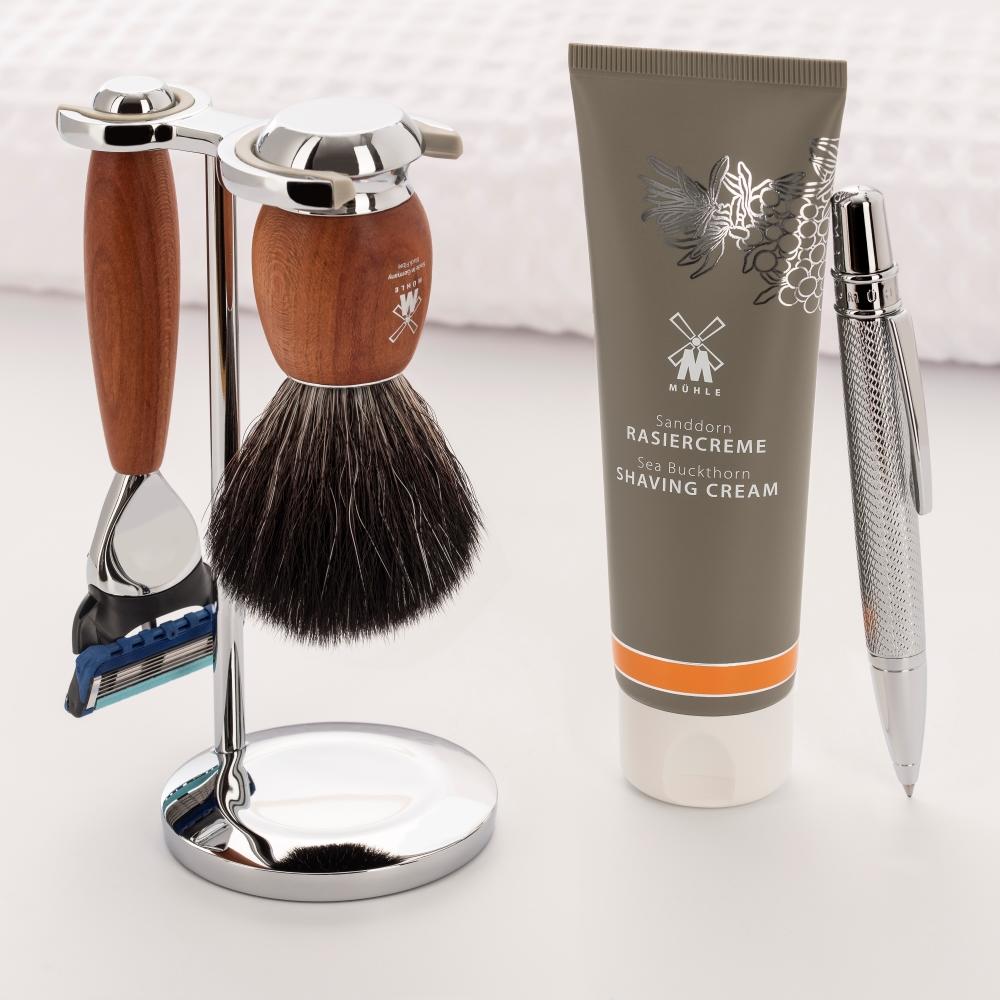 The new VIVO Plum Wood Gift Set by MÜHLE
The MÜHLE Shaving Class, £70
For the one that has it all!
If you'd prefer to purchase an experience for a loved one this year, our MÜHLE shaving class could be just the thing. Held in our art-deco style barbershop with shaving antiques on display, our shave class sessions are designed to ensure that you leave with the best shave know-how as well as a love for this incredible self-care ritual. Our expert barbers offer a personalised consultation, assessing the growth of your hair so you can learn to shave with the grain as well as discussing any skin sensitivities. The class will run through how to create a great lather and navigate the process of using a Gillette Fusion, Mach 3 or traditional double edge razor- the choice is yours!
Top tip! For the ultimate introduction to wet shaving, why not combine this gift experience with one of the aforementioned sets?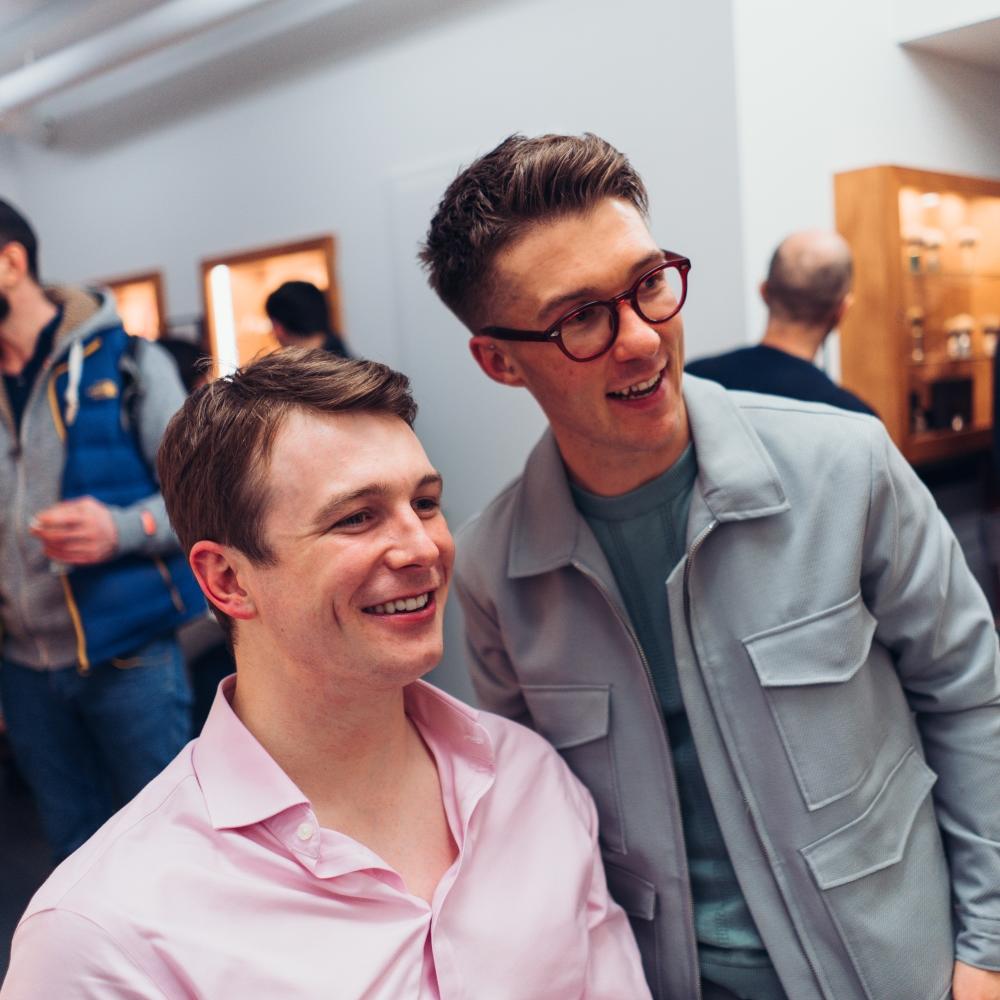 The MÜHLE London Barbershop
The MÜHLE Starter Set, £38 (MSSAV)
For those that tried it and loved it!
Ideal for those who have perhaps recently discovered the joys of wet-shaving, or even for those tentative investing in a new shaving brush, this starter set is an easy way to up your shaving game. Complete with Aloe Vera shaving cream and black fibre RYTMO shaving brush, the set is ideal for perfecting that pre-shave routine. Essential for a smooth shave, a quality shaving brush can help you create a rich and creamy lather whilst both prepping and exfoliating the skin.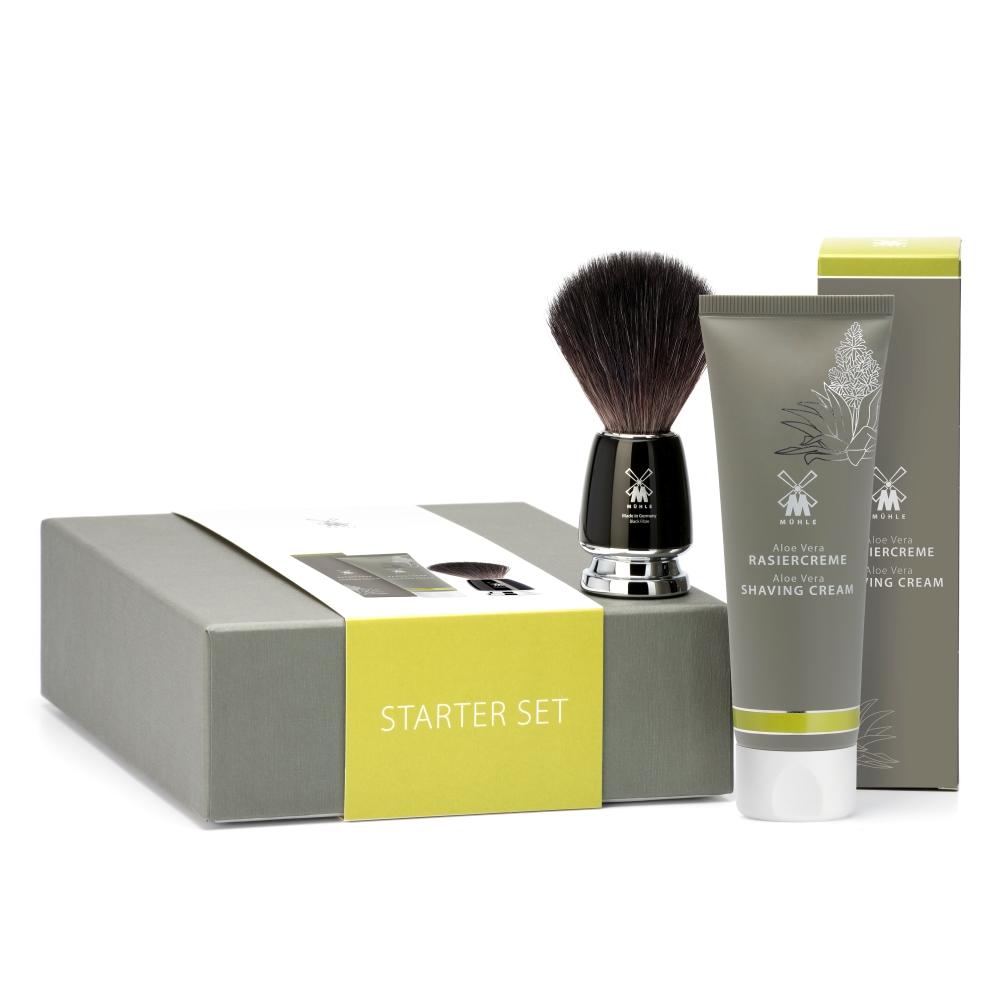 The MÜHLE Starter Set including Black Fibre RYTMO Shaving Brush and Aloe Vera Shaving Cream
The ROCCA Jet Silvertip Fibre Shaving Set, £250 (S31M96JET)
For the trendsetter!
Shiny and new, or in this case matt-black, the most recent addition to the MÜHLE ROCCA range is as alluring as it is striking. Featuring a stylish DLC coating, this sets feels as good as it looks. Originally developed for the automotive and racing sector, DLC is formed of diamond-like carbon layers that are many times harder than steel and extremely durable- proving once and for all that beauty can indeed be timeless.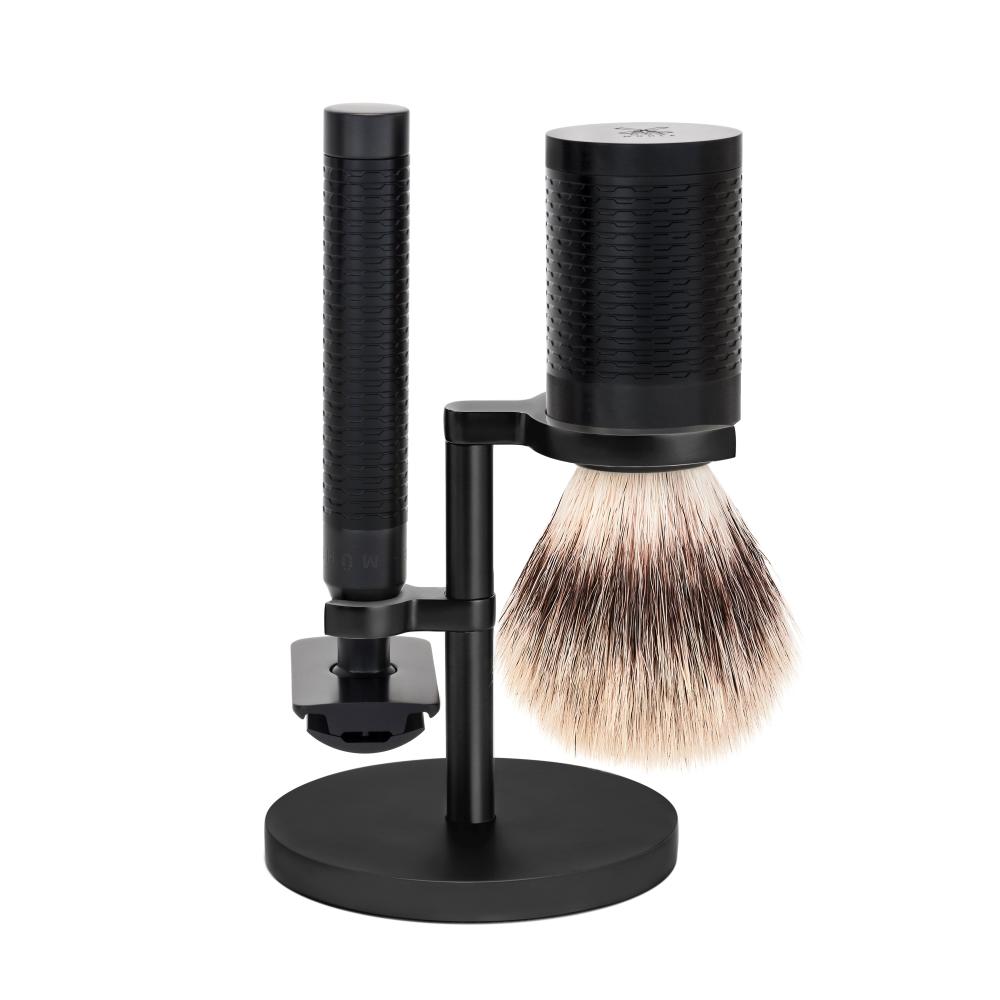 The ROCCA Jet Silvertip Fibre Shaving Set by MÜHLE
The SOPHIST Horn Silvertip Fibre Shaving Brush, £111 (33B42)
For the traditionalist that loves a little character!
With honey ochre grains and alluring deep browns, the charm of genuine horn lies with its individuality. With every piece truly unique, the SOPHIST horn collection is arguable one of MÜHLE's most charming. Combining timeless forms with fine materials, SOPHIST is a celebration of timeless Rasurkultur and is, therefore, the perfect gift for any traditionalist.
To keep your shaving brush pristine, why not also invest in a neat shaving stand? The RHM10 fits any SOPHIST or CLASSIC series brush perfectly.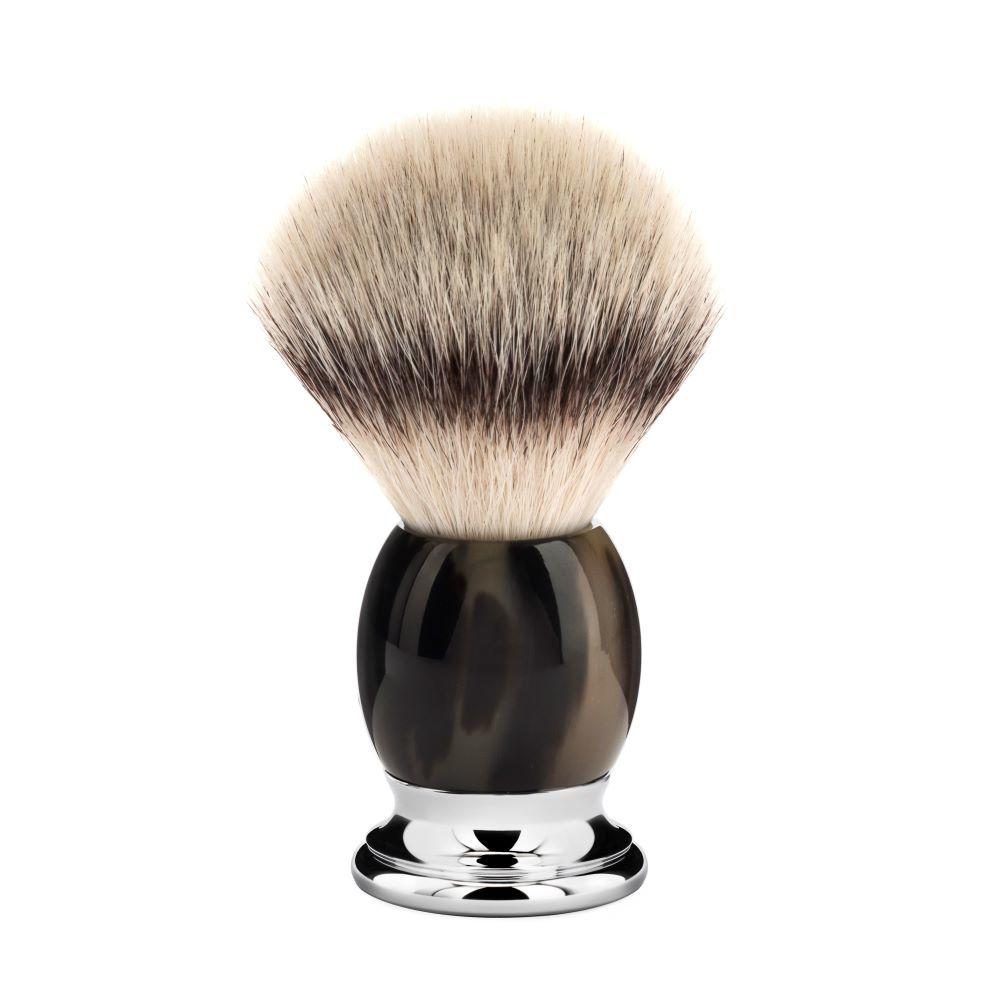 The SOPHIST Horn Silvertip Fibre Shaving Brush by MÜHLE
The ORGANIC Face Care Set, £38 (GSOSCFACE)
For the skincare buff!
Start the new year the right way with a fantastic skincare routine. Presented in a smart gift box, our ORGANIC range is packed full of restoring Argan oil and essential fatty acids to help soothe and hydrate. Gentle on skin, all ingredients are Vegan and BDIH certified, so you can be sure of no nasties.

The ORGANIC Face Care Starter Set by MÜHLE
The RYTMO Mint Black Fibre Shaving Brush, £32 (21M224)
For the bright new addition!
Made from high-grade resin, this RYTMO brush delivers on both durability and beauty. Presented in pastel mint with chrome metal highlights, this shaving brush is one of our more popular INTRO brushes and it's easy to see why! Formed with a soft, vegan, Black Fibre bundle the brush offers a more durable and lower maintenance alternative to natural hair.
Also available with a brush stand to help maintain and drip-dry your shaving brush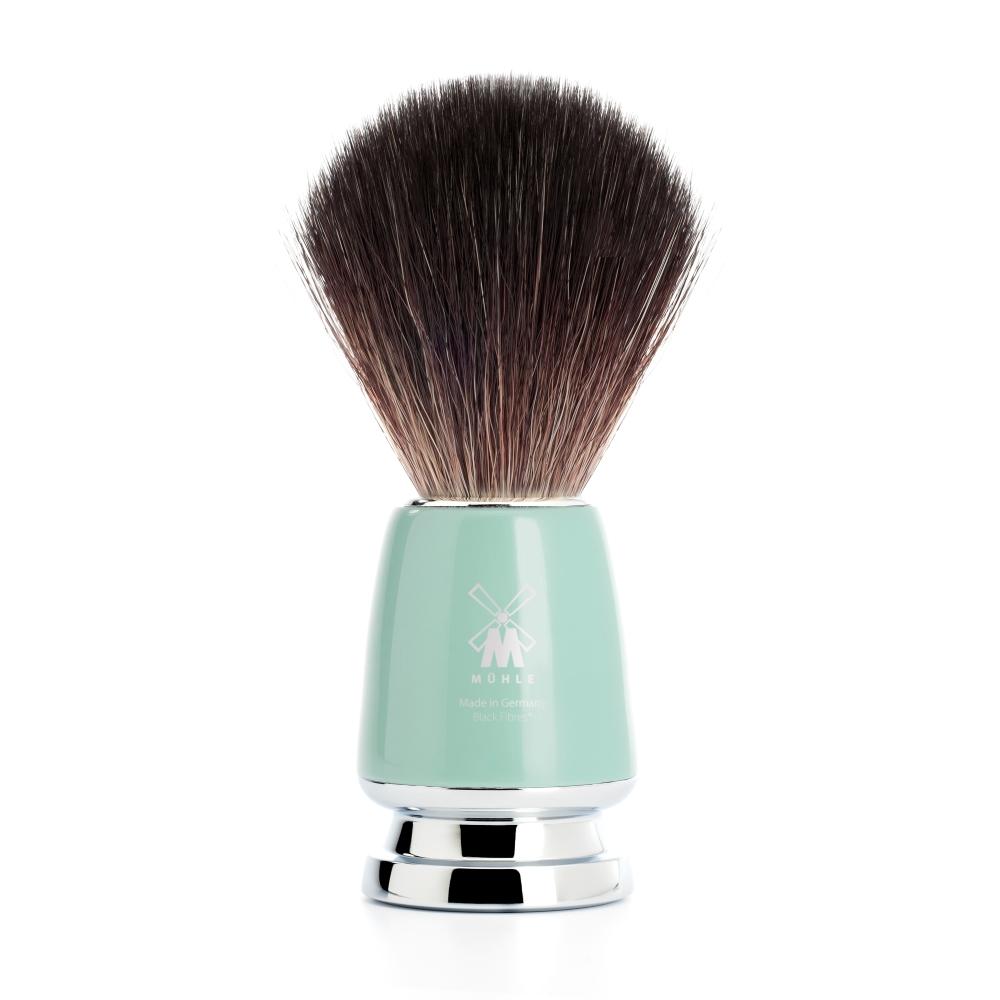 The RYTMO Black Fibre Shaving Brush by MÜHLE
The TRADITIONAL Black Gift Set, £167 (GSTRADBLACK)
For the gift show-stopper!
For the James Bond of gift sets, you can't get any suaver than the new TRADITIONAL set in black chrome. Complete with full shaving set (including stand) the gift also includes a handy pack of blades, blade guard, Waffle pique towel and some rather exclusive MÜHLE cufflinks. Timeless in design, the shaving set provides a close, clean shave and is guaranteed to leave you top gift-giver of the season.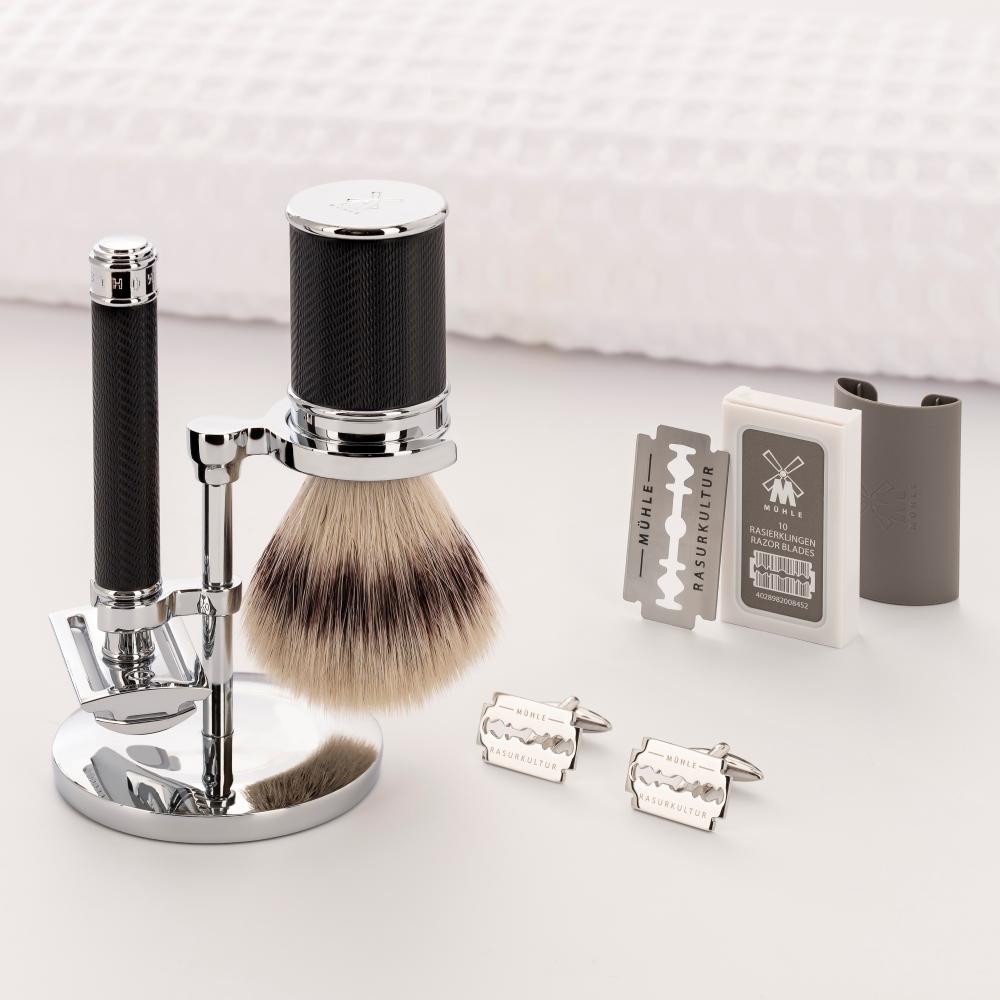 The New TRADITIONAL Gift Set by MÜHLE
The STYLO Butterscotch Fusion Razor, £95 (R74F)
For the Gillette shave enthusiast!
Beautiful and eye-popping bright- the STYLO butterscotch collection is a wonderful contrast to those grey winter days. Sure to put a smile on anyone's face, the Gillette Fusion razor ensures a very close and gentle shave with its simple and safe handling making it ideal even for newcomers.
Also available with our Gillette razor stand, for a truly smart bathroom addition.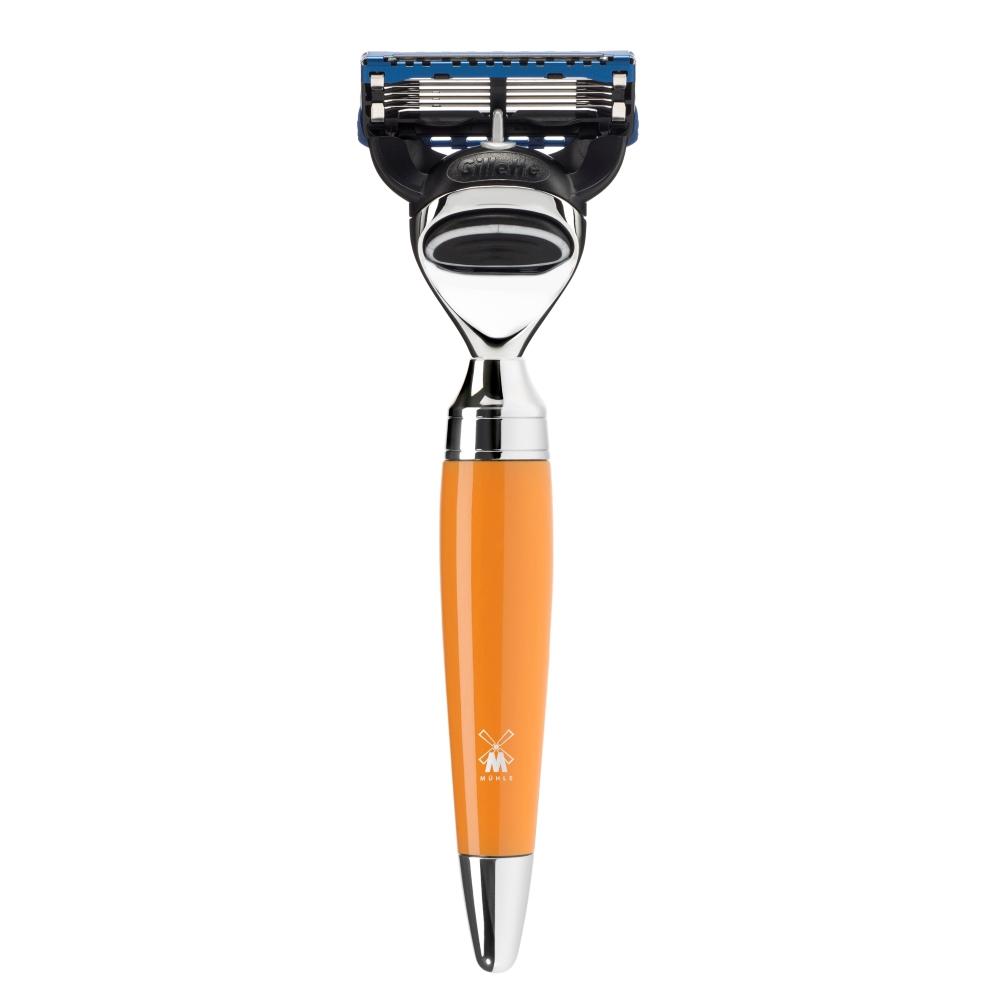 The STYLO Butterscotch Fusion Razor by MÜHLE
The Beard Gift Set, £217
For the one that looks a little too much like Santa!
Finally, for your bearded loved ones, why not get creative and fashion your own bountiful beard bundle! As starting inspiration, we've suggested the new MÜHLE Beard Scissors and iconic R89 for neatening and sculpting, the ORGANIC face cream and argan oil to moisturise and smooth and the RT5 travel case to beautifully present it all.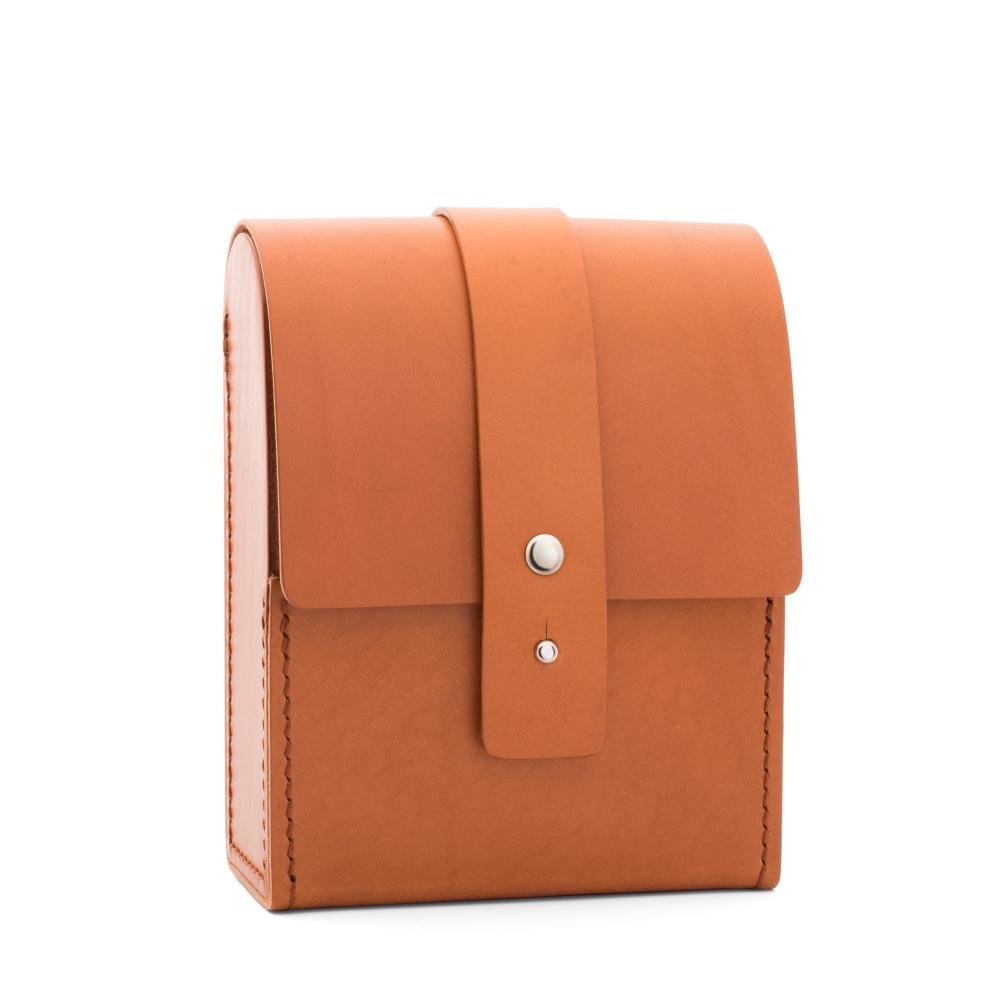 The RT5 Travel Case by MÜHLE