24

Oct

The MÜHLE Historical Collection: Q & A with Andreas Müller
---
An exciting mini-historical exhibition is due to arrive next month in MÜHLE London store, and will feature in our soon-to-be-open MÜHLE Treatment space, comprised of some real wet-shaving antiques. We decided to get the inside scoop with MÜHLE Managing Director, Andreas Müller to find out more about the origins of the collection.
Interview by Charlotte Cavie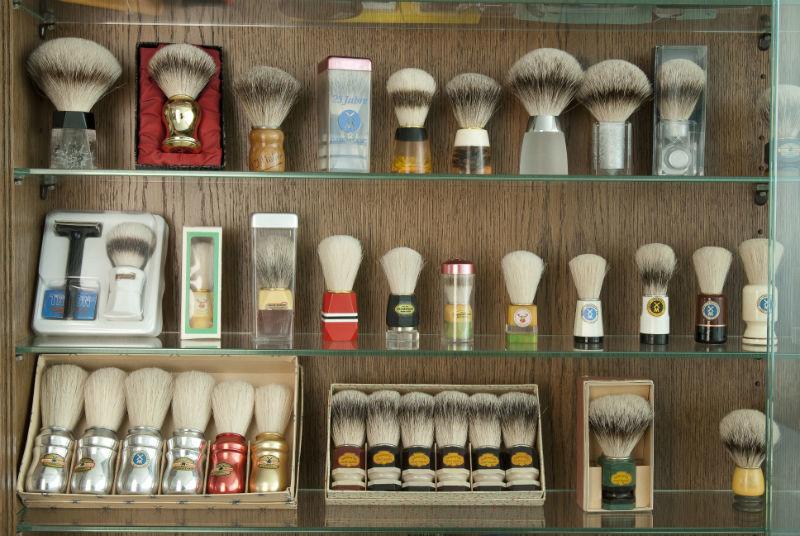 Pictured: Part of the MÜHLE historical brush collection.
CC: So firstly, how and when did the collection begin? Who originally started gathering the items?
AM: We had some items from product ranges our grandfather produced in the 1950s and 60s as well as ones from our father which were manufactured by MÜHLE in the 1970s and 80s. At some point our father started to collect other items related to wet shaving and barbering. The collection grew bigger and bigger with the years.
In 2005 we had the chance to obtain a large collection from a gentleman who had collected such items over decades. We then decided to dedicate one room in the company and exhibit part of the collection there. Ever since it's growing as many visitors and people who have read about it keep offering us pieces.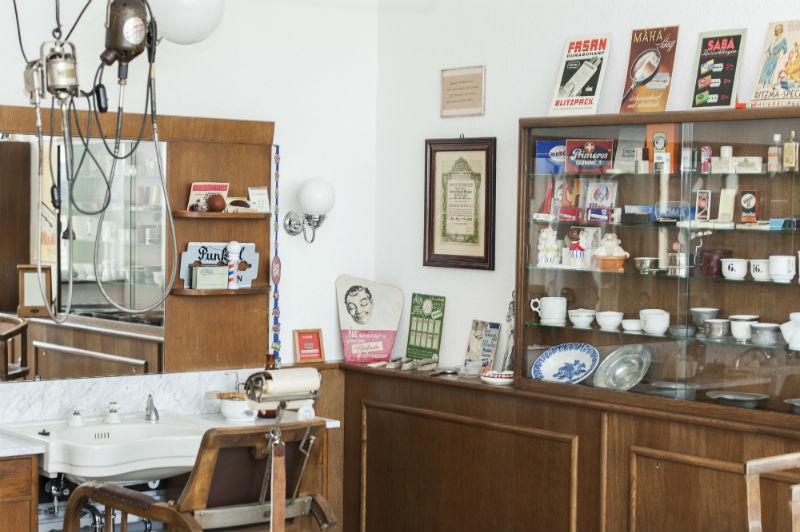 Pictured: MÜHLE's dedicated exhibition room, in the cabinet are 'beard cups' designed to prevent facial hair getting wet whilst drinking.
CC: Out of the extensive exhibition are there any stand out pieces for you? Any favourites?
AM: There are definitely some pieces that stick out. I personally like the so called "beard cups" very much. They were in fashion in the times of the German emperor Wilhelm 1st. Then many of his followers had a beard like him and numerous devices helped him to keep it in good shape. The beard cups had a ''protection bar" in order to prevent the beard from getting wet when drinking.
I also like the blade sharpeners from the beginning of the 20th century. Many of them are true mechanical master pieces.
Also, some of the early DE razors belong to my favourites. I am always amazed by the variety and the beauty of the double edged razors being produced in the first half of the 20th century.
CC: The collection includes a number of MÜHLE pieces throughout the years. How do you pick which ones to keep and display?
AM: There are two criteria: the pieces either need to be exceptional and unique or they need to represent the tools being used commonly in the specific period.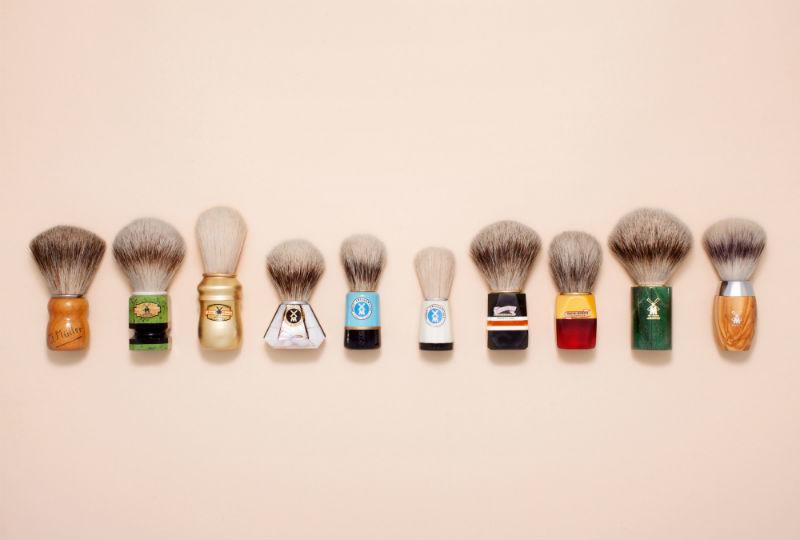 Pictured: MÜHLE brushes throughout the years. Featured last is the KOSMO Olivewood Silvertip Fibre shaving brush.
I imagine the collection goes through quite a few shifts in terms of design and trends, has there been any noticeable changes in people's preferences in shaving?
AM: The first revolution was brought by the invention of the DE safety razor. While shaving with a straight razor was carried out by professional barbers - only few people shaved themselves at home with a straight razor - shaving became now a more private thing. It didn't need as much skills and thus it started to move from barbershops to private bathrooms.
The second revolution is marked by the spreading of electric shavers starting in the 1950s.
The wet shaving industry tried to compete by making wet shaving faster. In my eyes this harmed the wet shaving more than it supported it´s industry. People lost the sense of performing a daily ritual. The sheer ritual of masculinity sadly became a must - a duty of getting rid of your stubble.
The third, contemporary stage is the rediscovery of the wet shave as a ritual and its return to Barbershops. It's a period of ''diversification". We see a revival of the DE razor. Also, some start to use straight razors while contemporary cartridge razors are being permanently improved and perfected.
Each stage has obviously its own design language reflecting each periods spirit and perception of shaving.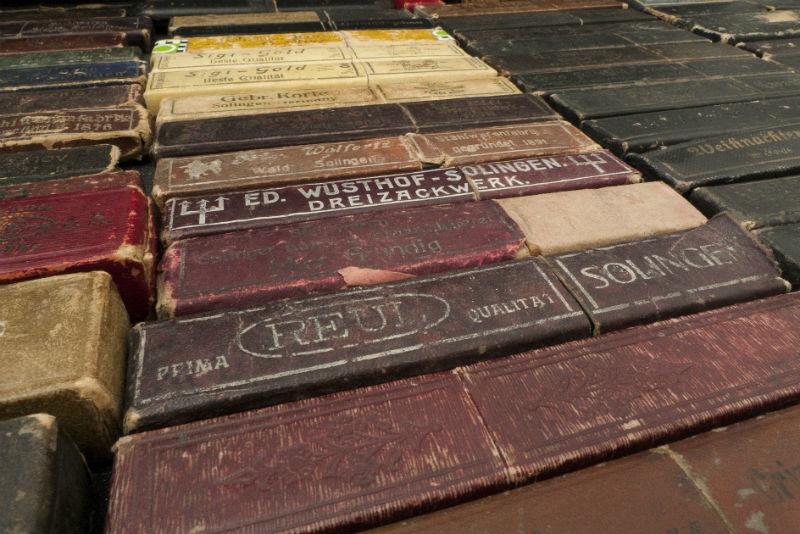 Pictured: An inside look at the MÜHLE Historical Collection.
The new MÜHLE Treatment space will feature a few select pieces of the collection, can you tell us about any one of these?
AM: We want to show a good number of pieces that cover all categories we display in Germany: We are going to exhibit some old MÜHLE products, the early wet shave will be reflected by some really old and outstandingly beautiful Solingen made straight razors, beard cups and 250 year old tin bowls used for shaving. The early DE razor period is going to be represented by some extraordinary double Edge razors, blade sharpeners and various travel sets.
Also, some historic luxury shave gear by prestige brands will play a role. And of course, we will have special exhibitions from time to time focusing on one specific topic.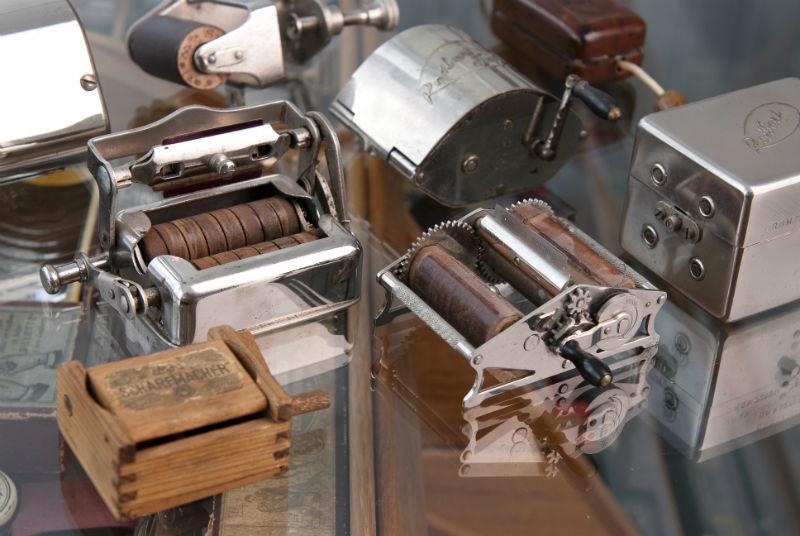 Pictured: Vintage razor blade sharpening tools.
Why do you think it's important to preserve and recognise wet-shaving's history?
AM: First of all, it´s part of what we do at MÜHLE and relates to our heritage. The historic products also inspire us to some extent.
Secondly, wet shaving is part of mankind´s history, masculinity and part of our cultural legacy. They are simply interesting and fun to look at.
For more information regarding the new MÜHLE Treatment Space, click through to our two September blogs below:
MÜHLE Treatment Space to Open in Carnaby Store
Or, for more historical content: