05

Dec

The MÜHLE Christmas Gift Guide
---
The MÜHLE CHRISTMAS GIFT GUIDE
At MÜHLE, it goes without saying that shaving should be a pleasure. Having the right shaving set, skincare products and accessories is essential and enables us to thoroughly enjoy the shaving preparation, process and, of course- the end result. For many of us shaving is something we do after a shower, as we freshen up and take some time for ourselves before we face the demands of this day and the next. The tactile nature, particularly of wet shaving has a soothing, meditative quality that helps us slow down and step away from the fast-paced daily grind. This investment of time is a good one; not only does it equip us with a great frame of mind as we prepare for tasks and challenges ahead, but it lovingly cares for our most worn, loved and characterful accessory – our face.
Our Gift Guide for the mindful shaver, will ensure you or your loved ones have everything you need for the perfect shave.
GIFT SETS for the Man who wants it all
The Complete Package: VIVO Olive wood Gift Set
The VIVO series is reminiscent of classic predecessors with its slightly bulbous shape, at the same time the simple tapered chrome accents feel clean and fresh. The VIVO Olive wood set is exclusive to our new Gift Box, with the subtle classic finish perfectly complimenting the VIVO shape. Complete with Safety Razor, Black Badger Shaving Brush, Sandalwood Shaving Cream, Aftershave Lotion, Waffle Pique Towel and a pack of razor blades to boot, this is the complete package for the man who loves a classic.
£175.00
The Icon: MÜHLE Traditional Gift Set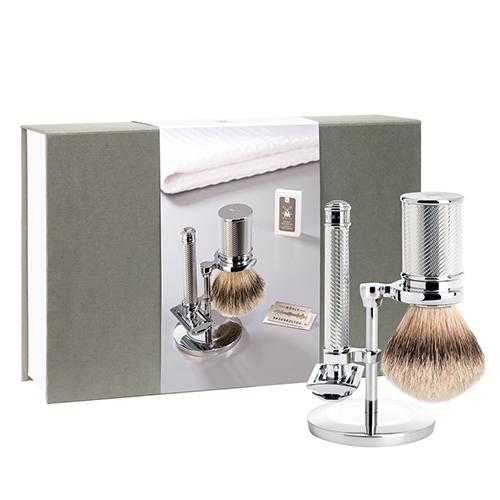 The iconic MÜHLE Traditional Set is a minor marvel of precision, ergonomics and beauty where classic design meets radiant, chrome finish. With a Silvertip Badger brush, our bestselling R89 safety razor, stand, Waffle Pique Towel, razor blades and blade guard to boot. This is a gift that is guaranteed to impress. Also available in Black and Twist versions
£170.00
The Rebel: RYTMO Fusion Black Gift Set
The exclusive RYTMO Black set with gun-metal chrome and a fusion Razorhead is eye-catching and edgy- perfectly complimented with Black Badger Shaving Brush, Organic Shaving Cream and Waffle Pique Towel.
£150.00
STATEMENT SHAVING SETS
The Timeless Looker: SOPHIST
Timeless forms combine with fine materials in the SOPHIST range; a celebration of traditional Rasurkultur. This luxurious and elegant series shows that we take time for the things we love. Pictured in Porcelain, also available Grenadille, Genuine Horn and High Grade Black Resin. A perfect gift for legends, who get better every year.
SOPHIST 4 Piece Porcelain Silvertip Badger Shaving Set, with Safety Razor £283.50
SOPHIST 4 Piece Porcelain Silvertip Fibre Shaving Set, with Safety Razor £263.00
*3 Piece Sets also available, and with Mac 3 and Fusion Razorheads
The Modern Classic; ROCCA Birchbark
The design of the ROCCA range is a modern interpretation of classic MÜHLE models. The name ROCCA refers to the very best materials that will last a lifetime and beyond. Warm and eye-catching, the Birchbark finish is perfectly complimented by satin finish stainless steel accents that feel great in the hand. Featured in the FT earlier this year, this set is masculine, simple and beautiful; a gift that is certain to impress. Also available in Black and Jet Black.
ROCCA Birchbark Safety Razor, Silvertip Fibre Brush and Stand £238
ROCCA Birchbark Safety Razor, Silvertip Badger Brush and Stand £247.50
The Inner Rock Star: KOSMO Citrine
For the guy who likes to channel his inner Freddie Mercury this modern-day shaving hero is a perfect fit. The simple, contemporary KOSMO set has a fresh design that is fit for purpose, and easily at home anywhere in the world. This iconic set is a great gift for guys who look up to the skies and sing in the shower.
KOSMO Citrine 3 Piece Silvertip Badger Safety Razor Set £169.50
KOSMO Citrine 3 Piece Silvertip Fibre Safety Razor Set £140.00
*Also available with Mach 3 and Fusion Razorheads
The Design Savvy; HEXAGON
Winner of both The Red Dot Design Award and The German Design Award, the HEXAGON range is the result of collaboration between MÜHLE and renowned Berlin product designer Mark Braun. The hexagonal profile combines contemporary design with traditional, and thoroughly practical elements to ensure ergonomics, grip and functionality- this set is reminiscent of perhaps the most classic tool of all – a pencil. Handles are made of anodised aluminium in Bronze, Graphite, Forest and Silver evoking the Erz Mountains, home of the MÜHLE Manufactory. Geographical coordinates of the manufactory location are also located on the side. Perfectly complimented by the biscuit porcelain bowl this set will give proud owners something to talk about.
Hexagon 3 Piece Silvertip Fibre Shaving Set: £132.50
Hexagon 3 Piece Silvertip Badger Shaving Set: £144
The Handsome Pragmatist: Rytmo Steamed Ash Set
This 4 piece shaving set, with a handy bowl that fits underneath the shaving brush has everything you need in one neat space. The steamed ash is handsome, classic and understated and complimented with eye-catching chrome accents. A fantastic set that has it all for less than £100. Available with a pure badger or black fibre brush.
FOR JET SETTERS
The Romantic: Travel Manicure Set
This beautiful manicure set is made of stainless steel complete with a nail clipper, nail scissors, tweezers and nail file. The case is made of natural cowhide leather that is long-lasting and durable and develops an individual patina in the course of its use: the traces of the owner, his travels and experiences. The perfect gift for an idealist who cherishes life's rich experiences.
Manicure Set in Cowhide Leather Case £138.00
SHAVING KIT GIFTS FOR UNDER £40
At £37, our Starter Set makes a great gift for anyone who likes an occasional wet shave or is thinking of taking it up. Especially suitable for sensitive skin,
The aloe vera substance is extracted from the inside of cultivated aloe plants from the Mediterranean area. The natural ingredients calm and refresh the skin and the senses during shaving. With fine fragrance notes of oakmoss and mint. The high-grade resin, black fibre brush, is eye-catching and timeless.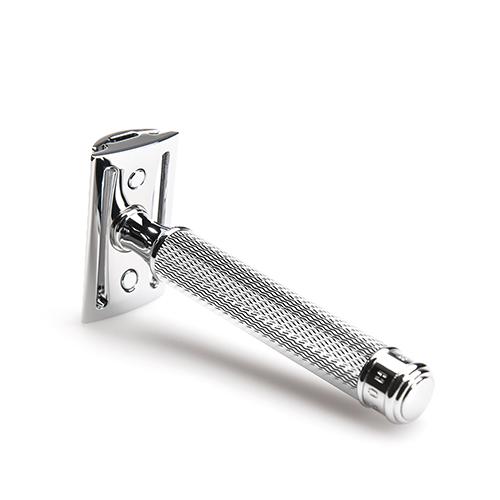 Our most iconic and best-selling product the R89 safety razor is a stylish classic which can even shave edges with precision.
The single blade produces a very close shave, lasting result and is much kinder to the skin especially when used with a good lather.
Shaving with a safety razor does demand a little respect at first in terms of attention to the 30 degree angle, as well as time to lather the hair. However, after a brief familiarisation period you can shave with confidence and achieve great results; the R89 is particularly good if you're new to wet shaving because it has a closed comb. At 32.50 the R89 is a gift which can last a lifetime- a priceless tool for a wet-shaver.
R89 in Chrome, Black or Tortoiseshell £32.50
Silvertip Fibre Travel Shaving Brush
Our well-designed Silvertip Fibre Travel Brush conveniently packs away into the handle, fitting neatly into toiletries bags for gents who are on the go. Silvertip Fibre was developed by MÜHLE to perform like the best badger brushes and the fibre is particularly durable making it well suited to travel. Stylish and handy, this brush is certain to attract admiration. Available in Silver and Black.
Travel Shaving Brush Anodised Aluminium £32.50
SKIN CARE FOR UNDER £40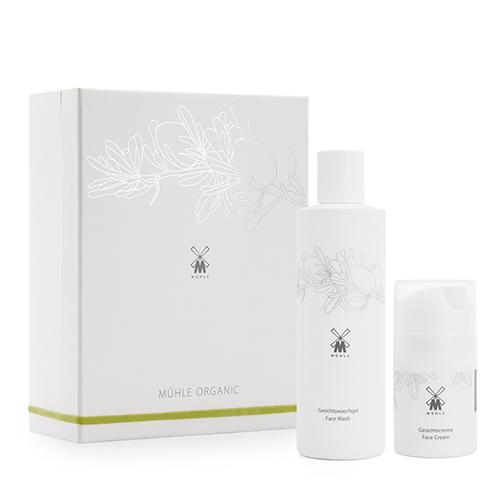 If you know someone who's after a natural and effective holistic regime, from shaving to skin and haircare our Organic Gift Sets are a perfect match. Argan oil, the central ingredient of the Organic Range, is particularly rich in vitamin E and essential fatty acids. Creamy waxes and nurturing glycerine optimise the hydro-lipid balance of the skin, helping it to retain moisture. The Organic Range is BDIH certified; products are vegan and contain no synthetic preservatives, aromatic substances or colourants. A fine gift for anyone interested in caring for the skin, the subtle, natural fragrance is suitable for both men and women.
(Shaving Cream and Aftershave Balm) £33.50
(Face Wash and Face Cream) £37.00
(Shower Gel and Body Lotion) £35.50
One thing barbers' talk about a lot is the important of using a good quality shaving cream and aftershave balm, particularly for wet-shavers. Producing a good quality lather that can be massaged into the hair with a shaving brush, helps lift the hair so it can easily be removed with a safety razor and nourishes and protects the skin. Coupled with an aftershave balm in our Shave Care Gift Sets, skin will soothed and moisturised after a shave, a great look for the day ahead and in prime condition for the next time. Available in classic Sandalwood, gentle Aloe Vera, and refreshing Sea Buckthorn our Shave Care sets are an all round great gift.
STOCKING FILLERS for under £20
Classic Sandalwood, gentle Aloe Vera, and refreshing Sea Buckthorn the three Shave Care scents all available in soap form, as a trio. Guaranteed to make your stocking smell lovely.
Shaving with a safety razor is easy when you prep the skin and take your time, however sometimes, as with a cartridge razor small nicks can happen. Having the alum in pencil format, helps mend any small nicks as you can target specific areas the same way you would with a pencil. This alum pen (or styptic pencil) soothes the skin after shaving, with astringent effect. For use on damp skin. An ideal tree gift or stocking filler for a wet shaver.
Our newest product, the Shaving Stick is very handy. At 1.3 oz, it can be taken into hand luggage and applied directly onto the skin, working the lather with a damp brush. An ideal tree gift or stocking filler, for anyone who likes to have their shaving kit when they travel. Available in Sandalwood, Aloe Vera and Sea Buckthorn.