21

Jul

The Best Shaving Brushes for Any Budget
---
Here at MÜHLE, we pride ourselves on quality above all else. Creating shaving brushes that stand the test of time using the finest materials, we like to think that we offer something for everyone. From showstopping investments to intro our range, our shaving brushes don't necessarily come with a hefty price tag. Dedicated to making Rasurkultur accessible for everyone, at any budget, see our latest blog exploring the entire MÜHLE collection – from the best budget to the biggest splurge.
Best Budget: NOM
Tasteful, functional and for a fair price – the NOM collection was created using a range of high-quality plastics and Europe's finest woods producing shaving brushes that don't cost a fortune and that last for ages. Found in nine different styles, every brush can be found in three different finishes and bristle types. From pure badger to bristle to synthetic black fibre, the choice is endless! All made in Germany, the brushes are produced using only the most efficient technology.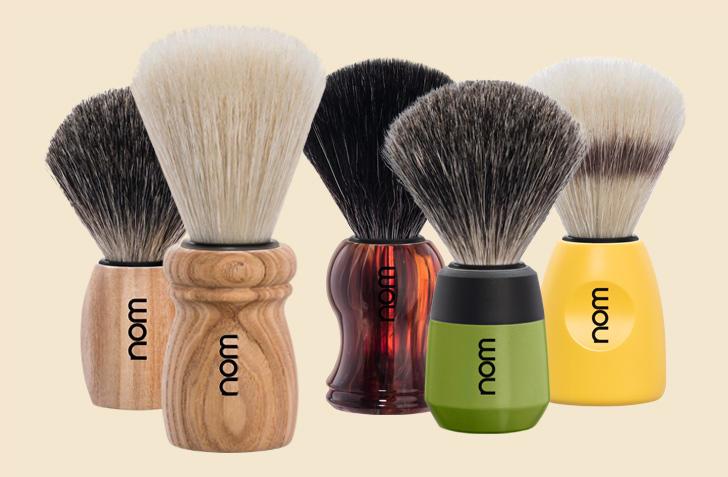 Pictured (from left to right): OLE81PA, ALFRED15PA, GUSTAV21HA, MAX81OL, LASSE41LE
Best Intro: VIVO and RYTMO
Made for the novice to the connoisseur, these shaving brushes are perfect for those new to wet shaving and/or those wishing to spend just a little more on an investment piece or set- yet still within an accessible price range. With brushes at the £30-£35 mark, the VIVO and RYTMO ranges are created using natural materials such as plum wood and steamed ash as well as a range of high-grade resin finishes. As with all MÜHLE shaving brushes, these brushes are available in either a synthetic or natural hair depending on personal preference. Created using our standard quality bundles our INTRO ranges include the choice of pure badger or synthetic black fibre. Recognizable by its relatively dark colouring, the individual hairs of pure badger are somewhat thicker, but still much softer and more flexible than natural bristle. Largely resembling this quality, the black fibre synthetic alternative is equally good in its performance and even a little softer at its tips. It is also worth noting that, some of our CLASSIC range can also be placed in a similar budget. Starting from just £33, Connoisseurs rank our CLASSIC brushes among the best in the world!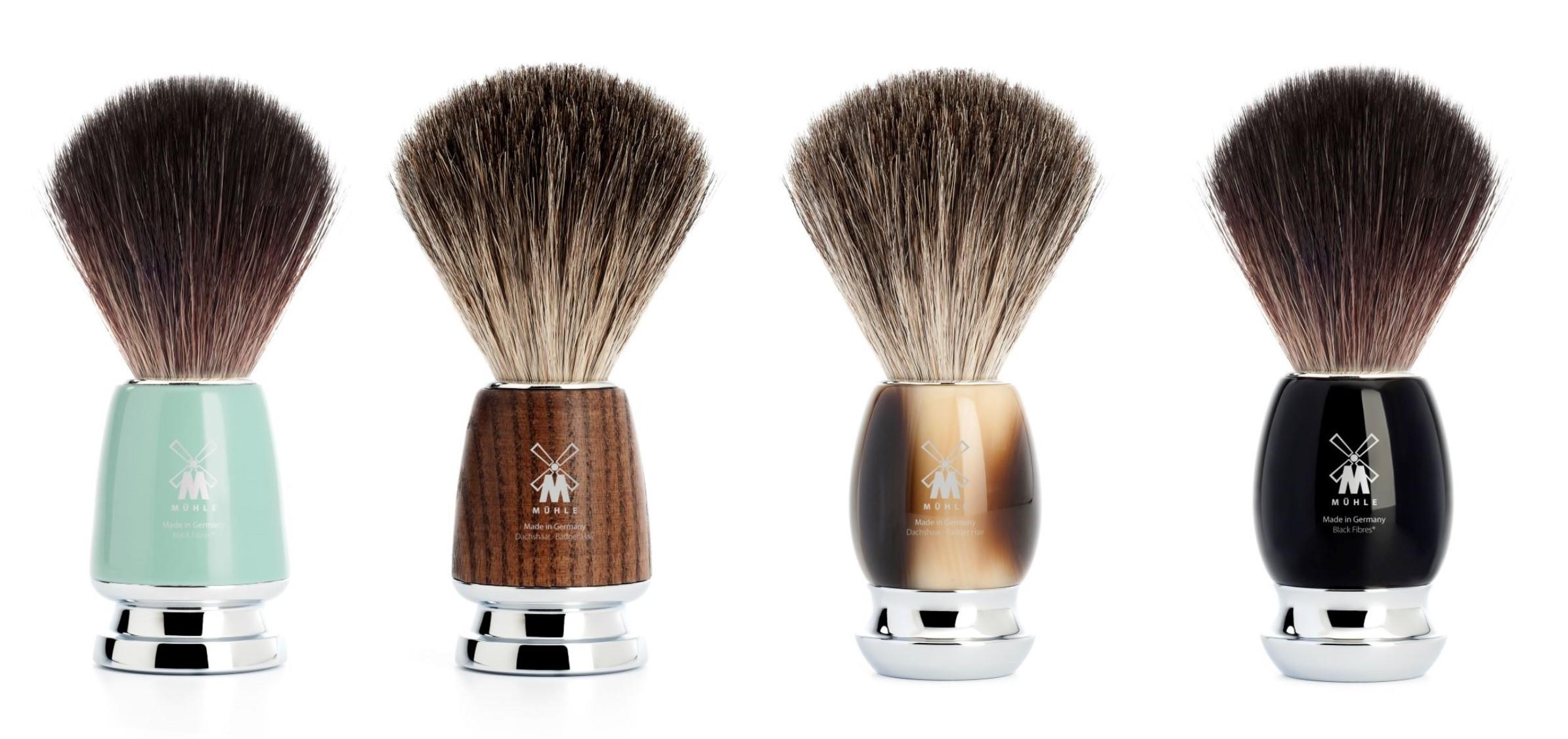 Pictured (from left to right): The Mint RYTMO Black Fibre Shaving Brush (21M224), The Steamed Ash RYTMO Pure Badger Shaving Brush (81H220), The Horn Resin VIVO Pure Badger Shaving Brush (81M332), The Black Resin VIVO Black Fibre Shaving Brush (21M336)
Best Stylish Mid-Range: KOSMO and HEXAGON
Simple, contemporary and oh so modern, our KOSMO and HEXAGON ranges offer fresh designs and distinctive finishes. Available from £50, these brushes offer a great mid-range selection for anyone who delights in their shaving routine. Created using some of the finest hair grades, HEXAGON is available in either silvertip badger or (synthetic) silvertip fibre whilst KOSMO also features fine badger bundles. Silvertip Fibre, a premium quality synthetic hair, was designed to mimic the characteristics of the precious natural hair, silvertip badger. Very soft at its fine tips, but somewhat more stable than natural hair in the middle section, the fibre produces a pleasant, soft sensation on the skin. Creating a particularly creamy and thick lather from a small amount of shaving soap or cream, the synthetic fibres maintain a great backbone and firmness.
These brushes also feature unscrewable bundles, with replacements available ensuring – making the handles true lifetime products.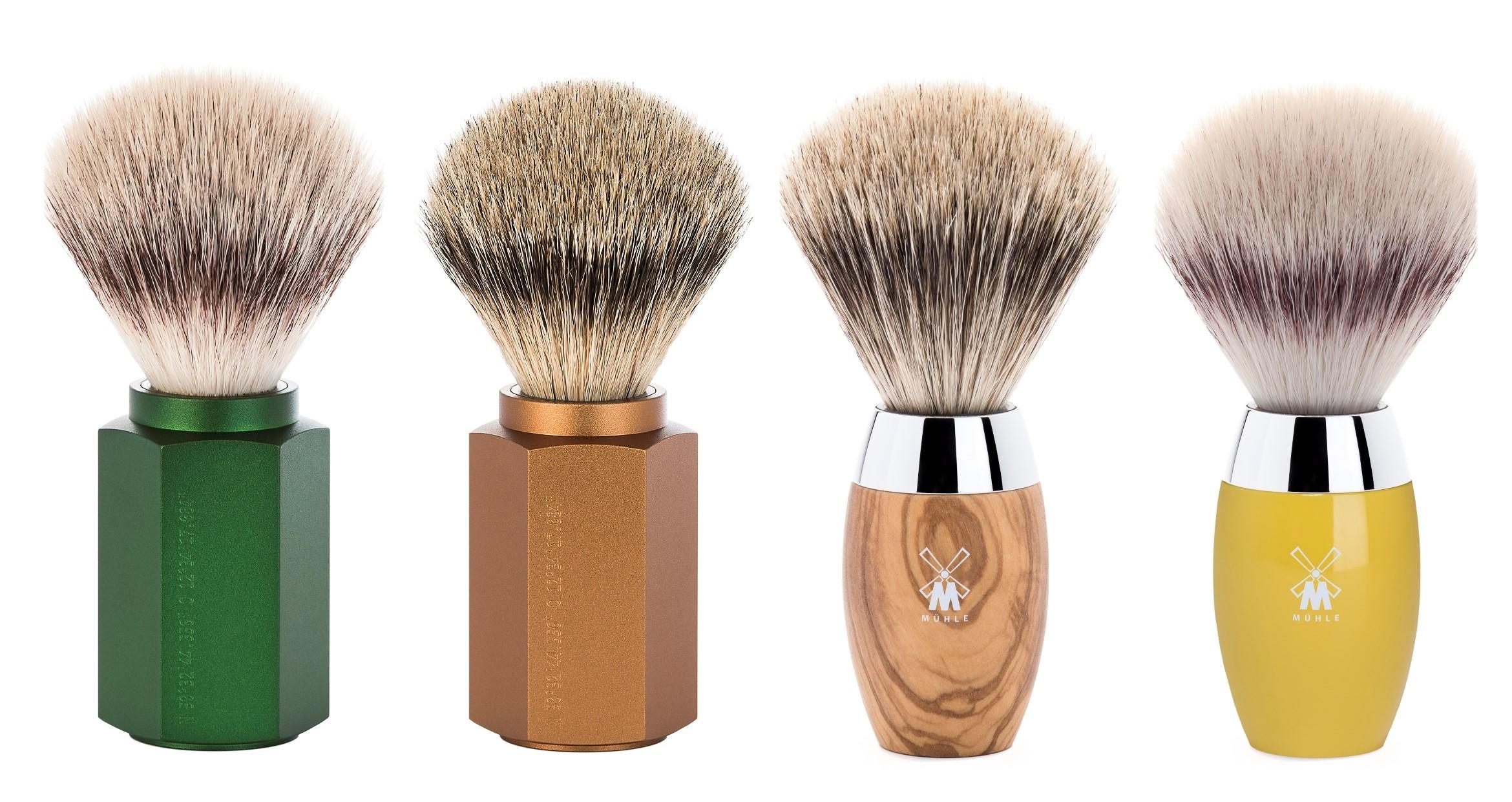 Pictured (from left to right): The Forest HEXAGON Silvertip Fibre Shaving Brush (31MHXGFOREST), The Bronze HEXAGON Silvertip Badger Shaving Brush (091MHXGBRONZE), The Olive Wood KOSMO Fine Badger Shaving Brush (281H870), The Citrine KOSMO Silvertip Fibre Shaving Brush (31K874)
Best Investments: TRADITIONAL and SOPHIST
A little pricier, our TRADITIONAL and SOPHIST ranges are all about the showstopping finishes. The MÜHLE TRADITIONAL range, an icon of chrome, is a minor marvel of precision, ergonomics and beauty. Featuring some of our bestsellers, the brushes all have replaceable bundles meaning you can once again enjoy the pleasure of a new brush head without investing in an entirely new shaving kit. Whilst not replaceable, our SOPHIST range features a slightly larger bundle for a truly indulgent shaving experience. Created using fine materials such as Ironwood, Genuine Horn, Porcelain and High-Grade Black Resin the elegant series is a true celebration of traditional Rasurkultur. A worthy investment for anyone who enjoys taking some time for the things they love; these brushes are a lifetime product of unmatched quality.
Other ranges in a similar price bracket include STYLO, ROCCA, PURIST.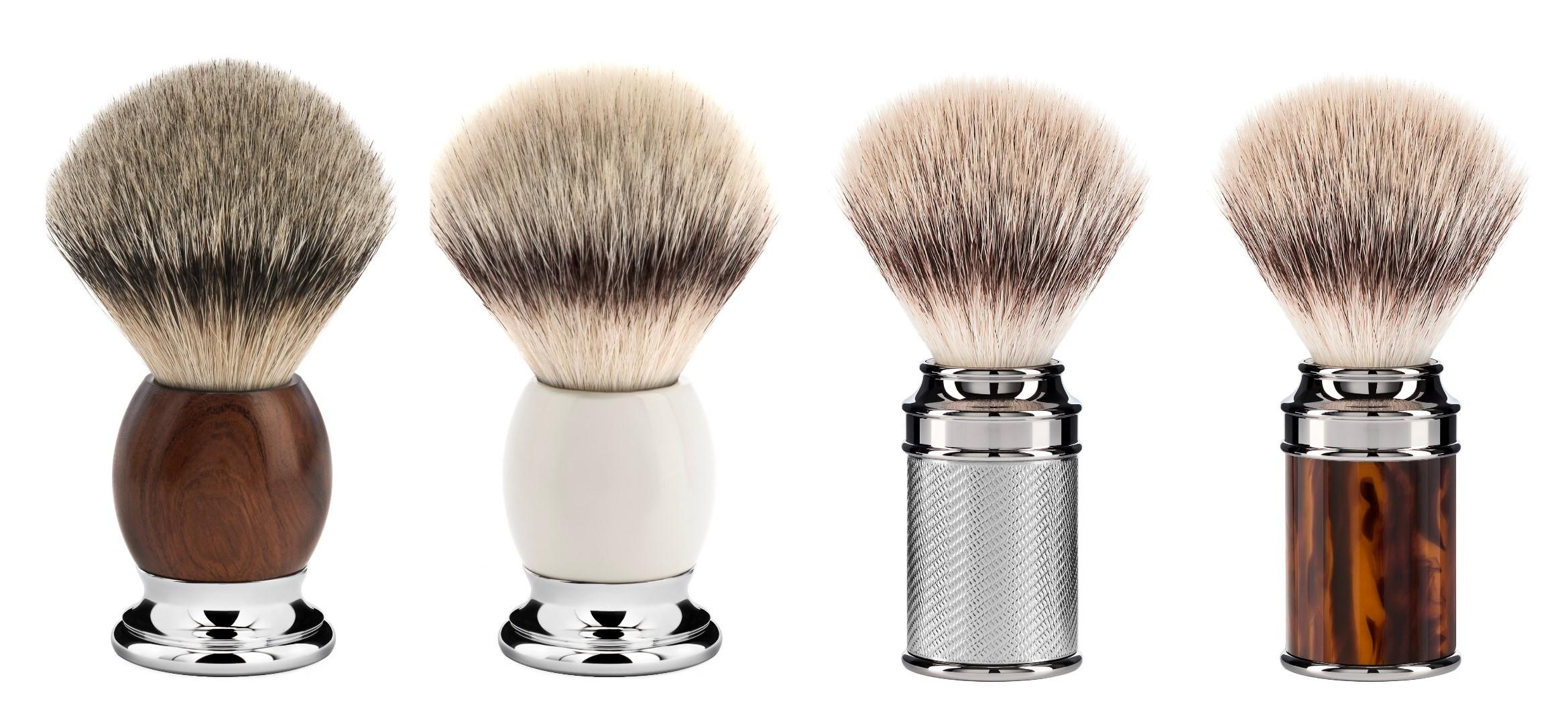 Pictured (from left to right): The Ironwood SOPHIST Silvertip Badger Shaving Brush (93H47), The Porcelain SOPHIST Silvertip Fibre Shaving Brush (33P84), The Chrome TRADITIONAL Silvertip Fibre Shaving Brush (31M89), The Faux Tortoiseshell TRADITIONAL Silvertip Fibre Shaving Brush (31M108)
Best Splurge: EDITION
Made by hand using the finest precision work and the most exquisite of materials, the EDITION range are the crowning glory of the MÜHLE collection. Available only in Silvertip Fibre or Silvertip Badger, only the finest, softest and rarest quality of hair will do- not to mention they also boast the largest brush heads of all our ranges. Available in Carbon, Ancient Oak/ Sterling Silver, Urushi and Meissen.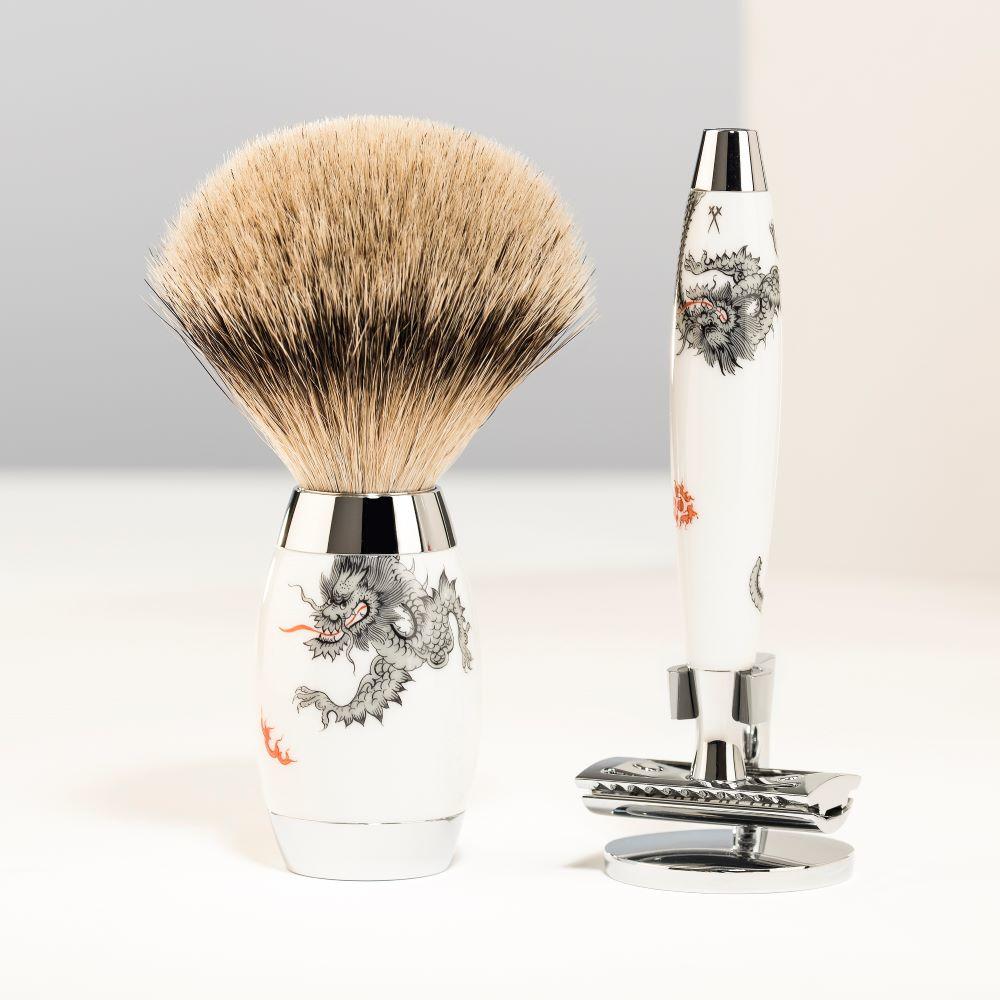 Pictured: The MÜHLE EDITION MEISSEN Shaving Brush and Safety Razor
Like what you're reading? You can check out some more recent blogs here: