02

Jul

MÜHLE's Most Noteworthy Finishes
---
Words by: Veronica Berman
At MÜHLE there is certainly no shortage of striking finishes, and I would like to start this blog with a disclaimer and say that indeed all our finishes are noteworthy. However, having spent time viewing and handling MÜHLE products both in store and online, I have come to appreciate that certain finishes are best seen in person in order to fully appreciate subtle details and differences that can appear when seen with the naked eye. With our London store re-opening as of the middle of this month and our Treatment Space taking appointments as of the 4th of July, the ability to shop in person is once again a pleasure that some of us are lucky enough to enjoy. In this spirit I have done a round-up of eight finishes that are a true sight to behold, should you find yourself strolling along the cobbled streets of Carnaby – with the MÜHLE Store located in the creative hub of Newburgh Street.
And with a note to anyone who is not able to come to see us in store- I hope this blog helps describe some of these finishes for you and please rest assured that our customer service team here at MÜHLE UK will always be happy to assist you when shopping with us online!
So without further ado, here is my top 8 countdown:
8. BRIAR WOOD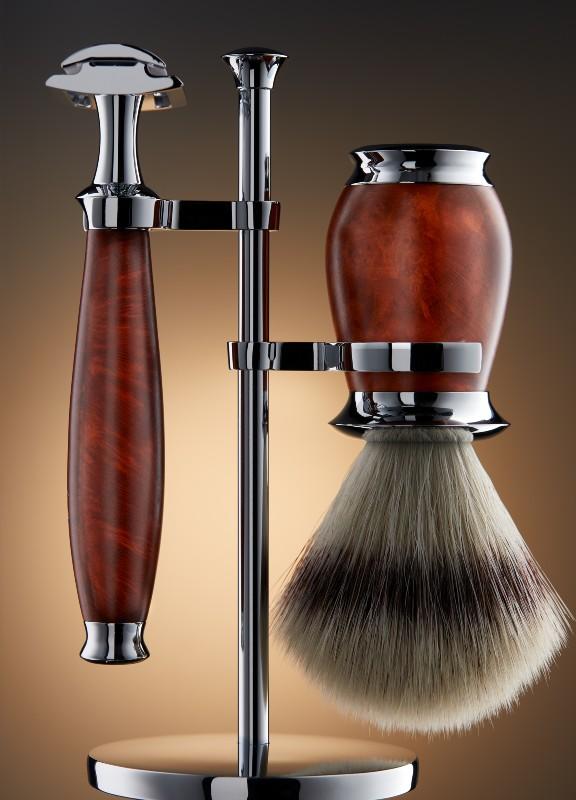 Pictured: PURIST Briar Wood Set with DE Razor and Vegan Silvertip Fibre Brush
With its earthy, reddish hue and swirling patterns the Purist Briar Wood Set evokes both fire and ground; undoubtedly a statement piece and yet still subtle. The dancing grain lends individual character to every brush, razor and set.
Interestingly, Briar Wood has long been used to create fine tobacco pipes because of its fire-resistant properties and so the fire-like colour gives reference to this story. Taken from the dense roots of the Erica Arborea shrub, which are dug out by hand when the plant is a minimum of thirty years old. To obtain the captivating reddish hue, the woods is cut into blocks after harvesting and rested for up to a year. After this painstaking process, only the finest sections are selected for further sanding, staining, waxing and polishing.
Available as individual pieces, as well as a set, the PURIST range also offers an individual brush stand as well as a brush and razor stand.
7. HORN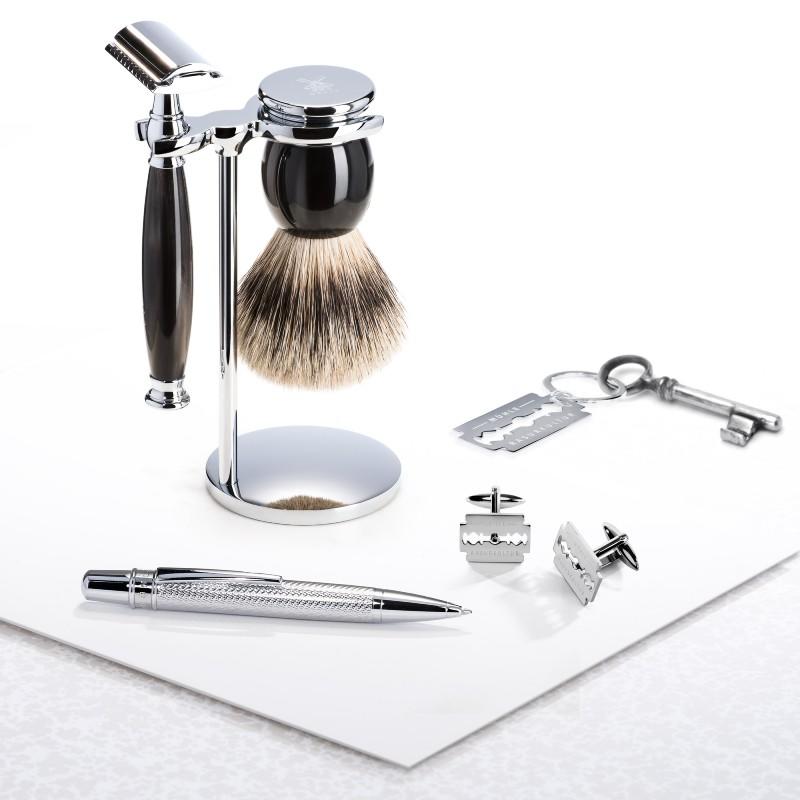 Pictured: SOPHIST Horn Set with iconic promo MÜHLE cufflinks, keychain and pen
For natural finishes, especially some of the ones mentioned here, if you intend to acquire both razor and brush it is best to either purchase as a set or bring your existing item into store to be able to look at and select a good match. There is no finish where this is more true than with our SOPHIST Horn sets; with tones that vary from beige to ochre to glossy rich browns and even going towards an onyx like colour each piece carries its own individuality as a natural material.
Hand-picked and then formed meticulously by a turner, the horn is then finely ground and polished to create the high-gloss finish.
6. SPALTED BEECH WOOD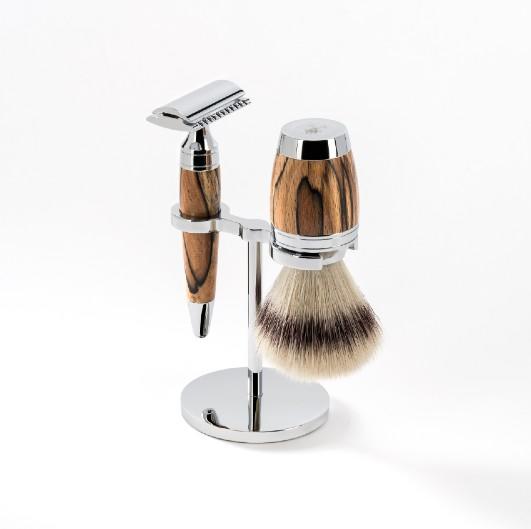 Pictured: MÜHLE STYLO Spalted Beechwood Set
Relatively speaking, the form of the STYLO range is modern, certainly more so than our PURIST and SOPHIST ranges. And yet, there is something classic about their pen-like form with its mid-century feel. With some of the most eye-catching finishes in the entire MÜHLE collection including a captivating and bold butterscotch, it's an iconic set for the modern man.
Here we give special mention to the Spalted Beechwood finish, which was introduced just last year. The striking natural grain is accentuated by the hammering of the wood, giving the finish an earthy effect. When combined with the stylish shape of STYLO, the result is a set that combines both a rustic and refined masculinity.
Consistent with the MÜHLE collection, Spalted Beechwood brushes and razors are fit for purpose; soaked with resin, the handles allow water and lather to drip off with ease.
5. THUJA WOOD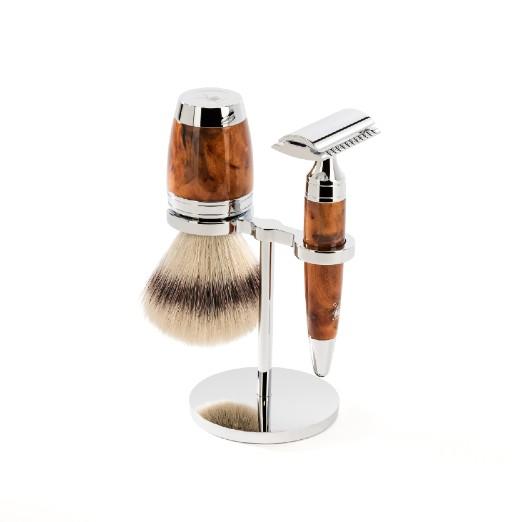 Pictured: MÜHLE STYLO Thuja Wood Set
Also from the STYLO range, at number 5 we have Thuja Wood. Regarded as one of the most valuable and beautiful woods in the world, when combined with the refined STYLO, you get a set that is unashamedly modern and gobsmackingly handsome!
From golden brown to ruddy, with subtle or vivid veining in the grain MÜHLE Thuja Wood pieces have a high-gloss surface that expressively accentuates the uniqueness of the grain pattern. This is a set that truly stands out in person, with many customers making a beeline to them in store.
Acquired from the burl of the Sandarac Tree, also known as Barbery Thuja, the strongly grained root burl only grows to a respectable size once the tree has died. The tuber is therefore hard to find and recover and the scantlings are picked by hand. Only sections displaying an exceptionally beautiful grain are used.
Wood handles are of course stabilised and coated with high-grade resin in a special procedure making them water-resistant and hard-wearing, this also creates the high-gloss surface that is so captivating.
4. KARELIAN MASUR BIRCH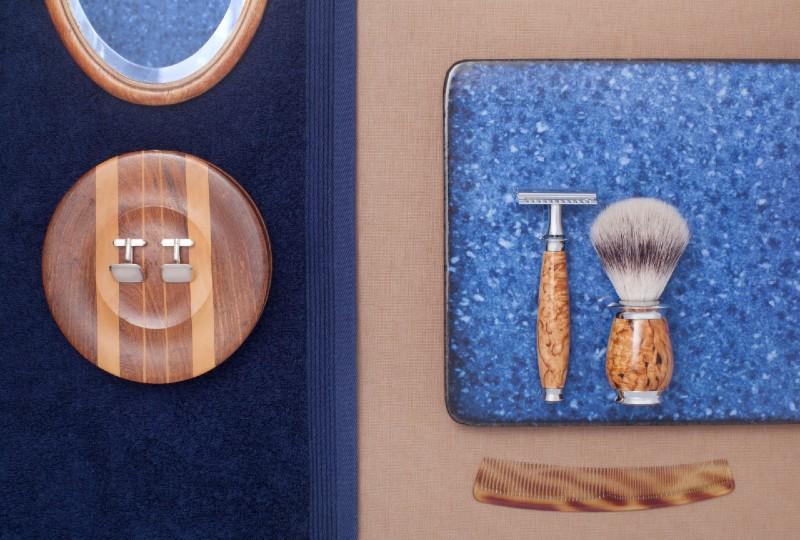 Pictured: MÜHLE PURIST Karelian Masur Birch DE Razor and Vegan Silvertip Fibre Brush
Our cover piece for this feature, and always a showstopper we have Karelian Masur Birch. The wood's characteristically rich grain gives it its unique, distinctive appearance as shown on our PURIST razor and brush here.
Shaving has long been a ritual associated with luxury, and precious materials used for these tools have enhanced their collectability as well as the tradition of passing them on as reusable or decorative heirlooms. The use of Karelian Masur Birch adds to the emotive appeal of these beloved pieces; the handle's graining reflects individuality in nature and thus the inimitable character of those who use them.
Grown in a small area of Karelia during mid-winter, the rare Karelian Masur Birch is only harvested when the ground is frozen, the harsh climactic conditions result in the low growth height of the Masur birch which in turn produces, the wood's rich, unique grain. Once picked, the square timbers are then shaped by turning with only the finest quality pieces chosen for further processing. These are stabilised during a special procedure which ensures the wood becomes hard-wearing and water resistant.
3. CARBON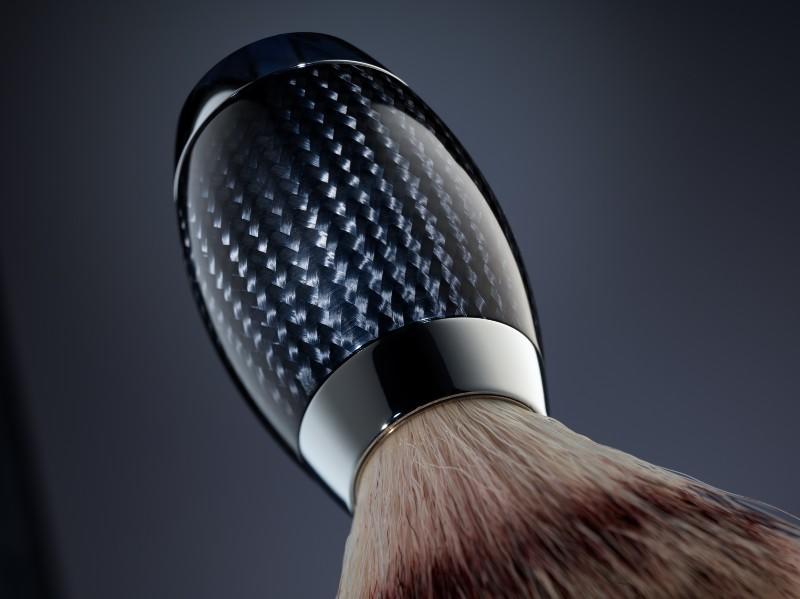 Pictured: MÜHLE EDITION Carbon Shaving Brush
The crowning glory of the MÜHLE collection consists of our EDITION pieces and sets, made up of our most covetable finishes, of which Carbon is one.
Intricate and complex to create Carbon's beauty is enigmatic and alluring, with fine light reflections created by the dark material as wondrous and captivating as Carbon itself. Occurring naturally in a wide variety of forms with carbon compounds even to be found in diamonds, this exquisite material is an impeccable match to our most luxurious series.
The flexible, fibrous structures are initially worked by hand. Individually forged blanks, which later become the handles for the range, are then covered in the carbon weave and placed in a mould where the fibres are evenly aligned. Lastly, the handles are soaked and cured with high-grade resin before a final polish.
2. ANCIENT OAK & STERLING SILVER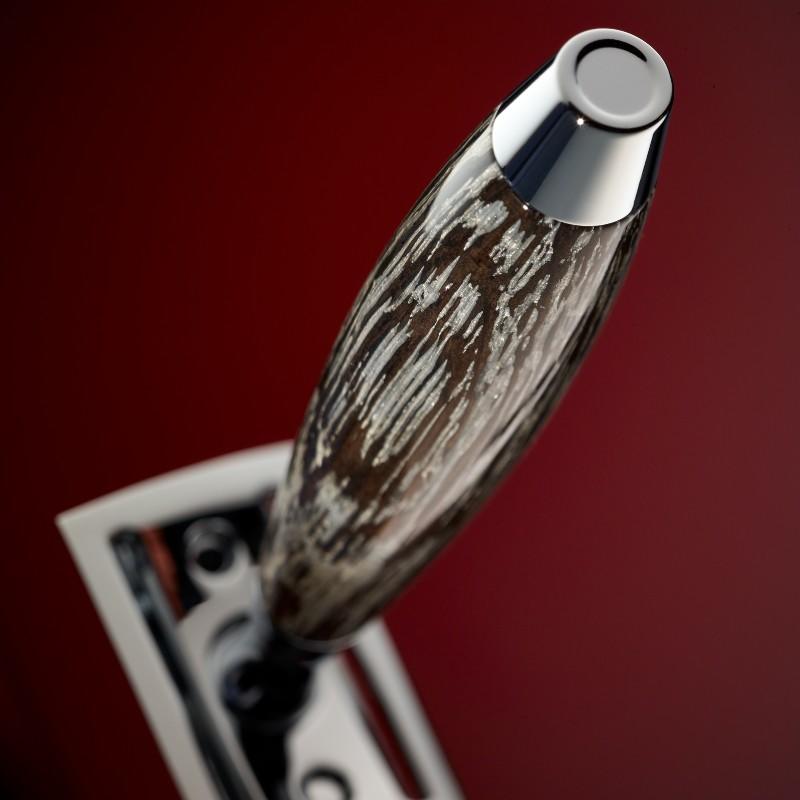 Picture: MÜHLE EDITION Ancient Oak Razor
Our penultimate finish is also from our EDITION Series; we have Ancient Oak & Sterling Silver. As with Karelian Masur Birch, this finish is a testament to MÜHLE's affinity with nature and to a captivation with materials that hark to a distant past.
This breath-taking wonder of nature is cultivated over a millennium in airtight bogs, swamps and river-banks, creating a beautiful hue that is dark and rich. This hue is created by reactions between wood tannins and the peat's acidity within the bogs whilst the low oxygen conditions prevent the Oak from decaying.
Refined with sterling silver, the fine indentations on the surface of the wood acquire a glistening quality. The wood is sealed with a high gloss finish giving the Oak a brilliant aesthetic whilst simultaneously making it waterproof. This is a beauty cultivated literally for thousands of years and transported into your bathroom. This is a beauty with individuality and a story; a perfect fit your daily ritual as you prepare for your day.
1. MEISSEN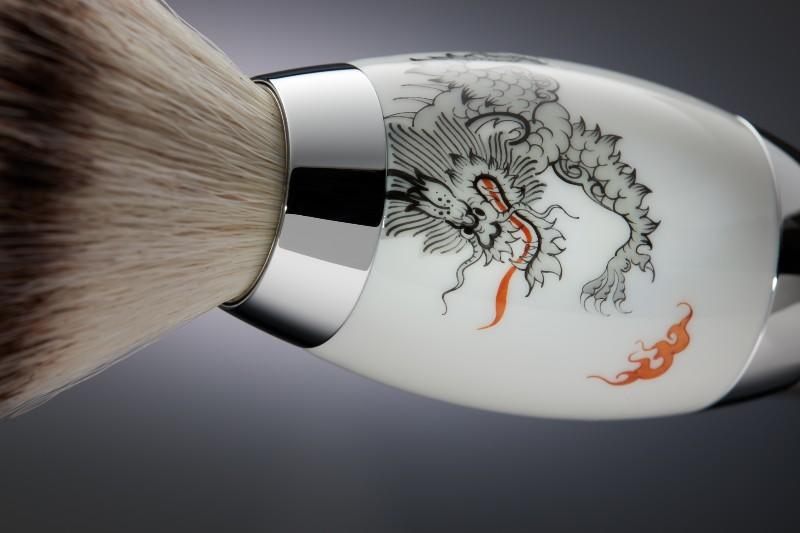 Pictured: MÜHLE EDITION MEISSEN Shaving Brush
Can your shaving tools be a work of art?
The answer in case you haven't guessed it already, is a resounding YES.
The breath-taking Ming Dragon, an iconic Meissen design has been meticulously hand-painted by the practiced hands of the oldest porcelain manufactory in Europe. This collaboration between MÜHLE and fellow Saxon Heritage brand Meissen, heeds results that put simply, are a work of art. Symbolising power, strength and good fortune the hand-painted Ming Dragon is the perfect mascot for the precious and intimate ritual of shaving.
Like what you're reading? You can check out some more recent blogs here: