30

Mar

MÜHLE Treatment Space Launch
---
What a month it's been! We started out with an incredible launch event for our new MÜHLE Treatment Space on the 5th of March, and it is bittersweet that when I sit down to write the blog at the end of the month, I regret to inform you that we have of course closed the Treatment Space and MÜHLE Store London until it is safe to re-open. . We took this decision before government guidelines enforced this and are certain it is the best course of action for the safety of our customers and team who we deeply value. Nevertheless, I would like to use this space here to celebrate this great achievement and milestone for MÜHLE and our lead barber, Elliot Forbes.
Words by: Veronica Berman, Sales & Marketing Director at MÜHLE UK
Photography & Video by: Lee Murphy Photography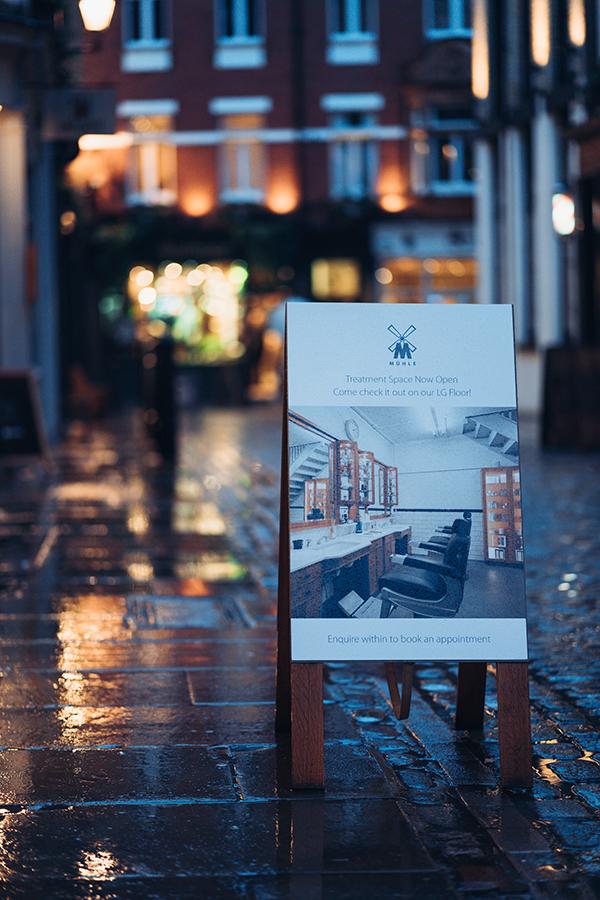 An A-Frame Boards stands directly outside MÜHLE Store London announcing the Treatment Space
Lead Barber Elliot Forbes in MÜHLE Treatment Space
The Treatment Space with its hand- picked art-deco barbershop unit, carefully curated historical exhibition and top London barber are all a testament to our core values: premium quality, a pioneering spirit that meets heritage and hands on know-how, all presented in an accessible and unassuming manner.
Located on the lower ground floor of MÜHLE Store London the Treatment Space was created to provide customers with a touchpoint for our collection of premium shaving hardware and skincare. With a menu that offers everything from wet shaves, to moustache and beard trims, educational shave workshops, haircuts and facials, the name 'Treatment Space' encapsulates the services available which allow customers to take a bit of time out for self-care with the option to get some friendly expert advice that they can take home with them in addition to any MÜHLE products that they may already own or be thinking of purchasing. Our lead barber Elliot Forbes, who recently made Creative's Head Shortlist for the It Guy and is recognised by GQ as one of London's best barbers, brings with him phenomenal execution and skill combined with impeccable service.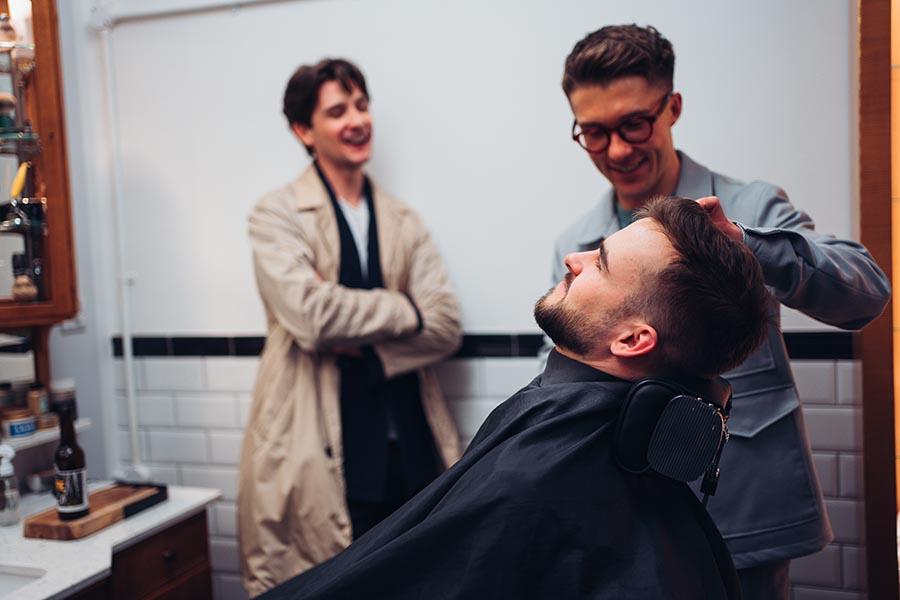 Elliot does a walk in trim for a Launch Event Guest, while friend River Hawkins, actor and founder of HUMEN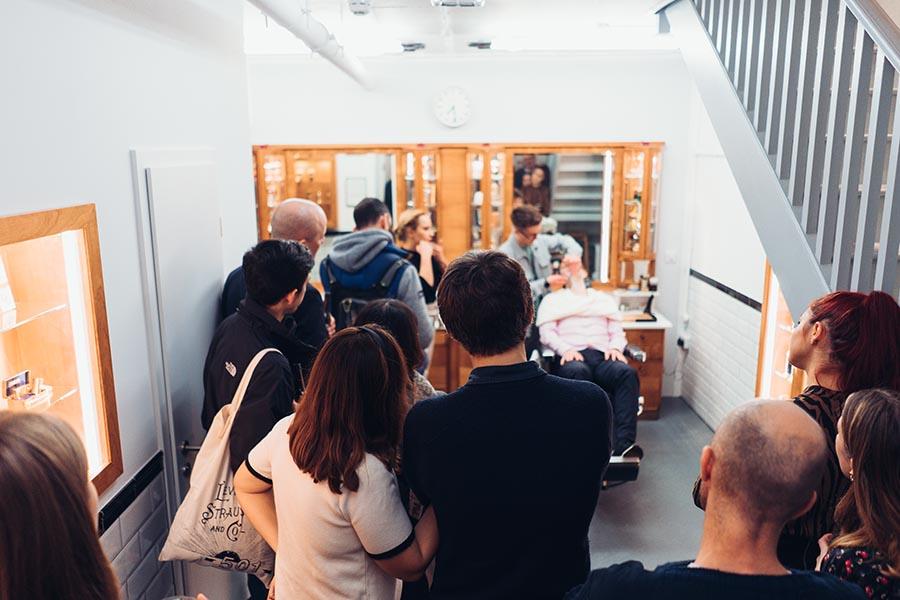 Captivated guests look on as Elliot gives a demo on 'How to use a DE razor'
With a proud heritage of manufacturing, craftsmanship and design, Rasurkultur (or shaving culture) is at MÜHLE's core and our product range embraces several approaches to wet shaving including iconic and classic DE razors, as well as cartridge razors and an abundance of brush options including both vegan and natural brush heads. This passion for wet shaving extends to the heritage and rituals around it, and in this spirit the Müller family has for many years collected items of historical significance in relation to wet shaving. So it is in this spirit that we have created a historical exhibition called 'The Luxury of Shaving' which looks at straight razors and accessories dating back to the 18th century, the evolution of the DE razor and the emergence of the shaving brush as a delightful eccentricity or form of self- expression.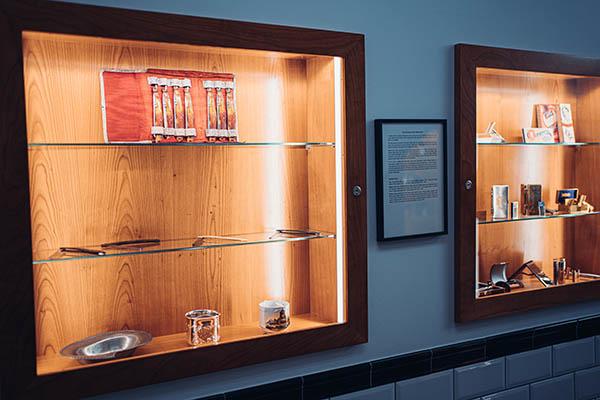 'The Luxury of Shaving' cabinets feature in MÜHLE Treatment Space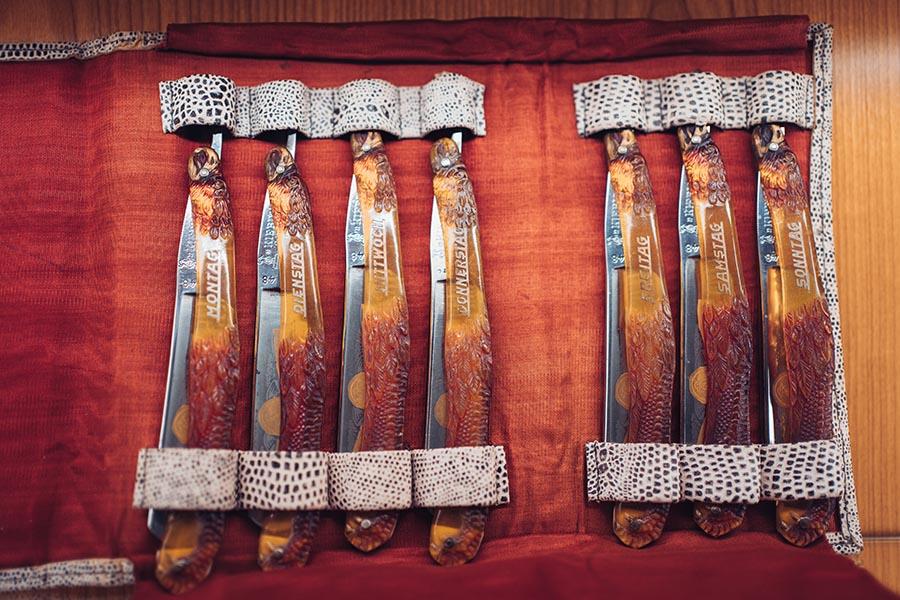 A close up shot of a weekly set of 7 single straight razors with the day of the week on each and an eye catching eagle design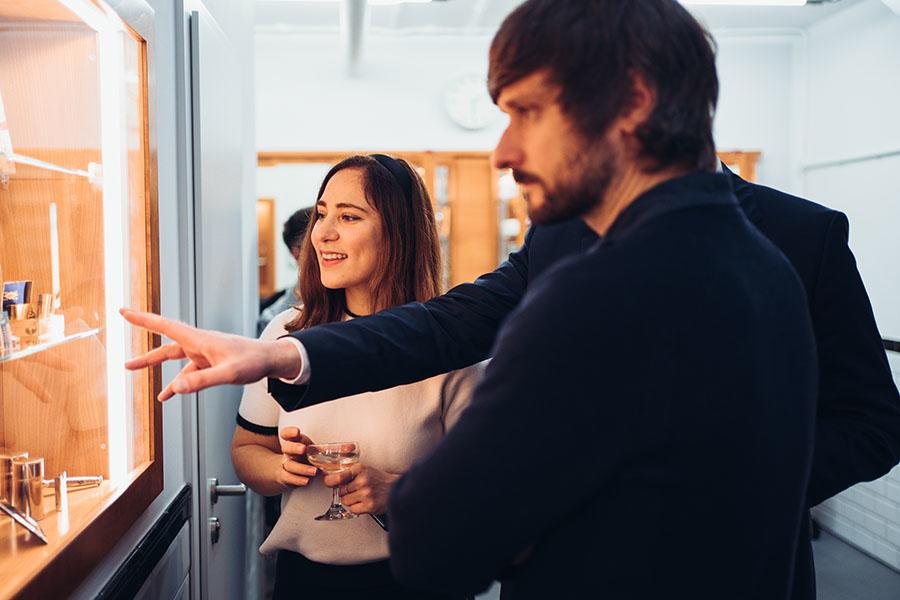 MÜHLE MD Andreas Müller talks through exhibtion with guests
The evening hosted our friends, colleagues and lifestyle and grooming experts with writers from The Refinery, The Independent, The Rake, Menswear Style, The Dapper Chapper, Maketh the Man and Hairdressers Journal in attendance as well as our delightful neighbour's from Joy Everley, Levi's Vintage, Ralph Lauren, Filson and Onitsuka Tiger there to celebrate with us. There was certainly a joie de vivre that filled the air, as the MÜHLE store team was joined by the head office team and MD Andreas Müller, from our manufactory headquarters in the German Ore Mountains. Great music, food and drink were in abundance, with craft beers delivered from Saxony and Elliot with guest barber Pricilla offered free trims and shaves followed by a shave demo with MÜHLE's iconic DE razor, the R89
Elliot gives a demo on 'How to use a DE razor' with the iconic MÜHLE R89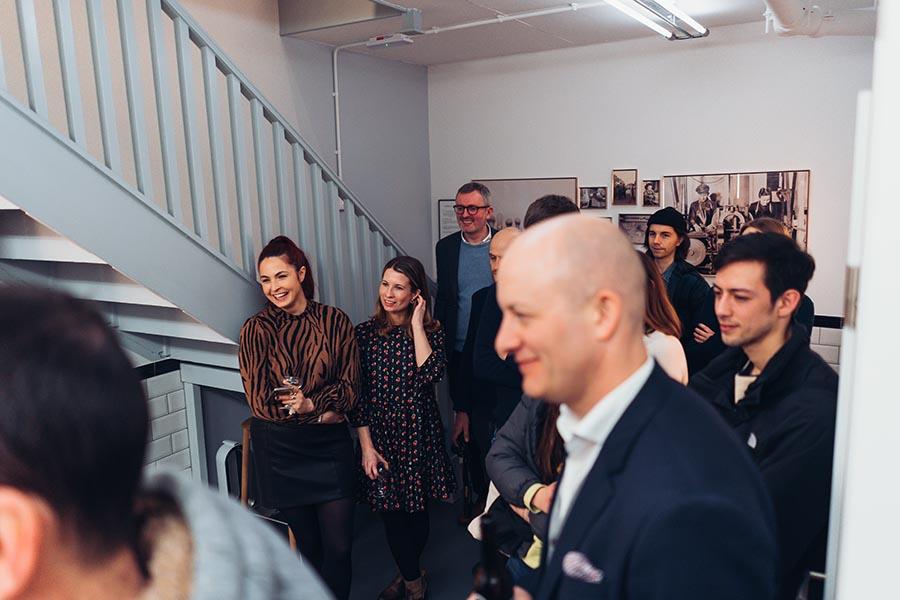 MÜHLE Team and Guests enjoying the demo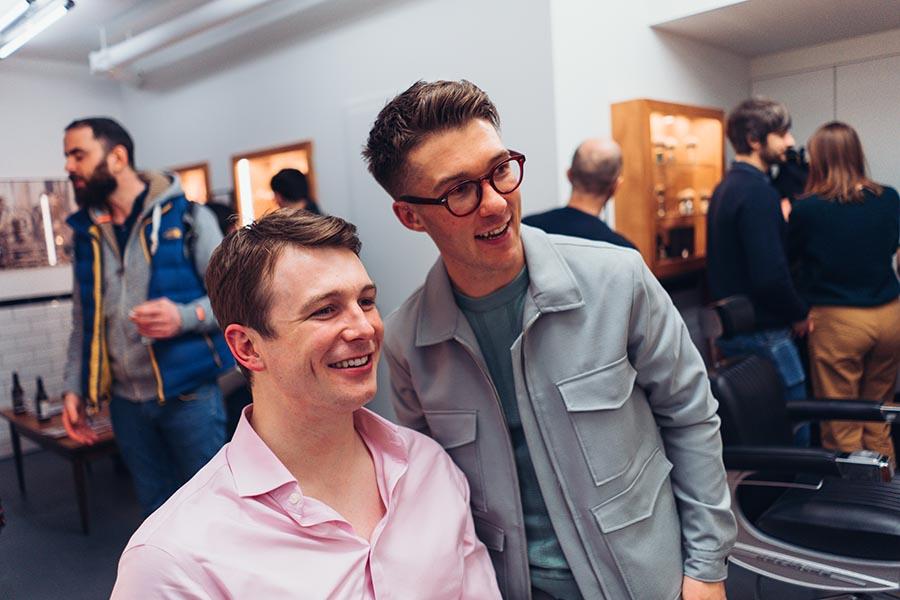 Elliot and shave model pleased with the results
The evening wrapped up with a screening of the MÜHLE Portrait video, celebrating the brands affinity with nature, creating products built to last a lifetime and its sustainable ethos. We look forward to re-opening once it is safe to do so.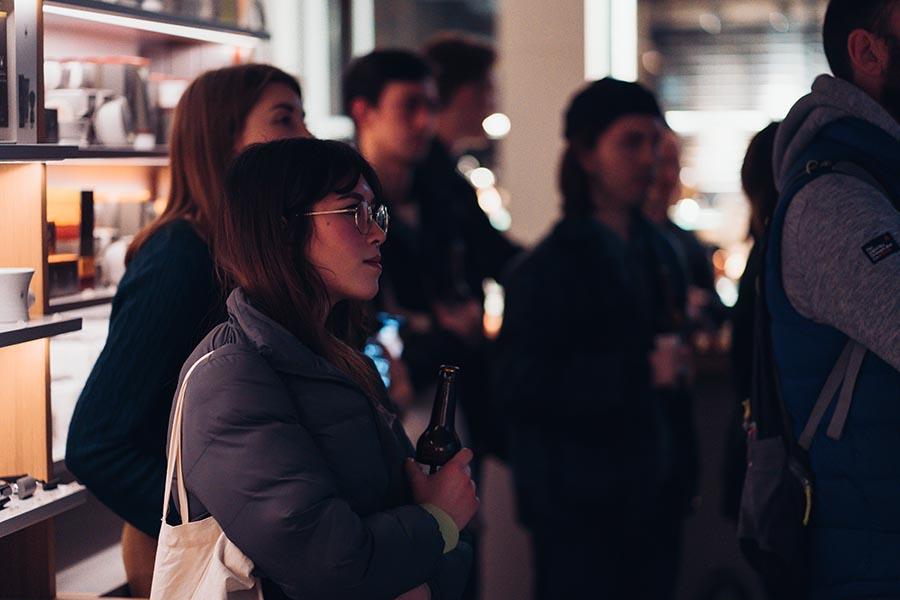 Guests enjoy screening of the MÜHLE Portrait video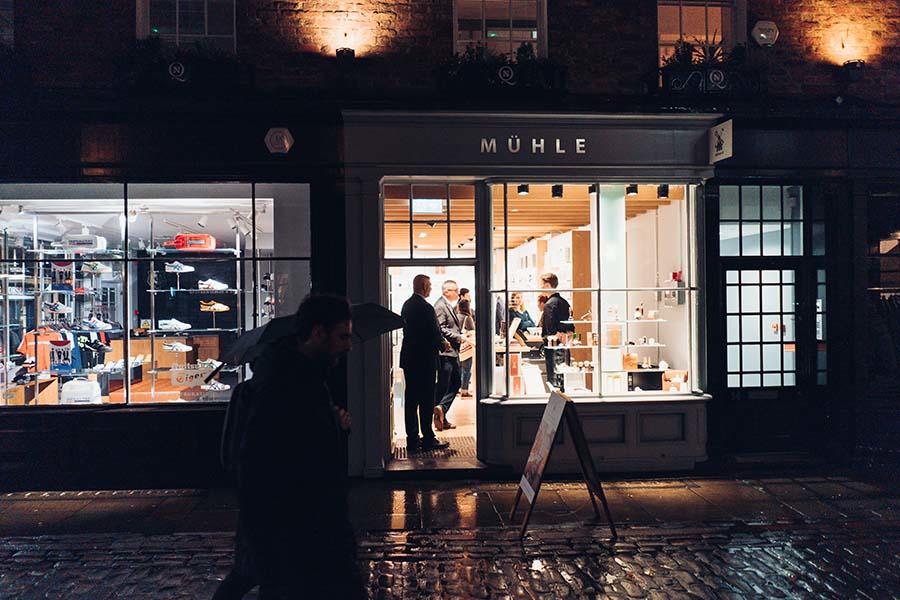 MÜHLE London Store Exterior, on evening of Launch
In the meantime, we're pleased to share the memories of the evening including this very brief and joyful video. We're also happy to announce that throughout this closure, our lead barber Elliot will be providing grooming tips for you at home via video posts on Instagram and Facebook.
Like what you're reading? Check out some of our other recent blogs about MÜHLE Treatment Space and MÜHLE Store London :