10

Jun

MÜHLE Store London Re-Opens
---
We are delighted to be re-opening the doors of MÜHLE Store London as of Tues June 16th. Throughout this time, though it has been sad to close, we have been and continue to be proud to look out for the safety of our team and customers.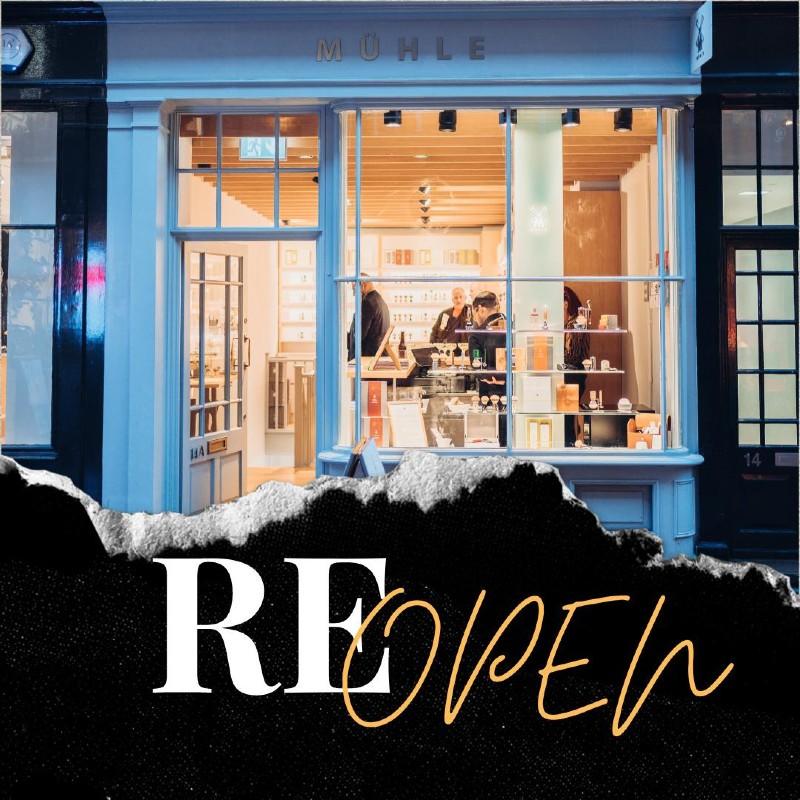 As many of our customers, colleagues and friends will know just shortly before the lockdown we celebrated the launch of our Treatment Space – there are some photos shared here in this blog. It gives us a great sense of joy to look back at this event and think about the remarkable community there is around MÜHLE Store London, the Treatment Space and the wider Carnaby area.
One of the comments that we hear from all of our store team is that they have never worked anywhere with such lovely customers; from conversations about shaving and shaving heirlooms passed down from one generation to the next, to eco lifestyles to special gifts, events and celebrations- we feel very fortunate to have these fantastic little connections with people from near and far, who might visit us frequently or for a one off trip. And so, the re-opening of the store marks the celebration of much more than back to work or business as usual, it's the coming together of community and the ability to open our doors once again to these extraordinary connections.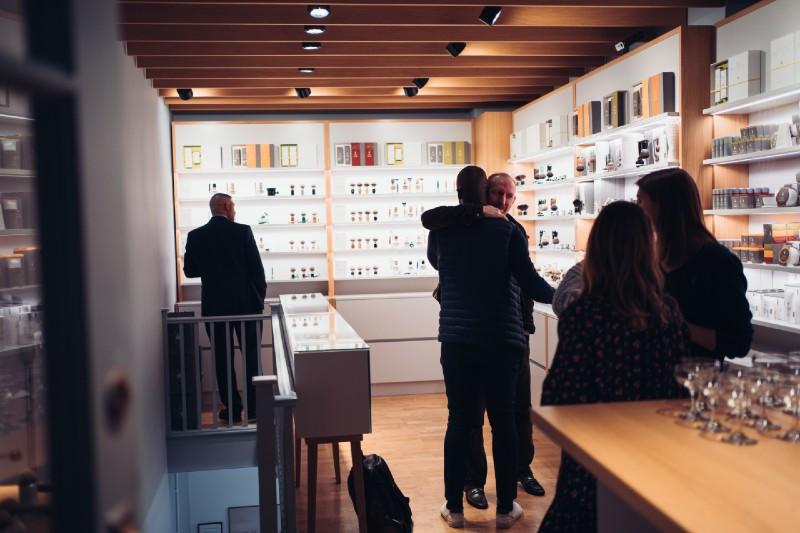 Pictured: Marcus Jaye, A.K.A. The Chic Geek and Anton Welcome of Maketh the Man share a hug at the launch of MÜHLE Treatment Space
We want to let you, our customers, know a little a bit about some new measures that are being put in place for your safety and the safety of our team:
Revised Opening Hours
Initially, the store will be open 5 days a week with a Sunday and Monday closure. This allows us to have smaller in-store team, while the rest of our team supports us from the warehouse, we will also be closing at 6:30pm instead of 7pm to allow for a throrough clean at the end of each day. Revised opening hours as of Tues June 16th are:
Mon: Closed
Tues: 11am – 6:30pm
Wed: 11am – 6:30pm
Thurs: 11am – 6:30pm
Fri: 11am – 6:30pm
Sat: 11am – 6:30pm
Sun: Closed
Cleaning & Hand Sanitiser
We will have plenty of hand sanitiser available and ask our customers use this upon entering the store. We have end of the day cleaning procedures in place and throughout the day the team will clean and wipe down surfaces where customers have looked at and/or touched products. As a small, niche boutique we are able to cater to this well and have a keen awareness of all movements that happen in store throughout the course of the day.
Store Traffic
We ask customers to please shop independently or in small groups as we will struggle to accommodate groups of more than three at one time, being a small boutique. Please be aware that if you do come as a larger group we may have to ask you to visit the store in turns. When we have more than two groups or separate individual customers at any one time we will have a sign at the door asking you to kindly wait for one person or group to leave before entering. We ask staff and customers to observe social distancing in store with each other (unless of course you are from the same household) and with the store team.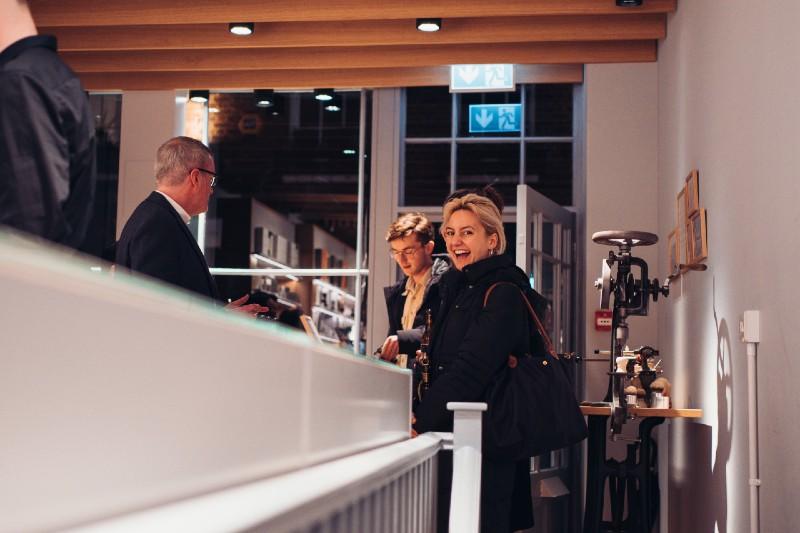 Pictured: Our lovely friends from Joy Everley join us for the launch of MÜHLE Treatment Space
Customer Service
Offering our customers friendly, knowledgeable, and supportive customer service remains a cornerstone of our store. We will still be there to help with any questions and offer advice- conversations will just take place a little further apart in keeping with social distancing measures.
Handling Products and Transactions
We ask everyone who enters the store to use hand sanitiser on arrival, after which customers can look at and handle display items as usual, of course not bringing them to their face. As our regular customers will be aware, we sell untouched items from stock drawers below the display so customers can be confident that products for purchase are fresh to the box and not subject to in-store handling.
As mentioned within our cleaning section, shelves and display items will be regularly cleaned throughout the day, especially where they have been handled.
Should you wish to use them we also have disposable gloves available, you can ask a member of our team.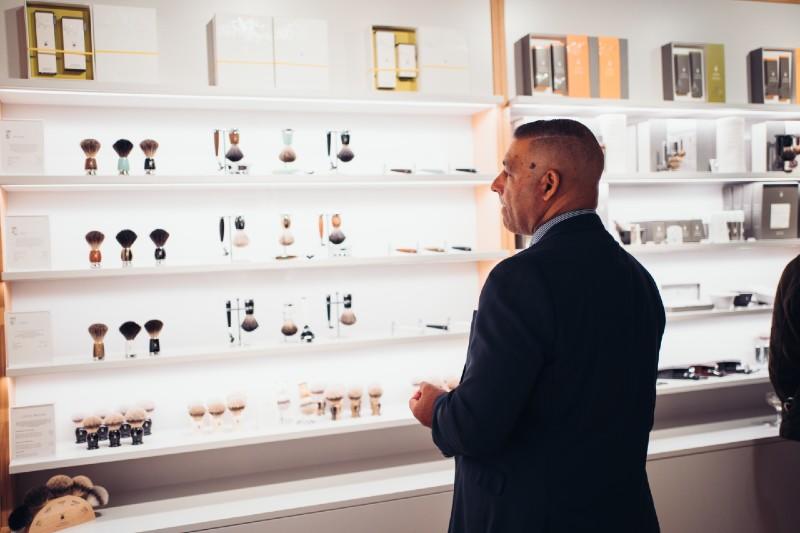 Pictured: One of our lovely customers browses the VIVO by MÜHLE in our Carnaby Store
Treatment Space
Please be aware that our Treatment Space will not re-open on Tuesday June 16th. We eagerly anticipate re-opening on July 4th as per current Government suggestions, however we will open up bookings once this or another date has been clearly confirmed. As soon as we have this confirmation we will open up our Booksy booking system and look forward to welcoming back our Treatment Space customers in the near future.
We will of course have additional measures in place for the Treatment Space when this reopens.
If you have any questions or requests regarding our Covid-Secure procedures please feel free to discuss with our store staff or email us at carnaby@muehle-shaving.co.uk
Looking forward to welcoming back our lovely store team and customers!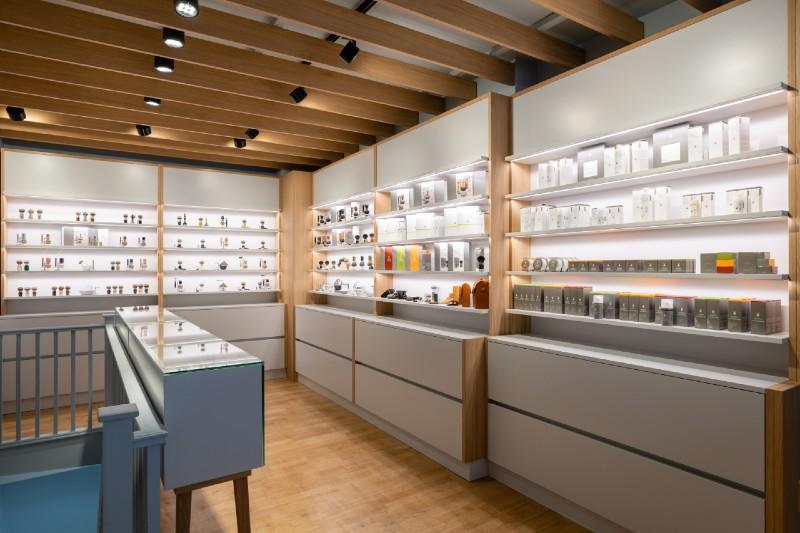 Pictured: MÜHLE Store London Interior
Like what you're reading? You might also be interested in: