02

Jul

MÜHLE Prize Giveaway: Post Lockdown Transformations
---
It's been an incredible time, we've all played our part over lockdown in staying safe and, as such, many of us are sporting some remarkable hairstyles at the moment and will no doubt be keen for an appointment with the barber. To honour this national effort, and the greatness of those who cut our hair, we are offering Treatment Space customers the chance to participate in a Prize Giveaway competition, by sharing before & after shots of themselves in their first appointment with Elliot post lockdown.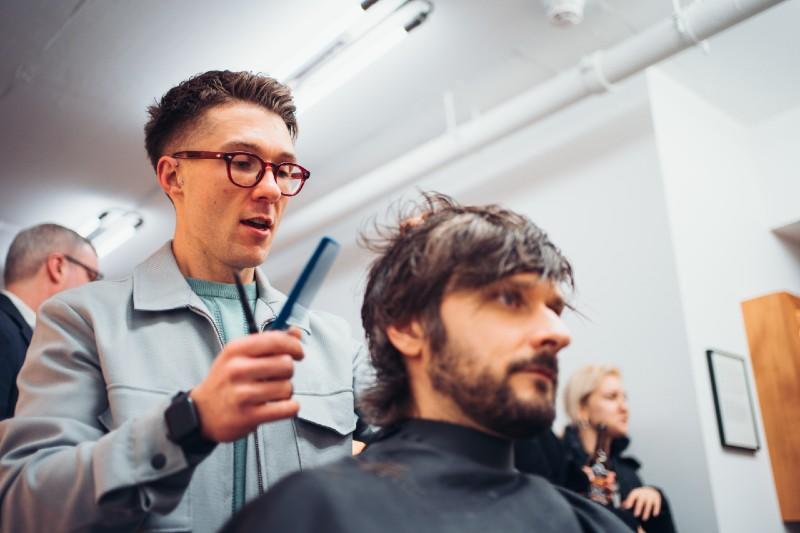 Pictured: Elliot Cuts Hair at the Treatment Space
Here are the incredible prizes you can win:
1) MÜHLE TREATMENT SPACE GIFT CARD: Double Edge Razor Shaving Class with Elliot, worth £70.
Up your shaving game and master the art of shaving with a MÜHLE double edge razor, the lifetime razor is plastic free, making it great for the planet and easy on the pockets too. In addition to this, a MÜHLE double edge razor is much kinder to the skin and the single blade line allows for fantastic beard shaping if being bare-faced isn't your thing. Elliot will give a personalised consultation, assessing the growth pattern of your hair, so you can shave with the grain, discuss any skin sensitives as well as running through pre & post shave care. The gift card is valid for 1 year.
2) ORGANIC MANPERING PACK: worth £52.
Over the course of the lockdown Elliot has been talking to guys on IGTV about self-care, on our series MÜHLE Grooming Rituals. In this spirit our second prize is a manpering pack, which includes The Organic Face Gift Set (Face Wash & Face Cream) and an Organic Shower Gel! By the way, Elliot is continuing to offer weekly self-care tips with MÜHLE, after lockdown and beyond- follow @muehle_uk on Instagram for your self-care fix!
3) MÜHLE GIFT CARD: worth £25.
Enjoy a browse and shop in our beautiful London Store. The gift card can be used to purchase MÜHLE razors, brushes, skincare and accessories, the complete MÜHLE collection is at your fingertips on Newburgh St or you can shop with us right here on the website.
Interested? Here's how to participate:
1) Book your appointment with Elliot for Wash Haircut & Finish
2) Ask Elliot or our Store Staff to take your before and after photos (we will be happy to oblige) OR take your own before and after selfies in MÜHLE Treatment Space, you can share these on your Instagram Profile, tag us @muehle_uk and add the hashtag #muhletreatmentspacetransformations OR if you're not on IG simply email your selfie snaps to us at info@muehle-shaving.co.uk
3) Allow us to share your before and after shots on MÜHLE social media by completing a prize giveaway form saying that we can share your fab transformation pics (we will offer this to you at your appointment).
And that's it! By completing the form your name will be entered into the prize giveaway competition.
Entries will be taken from re-opening on Sat July 4th, 2020 until Fri July 31st. Winners will be contacted on Mon Aug 3rd, 2020. One entry per person, no cash prize alternative.
We look forward to seeing your amazing hair transformation at MÜHLE Treatment Space!
Like what you're reading? You can check out some more recent blogs here: