26

Nov

MÜHLE London Launch; Safety Razor Shave Demo
---
MÜHLE London Launch Event
Dom Blooomfield, Master Barber at The Nomad Barber Berlin, shares Shaving Tips in a Live Safety Razor Shave Demo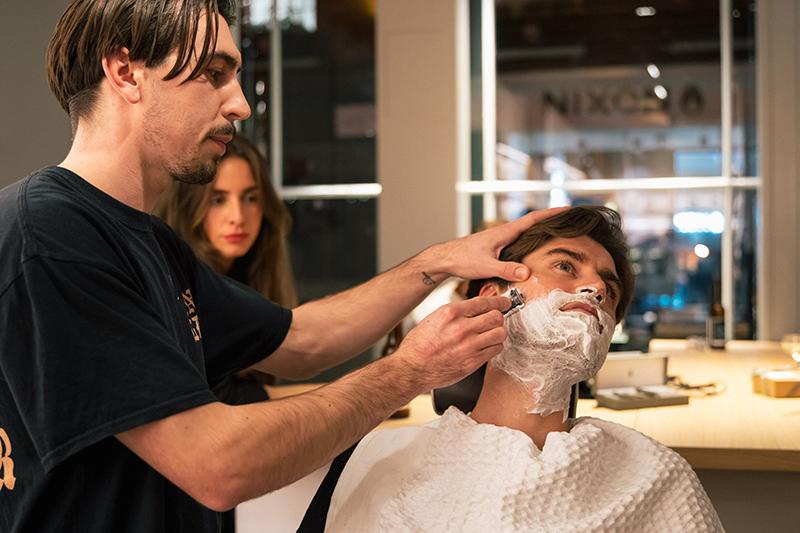 Photos by Stefan Haehnel Words by: Veronica Berman
About the Event
To celebrate the launch of MÜHLE London in Carnaby, we hosted a relaxed event in our beautiful new store that featured master barber, Dom Bloomfield of The Nomad Barber in Berlin, sharing expert tips in a live shaving demonstration with an iconic MÜHLE closed comb safety razor - to deliver a traditional DE (double-edged razor) shave.
The event was attended by our friends and colleagues as well as a selection of key male grooming aficionados. We wanted to create an opportunity, with the help of Dom, to become more mindful of what a successful wet shave involves. Here are some top tips Dom shared:
Dom's Shaving Tips
1. Take a moment to create a good lather. Dom used a traditional Silvertip Fibre brush, he mentioned that he uses these a lot and how MÜHLE have created a synthetic alternative to badger hair that maintains great heat retention qualities- like you'd see in a Silvertip Badger brush. Dom put just a little sandalwood shaving cream in a MÜHLE mug, and then wet the brush in warm water and proceeded to mix up the shaving cream to make a great lather. Dom mentioned that the MUHLE mugs are good to use for this purpose, because they are so deep.
2. Work the lather around the face and neck, massaging with the brush to lift the hairs from the face. When Dom reached the moustache area, he pinched the brush to create a slim line and dabbed this around the moustache area.
3. Shave in the direction of the grain and take your time. Dom used an R89 closed comb safety razor, remarking on the quality of the razor and how easy it is to use. The R89 is a great razor for both beginners and experienced DE shavers, whereas the open- comb (R41) has more blade exposure and is better suited for the shave enthusiast. One thing that Dom really emphasised is how easily razor burn can be resolved, by simply paying attention to the direction the hair grows in and to shave with the grain rather than against it. He also remarked on how a DE shave with a single blade is much easier on the skin than cartridge razors:
"What's the point in five blades? In my experience the more times you run a blade through a surface area, the more likely you'll get irritation. "
- Dom Bloomfield, Master Barber, Nomad Barber Berlin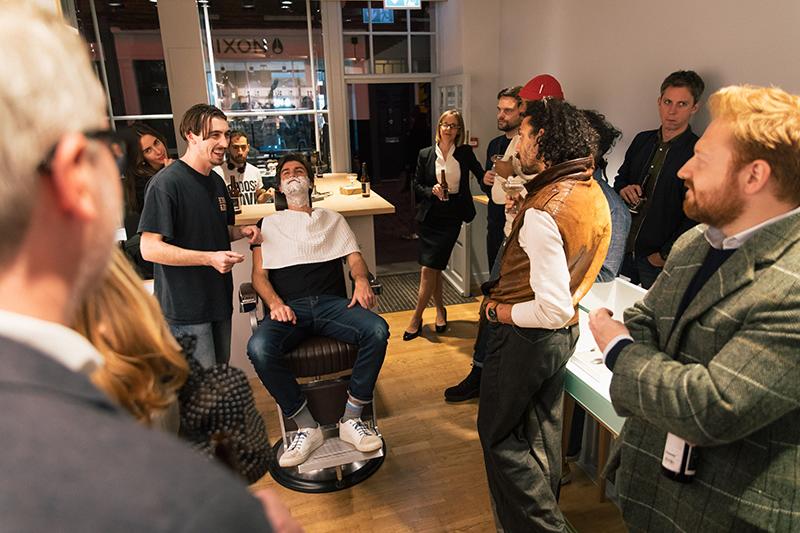 Dom also talked about taking your time with short gentle strokes, holding the razor at a 30 degree angle as this is the best angle to remove hairs and rinsed the razor throughout the shave.
4. Shaving Hack: shaving is like ironing; you need flat surfaces. Dom's very apt comparison was beautifully illustrated throughout his demonstration. To achieve a great shave a flat surface is required, stretching the area of skin that is being shaved makes this possible. With the areas around the sides of the face this tends to be quite straightforward. When shaving around the moustache area, opening the mouth and pulling the upper lip down, creates a nice flat surface. Dom shared a great bit of advice for fellas with prominent Adams' apples:
"If you want to shave your neck, swallow and hold your breath. You'll see the Adams apple raise closer to your jawbone exposing the necessary areas that are otherwise tricky to negotiate."
- Dom Bloomfield, Master Barber, Nomad Barber Berlin
5. Small nicks can happen, from time to time. Use a styptic pencil (alum pen), and this is easily resolved. One of our models got a teeny nick during the second demo- one touch of the MÜHLE alum pen and presto- gone!
6. Finish the way you started, invest a bit of time to get a great end result. Dom took time to dry the area with a cosy MÜHLE waffle pique towel and used aftershave balm, which has great moisturising qualities. Our models were very fresh faced and smooth cheeked- result!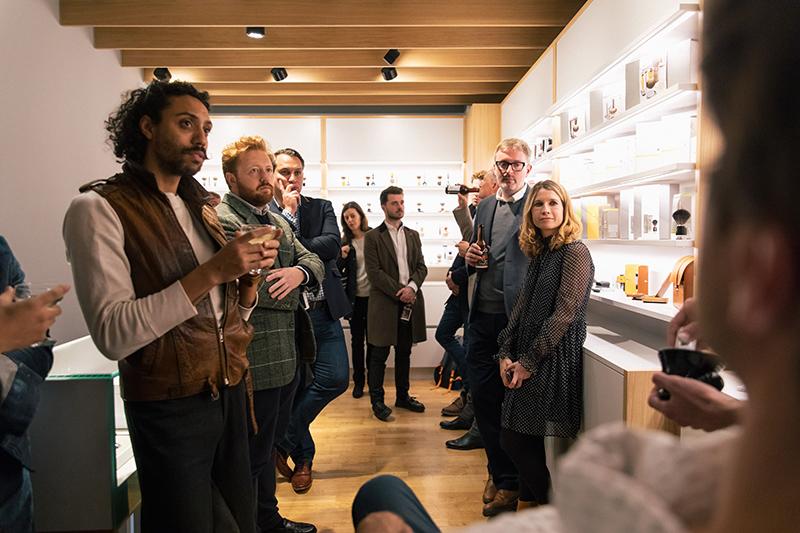 In addition to Dom's engaging demo, DJ James Huxley created a fantastic vibe. German craft beer YBN Stoker, sparkling wine, delicious Ottolenghi canapes and great conversation were all in abundance. If you want to find out more- come and see us! We are always keen to meet new faces and chat about all things rasurkultur- we love picking up shaving hacks from our customers too.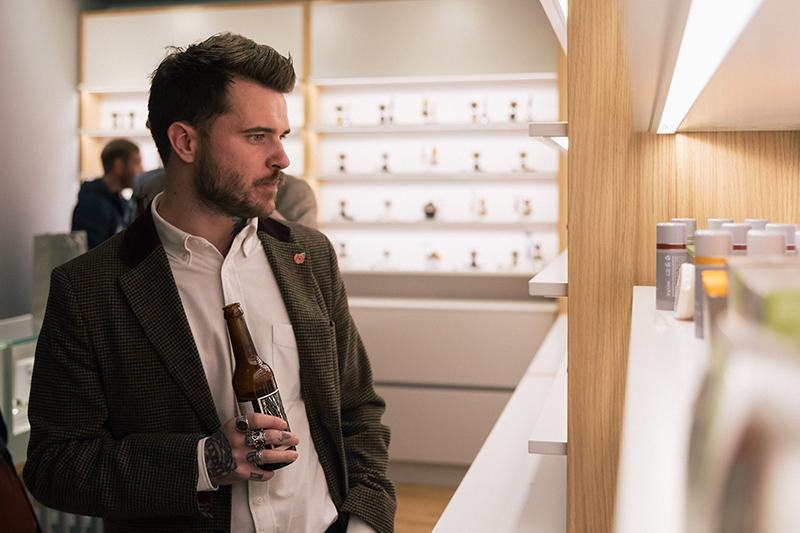 STORE ADDRESS
14A Newburgh Street, Carnaby, Soho, London W1F 7RT
OPENING TIMES
Monday 11:00 - 19:00
Tuesday 11:00 - 19:00
Wednesday 11:00 - 19:00
Thursday 11:00 - 20:00
Friday 11:00 - 19:00
Saturday 10:00 - 19:00
Sunday 12:00 - 18:00
TELEPHONE
+44 (0) 20 7734 6757