03

Jul

How to: Shaving whilst Travelling
---

With the summer season officially upon us, many of us will be travelling. Whether it be for business or pleasure, the morning ritual of shaving is something you no longer need to be without. See below our tips on travel, and the accessories you cannot be without this summer.
The Brush
Although badger hair is the traditional choice for wet shavers, when stored away damp, the natural brush hair can turn brittle and, therefore, shed. Since shaving brushes ideally require at least a few hours to dry properly, MUHLE recommends synthetic fibre for travel. All MUHLE travel brushes are made from our unique Silvertip Fibre®. Still possessing great backbone with extra soft tips, Silvertip Fibre® has all the qualities of Silvertip Badger yet is more durable, and can, therefore, be packed away wet. To find out more about the amazing qualities of a Silvertip Fibre® Brush, available as the synthetic alternative in our Classic, Modern, Traditional, Hexagon, Rocca and Edition Sets, check out our blog: Silvertip Fibre is the only way to Travel.
View our range of travel brushes here. (£32.50- £41.00).
Want more information on the different types of bundle? Click through to Bundle Guide blog to find out more.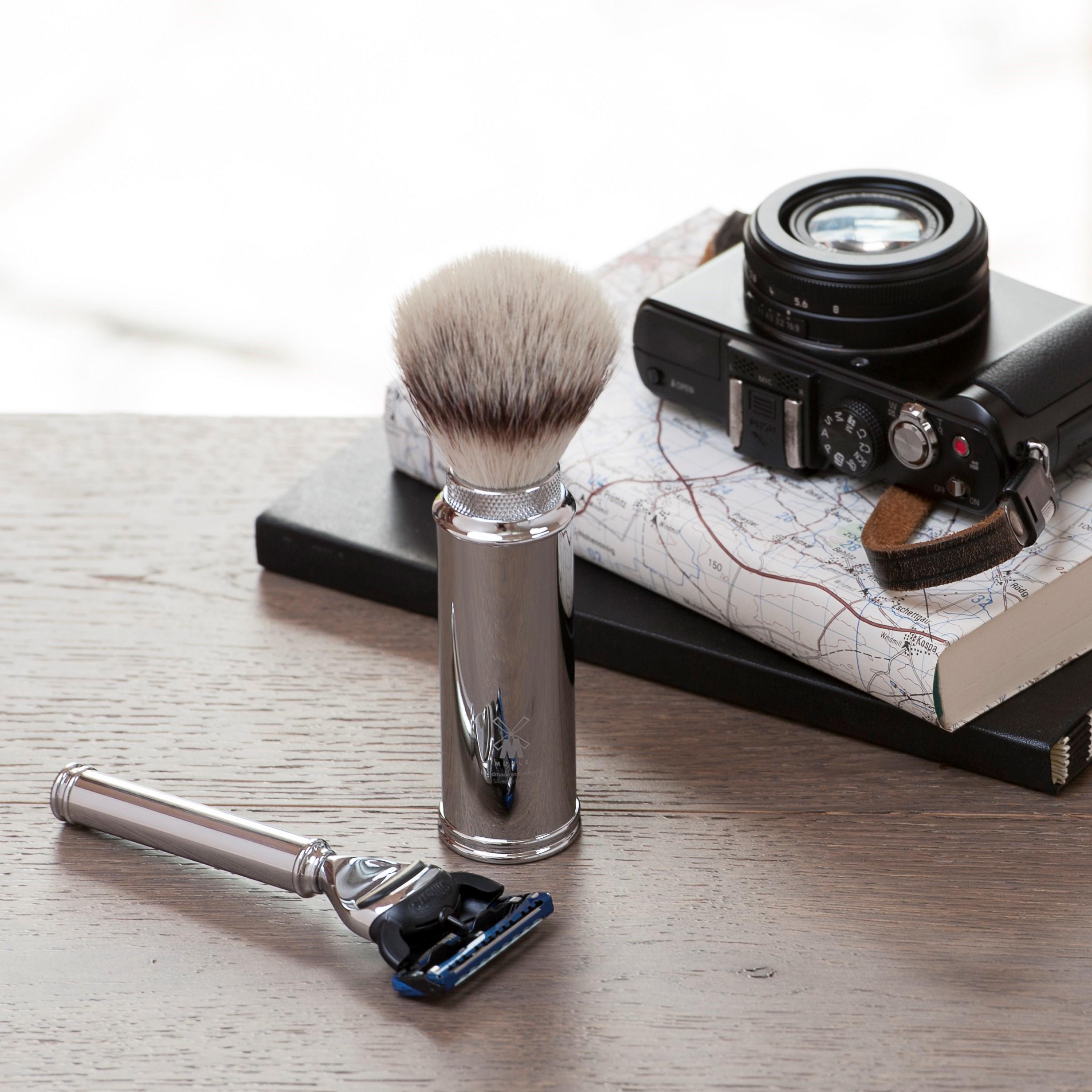 The Razor
Available as Mach3 or Fusion, our range of travel razors are our smallest and lightest models yet. Our travel sets are also available with traditional safety razors; however, it is worth mentioning that razor blades are prohibited on carry on luggage on commercial airlines, but can be included in checked luggage. All our safety razors, however, are compatible with all standard sized blades, which can easily be located at local pharmacies whilst travelling, for those who like to travel light!
View our range of travel razors here. (£32.50- £43.00).
The Skincare
Perfectly sized for travel, the MUHLE shaving cream tube packs away neatly, plus, at only 75ml, is ideal for carry-on hand luggage. The MUHLE travel sticks provide a neat solution for those who prefer shaving soaps and don't even require a shaving bowl to produce a fantastic lather. Simply work the shaving stick into a lather using a brush and water. Alternatively, apply the stick directly on to the skin and then lather.
Both shaving cream and sticks are available in our three classic scents: Aloe Vera, Sandalwood and Sea Buckthorn. (£5.50- £9.50).
Click through to our blog Shaving Soap versus Shaving Cream to find out more about the differences between these two classic shaving products.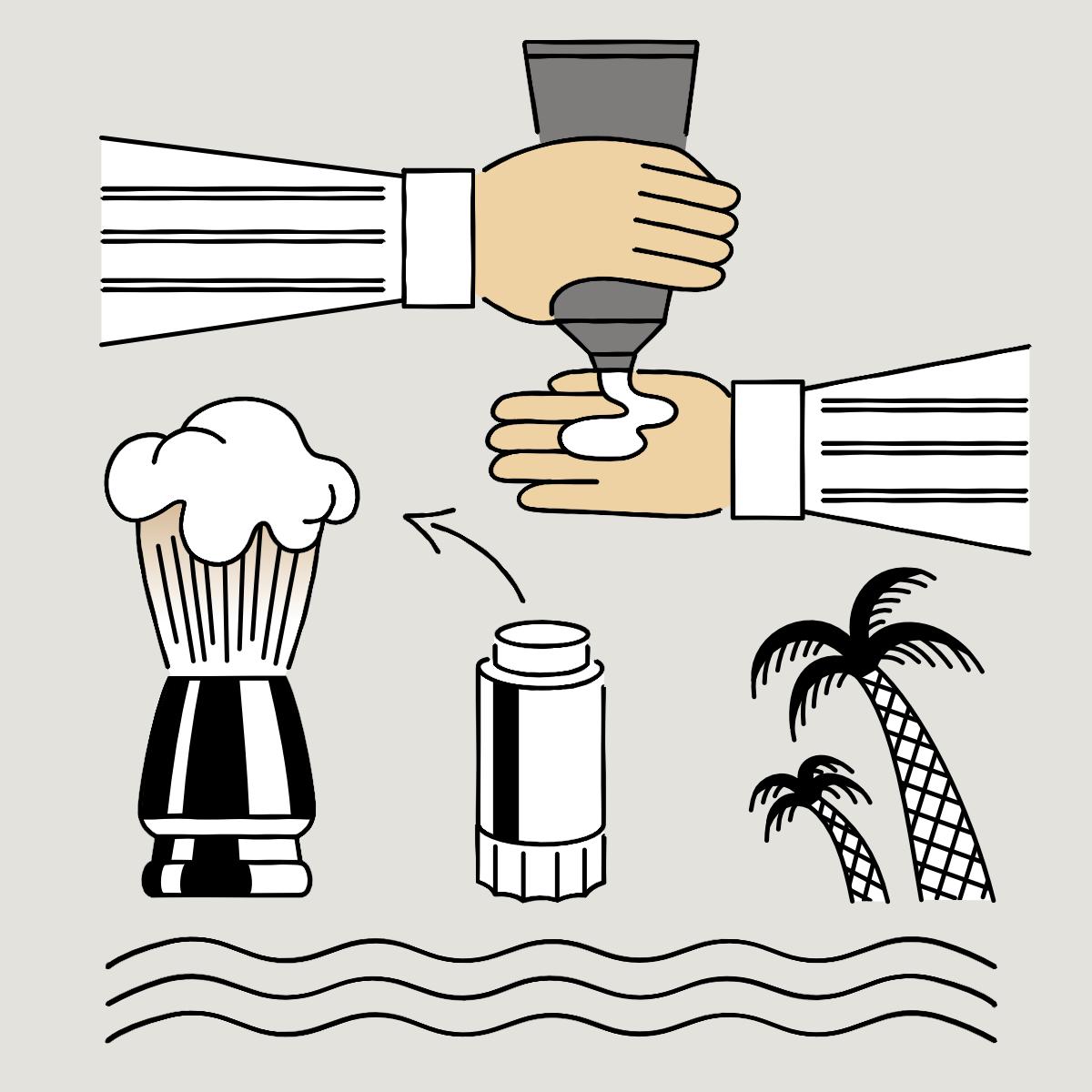 The Accessories
All packing elegantly away into our range of cases, we've got the protection and care of your travel products sorted. Created from vegetable-tanned cowhide or Florentine leather, our cases offer a stylish solution to your storage dilemmas. Available for razors, razors and brushes or in larger sizes to accommodate all your accessories of choice.
Why not treat yourself to one of our complete travel kits? Click here to explore the range.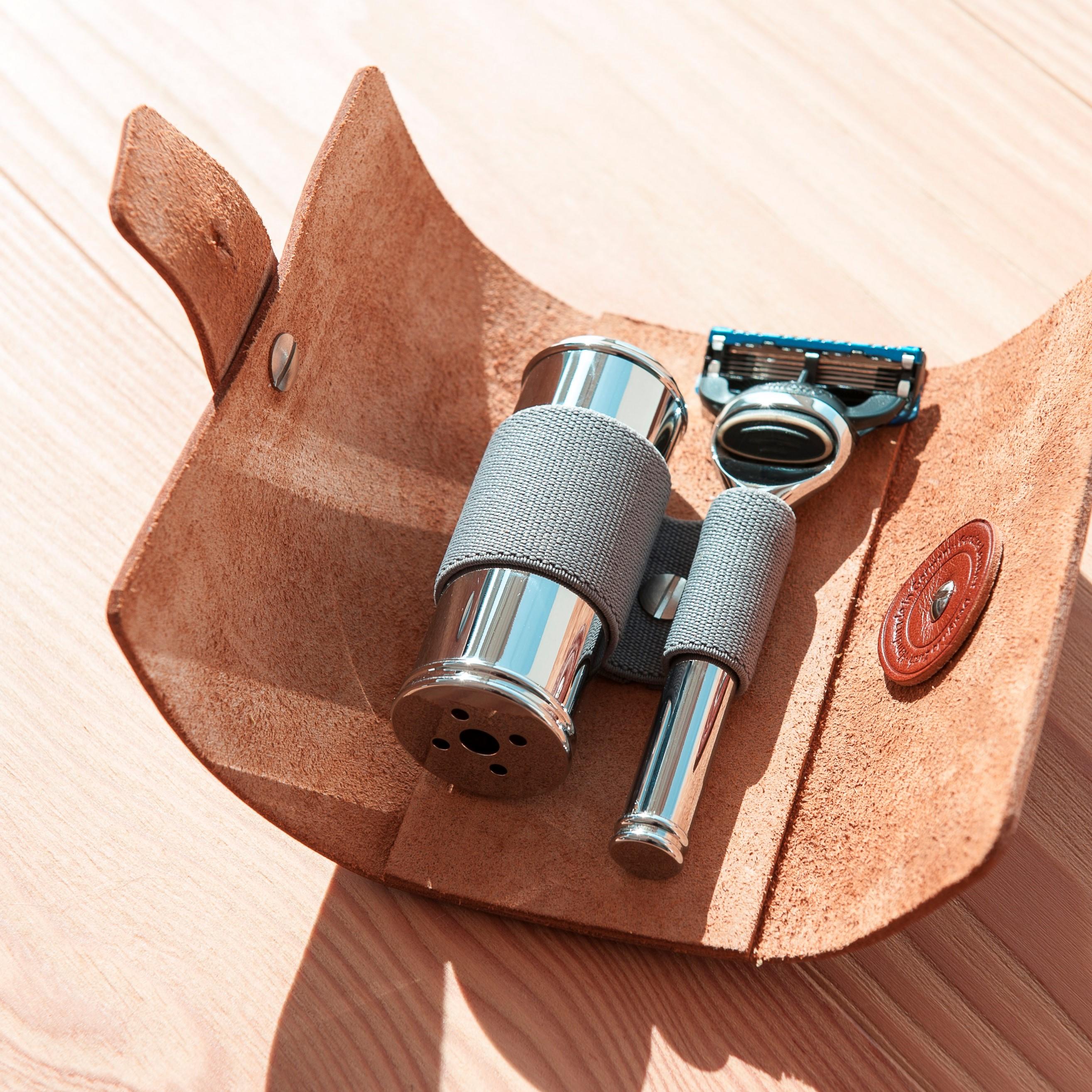 Illustrations: Filip Fröhlich