08

Jun

For Dad's Who Love
---
Sunday, June 21st is Father's Day, and the date fast approaching you might need some help selecting a gift for that family member who tends to be a bit tricky to shop for. MÜHLE is here to help!! Covering gifts for all kinds of super-dads, see below our top picks for this Father's Day.
1) The TRADITIONAL Shaving Set, £149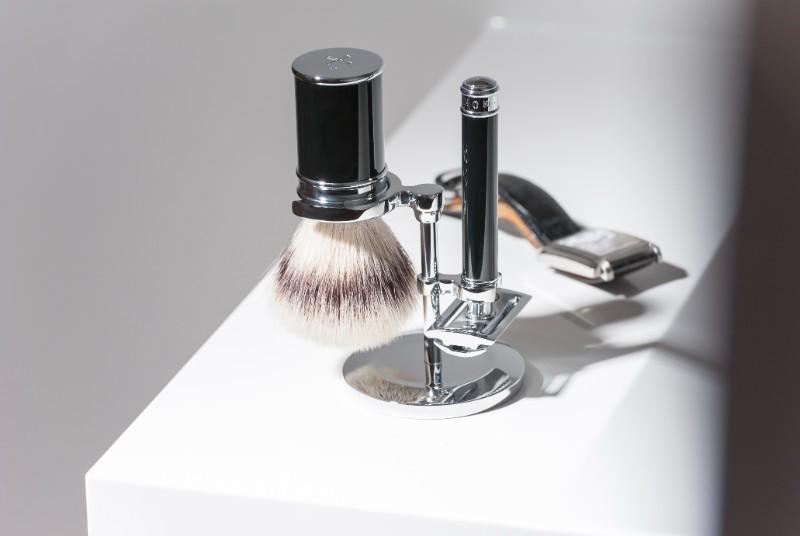 Pictured: The TRADITIONAL Silvertip Fiber, Closed Comb Shaving Set in Black Resin by MÜHLE (S31M106)
The iconic TRADITIONAL set, a minor marvel of precision, is a classic of wet shaving. Made from high-grade resin, this shaving set delivers on both durability and beauty. Presented in classic black with chrome metal highlights, the process of creating this range begins with each handle being turned out of solid resin rods. All individual pieces are then polished in several passes, giving the surface its characteristic gleam and securing its beauty for many years to come. Complete with Silvertip Fibre brush and Closed Comb safety razor.
2) The Waffle Pique Shaving Towel-set, £11.50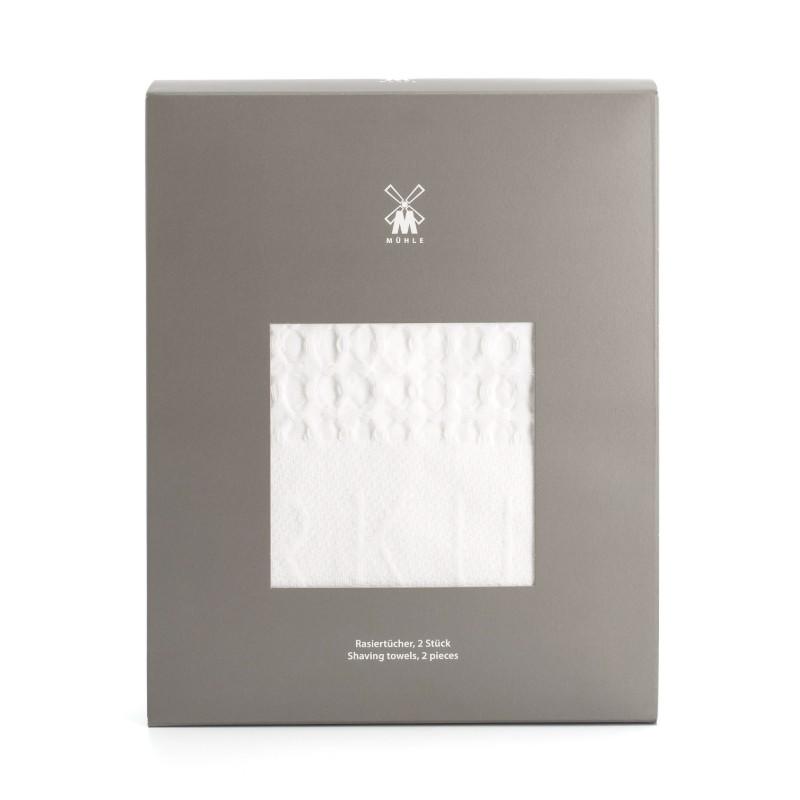 Pictured: Waffle Pique Shaving Towel Set by MÜHLE (T1)
Recreate the pleasure of a hot towel shave at home with the MÜHLE Waffle pique towel set. Ideal for pre and post-shave treatment, the square relief structure and cotton texture absorbs a great deal of moisture and retains the soothing heat during application. After the shave, the soft material pampers once again when cleaning and drying the face.
3) The SOPHIST Horn Safety Razor, £112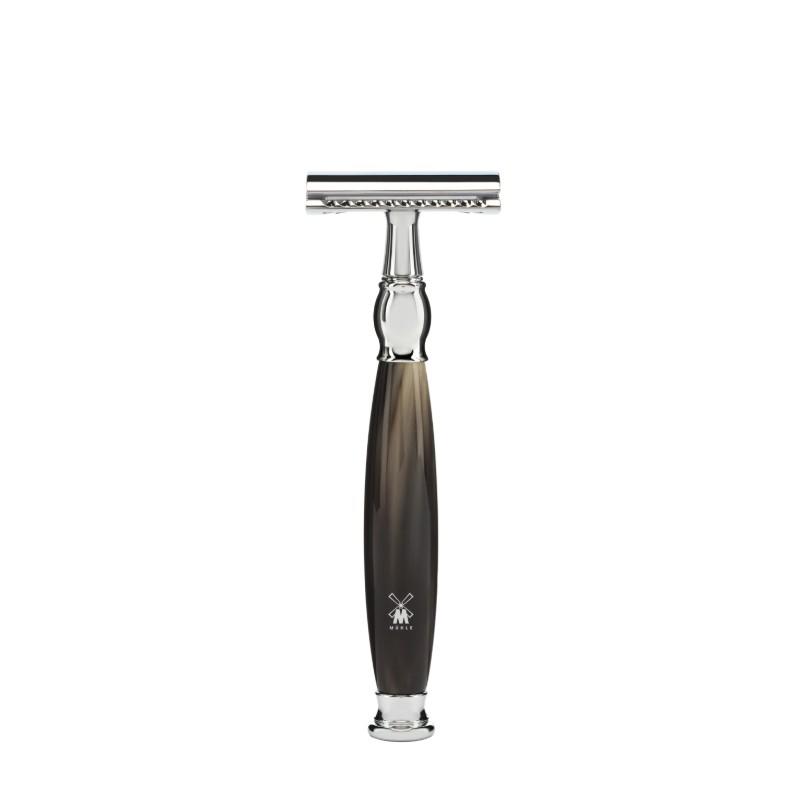 Pictured: The SOPHIST Genuine Horn Safety Razor by MÜHLE (R42SR)
With unique patterning to every razor, the SOPHIST genuine horn safety razor is a statement piece in any shaving kit. Each horn-tip is hand-picked, then formed meticulously by a turner where it is then finely ground and later polished to create a high-gloss finish. With varying tones of warm yellow and ochre, each razor carries its own individuality.
4) The Treatment Space Gift Card, from £18.00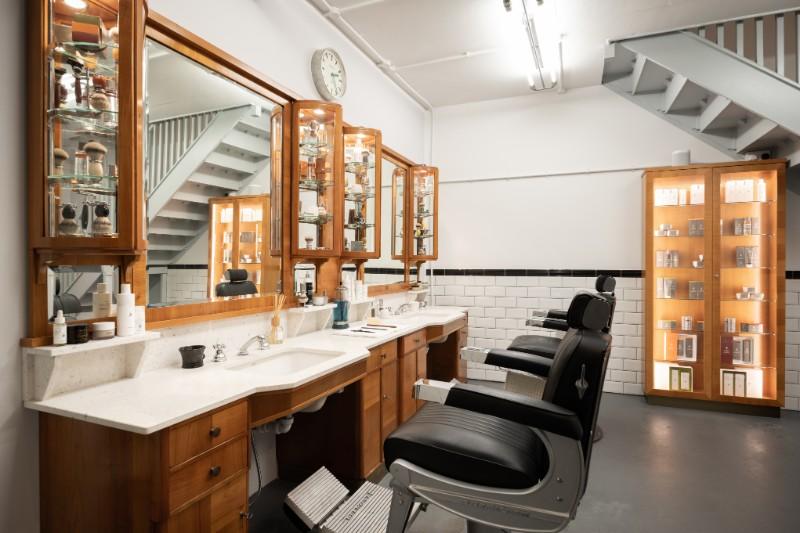 Pictured: The MÜHLE Treatment Space in Carnaby
Available as both printed and e-gift cards, why not treat your dad to a pamper in the Carnaby Treatment Space? Starting from just £18, there's sure to be something to suit everyone's budget but our favourite is most definitely the Traditional Double Edge Razor Shaving Class. Held in our art-deco style treatment space with shaving antiques on display, our shave class sessions are designed to ensure that you leave with the best shave know-how as well as a love for this incredible self-care ritual. Our expert barbers offer a personalised consultation, assessing the growth of your hair so you can learn to shave with the grain as well as discussing any skin sensitivities. We'll run through how to create a great lather and navigate the process of using a traditional double edge razor from start to finish so you can achieve an ideal smooth shave, that's kind to the skin. After this, we will go through some easy tips for aftercare so you can nurture your skin post-shave. With the likelihood that barbershops will finally be able to open in July a grooming gift voucher could be just the ticket for a dad who is currently a little unkempt. Vouchers are valid from a year of official reopening date so Dad will have plenty of time to book. Any customers holding a gift voucher, simply send us an email to be added to our priority list and we'll get in touch as soon as we're booking in appointments- why not treat yourself as well?
5) The Sandalwood Soap in Porcelain Dish, £22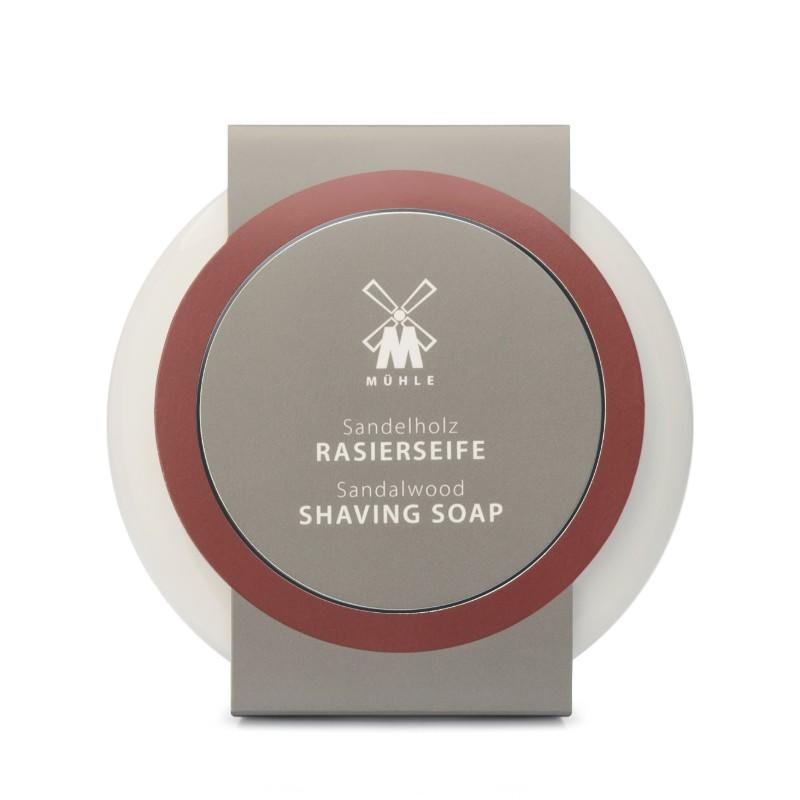 Pictured: The Sandalwood Shaving Soap presented in Porcelain Dish by MÜHLE (RN2SH)
A classy and distinctive fragrance, Sandalwood shave care is always a favourite at MÜHLE. Since the 18th century, shaving soaps have established themselves as essential care products for wet shaving. Rich yet light, the MÜHLE shaving soap develops a lightly scented and nurturing lather. Containing fine notes of coriander, star anise and deep balsamic wood this soap is neatly presented in a porcelain bowl perfect for lathering and storage.
6) The RYTMO Steamed Ash Shaving Set, £95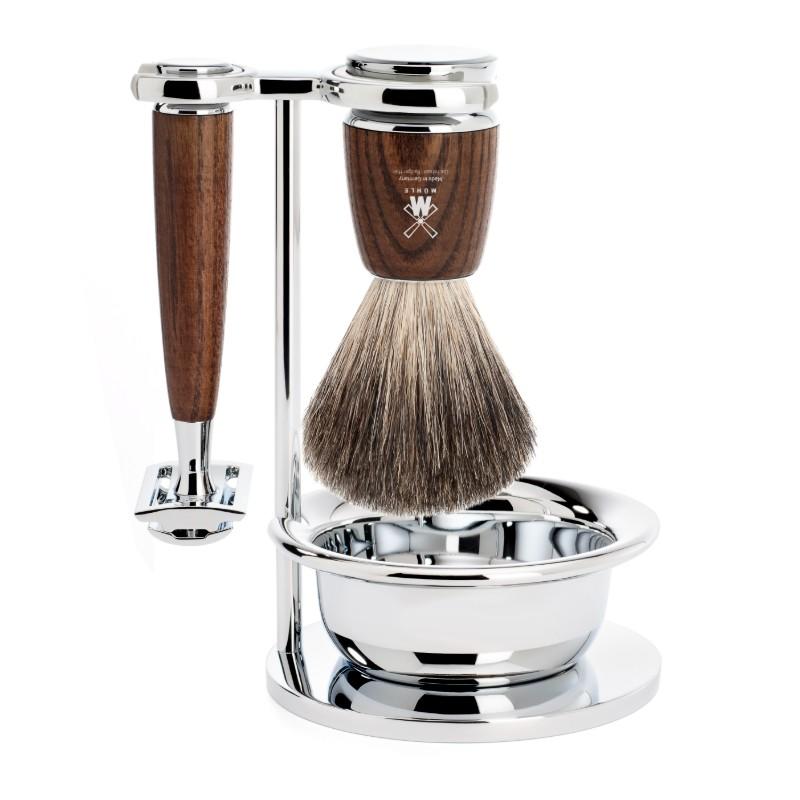 Pictured: The RYTMO Steamed Ash 4-Piece Pure Badger and Safety Razor Shaving Set (S81H220SSR)
One of MÜHLE's most popular shaving sets, the RYTMO 4-piece shaving set is ideal for both pros and novices alike. Made from Steamed Ash, the wood is briefly heated to a very high temperature to ensure it attains a high water-resistance. This process also accentuates the woods beautiful grain and gives the Ash is deep final colouring. The set also neatly features a chrome-plated dish, perfect for creating a lather.
7) The CLASSIC Shaving Brush Range, £33 to £88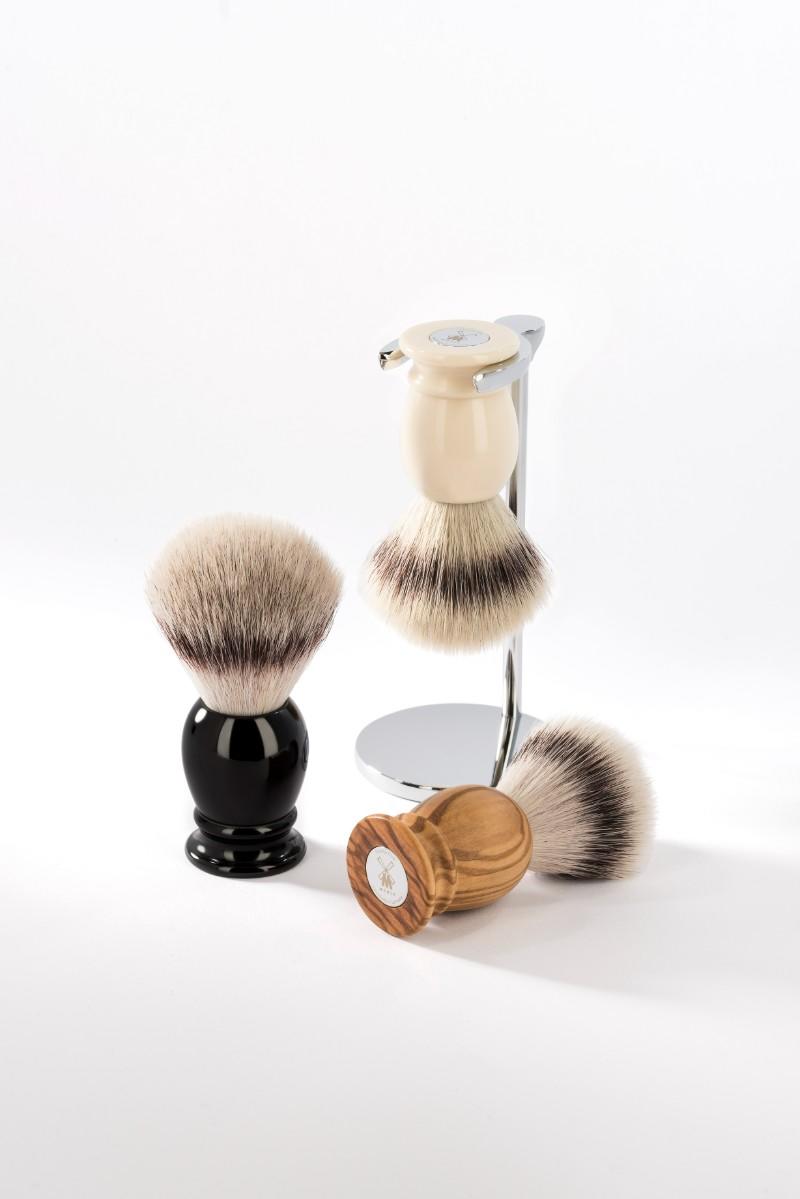 Pictured: The CLASSIC range by MÜHLE
Available in Olivewood, faux ivory or timeless black resin connoisseurs rank our CLASSIC brushes among the best in the world. Complete with a choice of Silvertip Badger or Silvertip Fiber, only the best bundles serve for our CLASSIC range. Handmade with care, these brushes are sure to impress.
8) The Porcelain Blade Bank, £19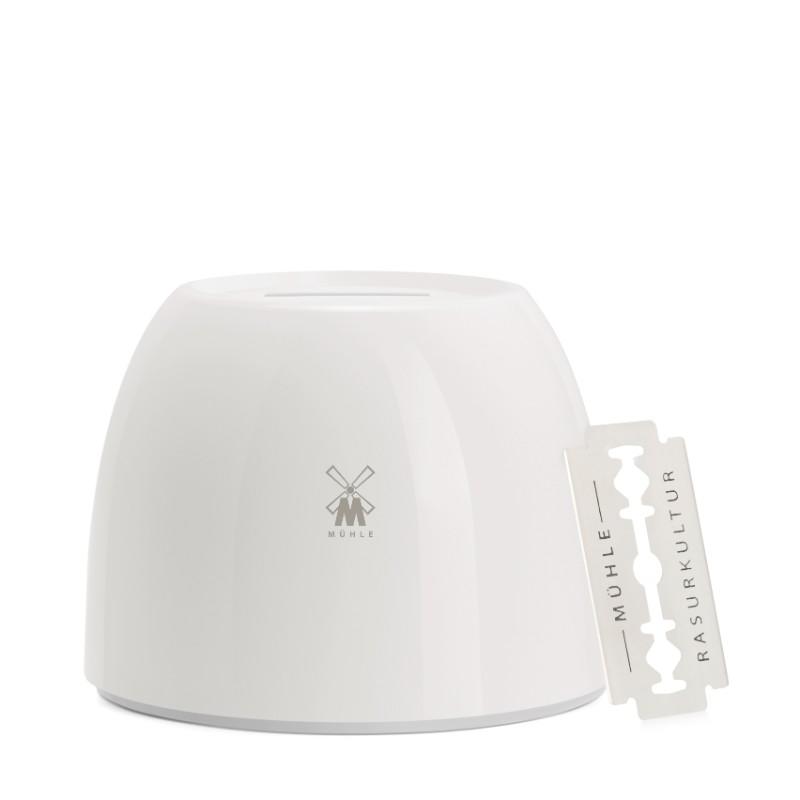 Pictured: The Porcelain Blade Bank by MÜHLE (BB)
Disposing of used blades stylishly and safely, the Porcelain Blade Bank makes for the ultimate shaving kit accessory. Used razor blades can be collected in the porcelain bowl for years, with no need to worry about sharp edges causing injury. The new design has an opening at the bottom so the blade bank can be emptied into a scrap metal container and recycled at the nearest recycling centre – as a precaution, it's always worth checking with the local authority before recycling.
9) The TRADITIONAL Closed Comb Grande Safety Razor, £43
Pictured: The R89Grande by MÜHLE (R89GRANDE)
An enlarged version of the classic R89- MÜHLE's most popular razor- the R89GRANDE is the perfect choice for those who prefer a slightly heavier model, and a larger gripping handle. Considered the gentlest of safety razors it's perfect for daily shaves and well suited to sensitive skin as well as beginners.
10) The ORGANIC Shaving Gift Set, £34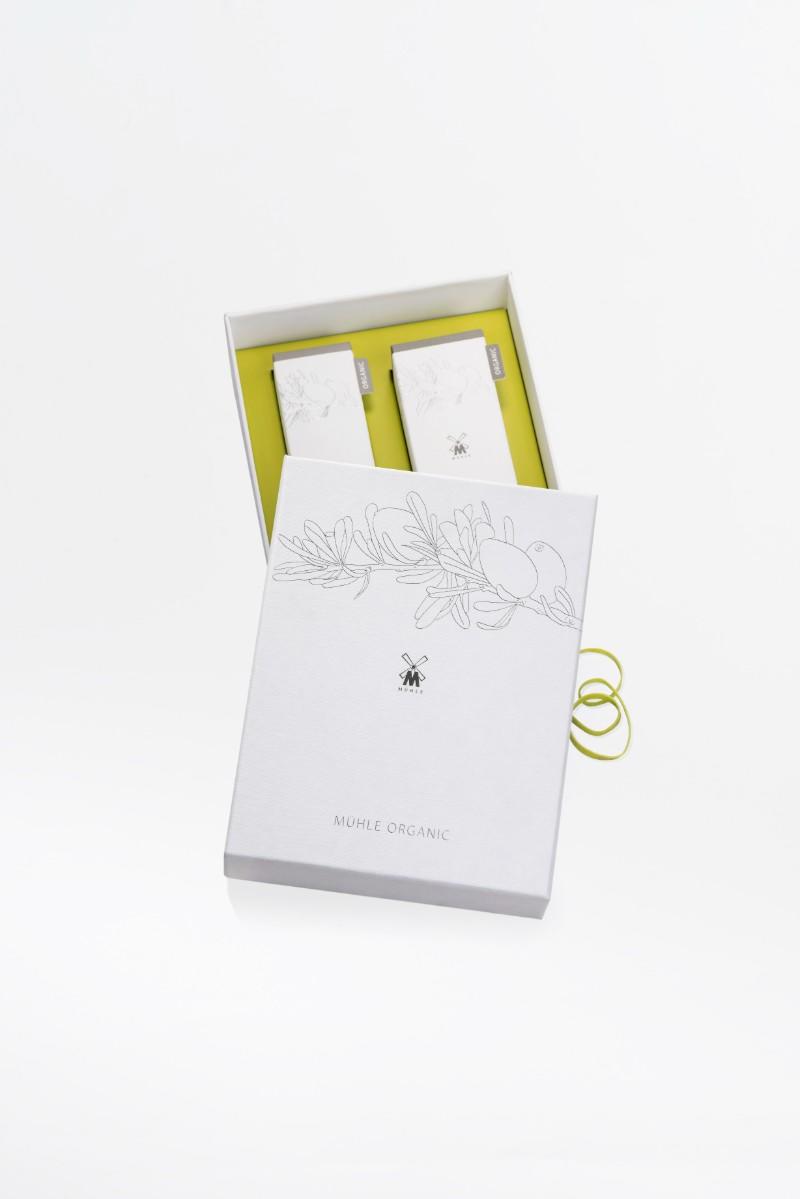 Pictured: The ORGANIC Shaving Gift Set by MÜHLE (GSOSCSHAVE)
Another product ideal for even the most sensitive of skin, the MÜHLE ORGANIC range unites the best nature has to offer. Complete with Shaving Cream and Aftershave Balm, this skincare set has all you need for your pre and post-shave routine. Containing traditionally hand-pressed Argan oil, produced by a Moroccan women's cooperative and marketed on a fair-trade basis, ORGANIC effortlessly regenerates and moisturises the skin.
11) The ROCCA Stainless Steel Safety Razor, £79
Pictured: The ROCCA Stainless Steel Safety Razor by MÜHLE (R94)
The latest addition to the ever-popular ROCCA series, the ROCCA Stainless Steel combines the finest and most durable materials with elegant design. Lying somewhere in between the closed and open comb style razor head, this razor offers the best of both worlds. More direct than the closed comb, but with the safety of the flat-edged bar, the ROCCA razor can be a fantastic middle-ground for shaving.
12) The STYLO Butterscotch Shaving Set, £187
Pictured: The STYLO Butterscotch Silvertip Fibre, Fusion Shaving Set by MÜHLE (S31K74F)
Eye-catching in bright Butterscotch resin, this STYLO shaving set comes complete with Silvertip Fibre shaving brush, Fusion razor and stand. A beautiful addition to any bathroom, STYLO combines conical forms with unique and memorable finishes.
Enjoy this blog? You might also be interested in: