11

Jun

Elliot Forbes on Self-Care & Re-opening the Treatment Space
---
MÜHLE Treatment Space head barber, Elliot Forbes, has been posting weekly self-care tips on our IGTV series, MÜHLE Grooming Rituals since the lockdown started here in the UK.
We know a lot of men have been missing their barbers not just for their trims and shaves and a bit of manpering, but also because barbers provide a great environment for guys to talk and get things off their chest. To mark Father's Day this year, we thought it would be fitting to catch up with Elliot and talk about self-care for guys, lockdown routines, why barbershops are such supportive environments for men and how that will look post lockdown.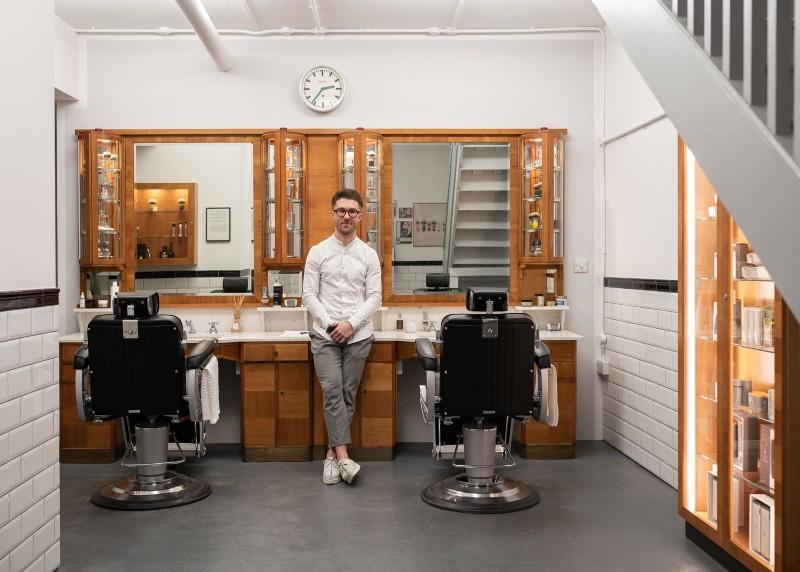 Elliot Forbes in MÜHLE Treatment Space, LG Floor 14a Newburgh Street, Carnaby London.
Our Marketing Director here at MÜHLE UK, Veronica Berman, hosted a socially distanced WhatsApp interview.
VB: Following the temporary closure of MÜHLE Treatment Space because of the Covid -19 pandemic you have released self-care advice on the IGTV series MÜHLE Grooming Rituals.
Why do you think self-care is important, particularly for men?
EF: I do think it's very important! Just because it keeps you feeling good, it keeps you feeling fresh, it keeps you . . . feeling normal!
I know I feel dirty and grimy if I don't shower or I don't look after my hair, I don't feel presentable and my mindset is so much more confident when I have showered and washed and styled my hair- even if it's actually styling my hair as opposed to just putting a hat on.
I know it's easy for a lot of guys to get into a bit of a hole . . . once you stop taking care of yourself you can sort of spiral downwards and then you just end up looking a complete mess. I think having those rituals in place, like what we've been talking about and sharing on Instagram- just helps keep everything in check.
VB: What sort of self-care rituals do you feel work for you to keep you feeling good- particularly during the lockdown?
EF: The thing, to be honest, that I've really enjoyed especially going through the whole ritual of it - is actually- shaving. It's made me feel clean and then as soon as I grew back a beard to a certain length, I just felt really grubby so the ritual of shaving has been really good for myself.
There was a couple of nights at the start where I didn't wash my face before going to bed and then my face, got more of a build-up of grime and the pores got a bit clogged, I sort of thought at the time 'well I haven't been out during the day,' and then I noticed my skin had actually changed for the worse- so I just thought, 'Right!' and every night I got my face cleanser out and just went to wash my face as I would normally before lockdown and have that as a sort of finisher- that's when I know I 'm completely switched off from the day so I can disassociate any work that I've been doing . . I wouldn't do any recording or editing after that so that's been a good separation as an end the day routine.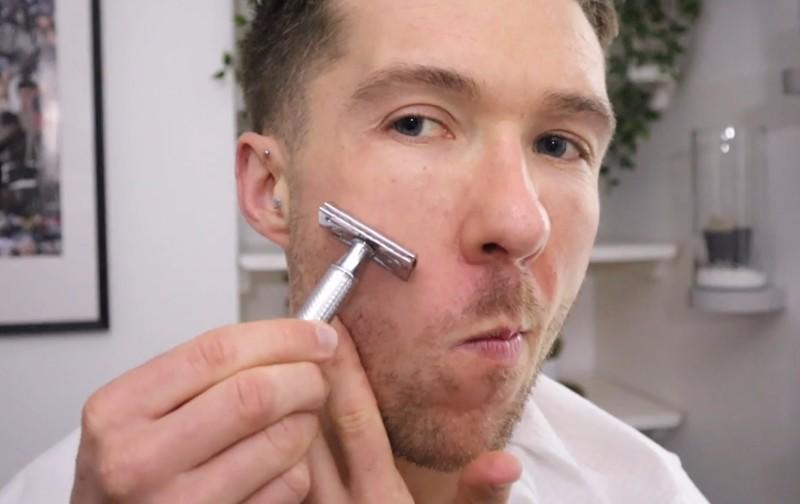 Elliot shaves a MÜHLE R89 DE Razor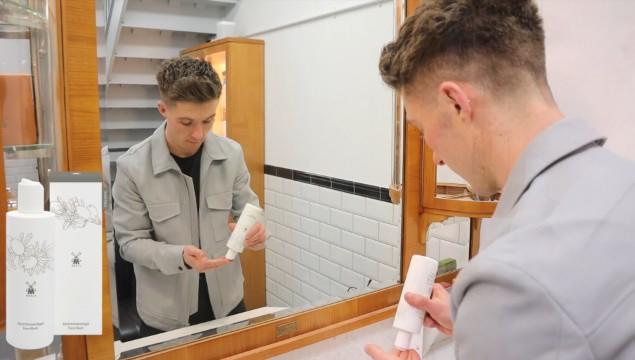 Elliot uses MÜHLE Argan Oil based Organic Face Wash
VB: Any advice for guys out there who've had grooming disasters at home- like bad hair cuts?
EF: That's a tough one. . . let me think about that . . . I'll come back to that one!
(Coming back later)
Well, if it's a disaster it can be quite hard to fix at home . . . I guess it's not too long now till we are going to be opening up again – so hang in there and come see me soon.
VB: Many men are missing their barber not only for trims and shaves but also because they miss having that space to talk to someone freely in a non-judgemental environment. Do you think barbers are a good source of support in this way for guys? Are you missing this closeness and hearing about your clients' ups and downs?
EF: I think it's a great way of supporting guys! I know working in the Treatment Space, it's quite private- you have some very intimate and very close chats- I think once you get to really know someone you really open to them and they open up to you. It's a place for people to get what they're thinking off their chest, personally for myself, I feel more like the guys who come to get their haircut with me are more friends than clients. I think that- that space and time where you visit a barber- is definitely something that helps guys massively- it's really imperative for them. I am absolutely missing this closeness, as I said I do think of clients more as friends, and it definitely is a therapeutic space, I'm missing it.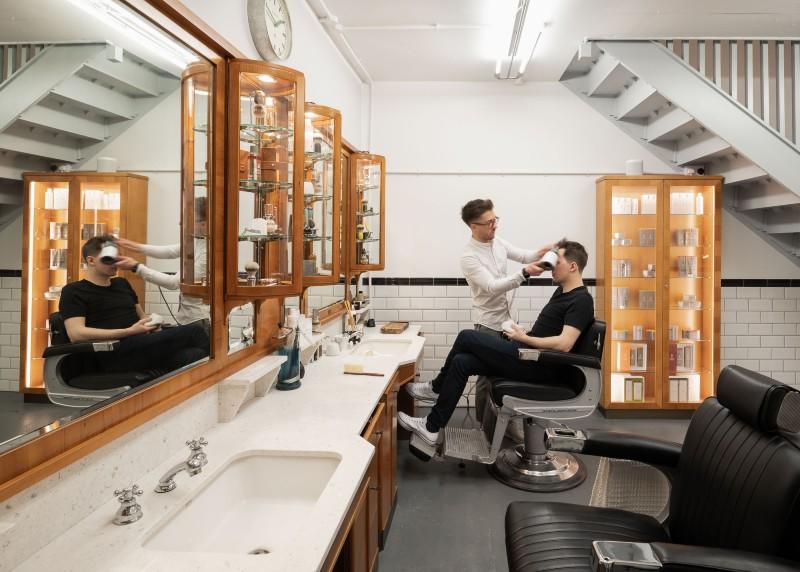 The private Treatment Space , where Elliot is able to see clients independently allows for personalised service and friendly, open conversation
VB: Do you think measures put in place to stop the spread of coronavirus will get in the way of this experience for you and your clients?
EF: I would say it's gonna take adjusting, for sure it will be different. I think most people there's a strong enough bond that it won't effect things too much but I know when I greet someone it's generally with a big hug and at the end of the service it's with a hug as well so no doubt it's gonna be very different but you find new norms, don't you?
VB: What do you miss most about the Treatment Space and what are you most looking forward to when it re-opens?
EF: I'm looking forward to seeing everyone's smiling faces . . . or trying to make out that it is a smiling face underneath a mask! And having a good catch up too! I know I'm gonna have to allow extra time for each service because now no doubt they'll be lots of things to catch up and talk about in that time.
MÜHLE Store London retail space opens Tuesday June 16th. Currently, the Government have suggested that barbershops and hairdressers in England may open from July 4th 2020, once we have a clear confirmation on a date we will open up our booking system. Looking forward to welcoming back old customers and seeing some new faces as well!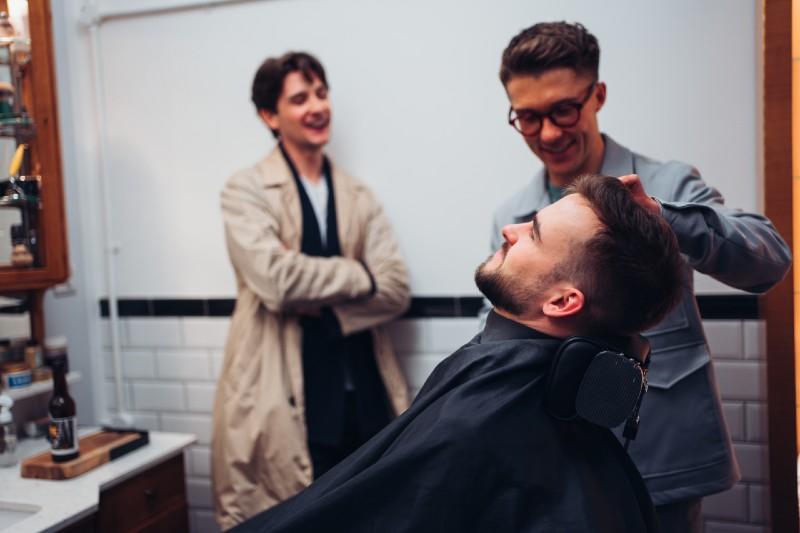 Elliot doing what he does best at MÜHLE Treatment Space
Like what you're reading? Check out some of other blogs: